The first three weeks of the NFL season have been a roller coaster ride of injuries and upside down games. The Vegas over/under was shattered last week, there was ZERO games with a projected total over 50 points yet eight games combined for over 50! One thing is apparent, stacks have dominated GPP tournaments on Fanduel and Draftkings while value plays have really been beneficial to those paying attention. My week 4 optimal lineups will feed off of our week 4 value picks and week 4 stacks. I'm also going to see what edge I can derive from our DFS salary differentials.
Fanduel Optimal Lineup for Week 4
For the Fanduel optimal lineup I'm using a stack Pete recommended, Carr and Cooper which he titled "beat the Bears".  The Bears have been horrendous on defense and this stack is cheap, which allows us to optimize higher priced players into key positions. Since top tier wide receivers are on absolute fire right now we're going to work in as many as possible. The first lineup of the 20 generated includes power houses A. Brown, AJ Green and of course the lock of Cooper. Look at the ceiling for this lineup and look at the floor, this is a GPP lineup all-day.
Benefits of this Lineup:
Everyone has a preferred match-up based on fantasy points allowed.
The ceiling is there for sure.
We took advantage of the $400 price drop on Brown who is high risk and maybe not in a ton of lineups due to the Big Ben injury.
Used a value play with Max Williams at TE, who should see volume with their starter likely out this week.
I removed the Eagles/Redskins game due to weather concerns.
How I'll Play This Lineup
I made 20 lineups based on the Carr / Cooper stack and will play a good portion of them this week on Fanduel.
I've also made another batch of optimal lineups without the Thursday game, you can scroll down to check it out.
I'll obviously make some different stacks and play those too.
How I Made This Lineup
After a couple weeks of getting emails from some readers asking me "how did you make the optimal lineup" I decided to include it in my article, here we go.
Use the player search feature to lock in Carr and Cooper
Use the filter to remove all players facing a top 10 defense.
Use the removed player list to add back studs that are not impacted by top rated defenses.
Removed the Thursday game (for lineup batch #2).
Removed the Redskins vs Eagles game due to weather concerns.
Set my limit to 5 for all player, this limits your exposure.
Gave Carr and Cooper a limit of 20 because I want them in all lineups created in this batch.
Increased the number of lineups generated from 5 to 20.
Increased the projected points (in the "cus proj" column) for A. Brown and AJ Green to 25. This is helpful when you think they will do well or you simply want to force a player or players into your lineup without using lock.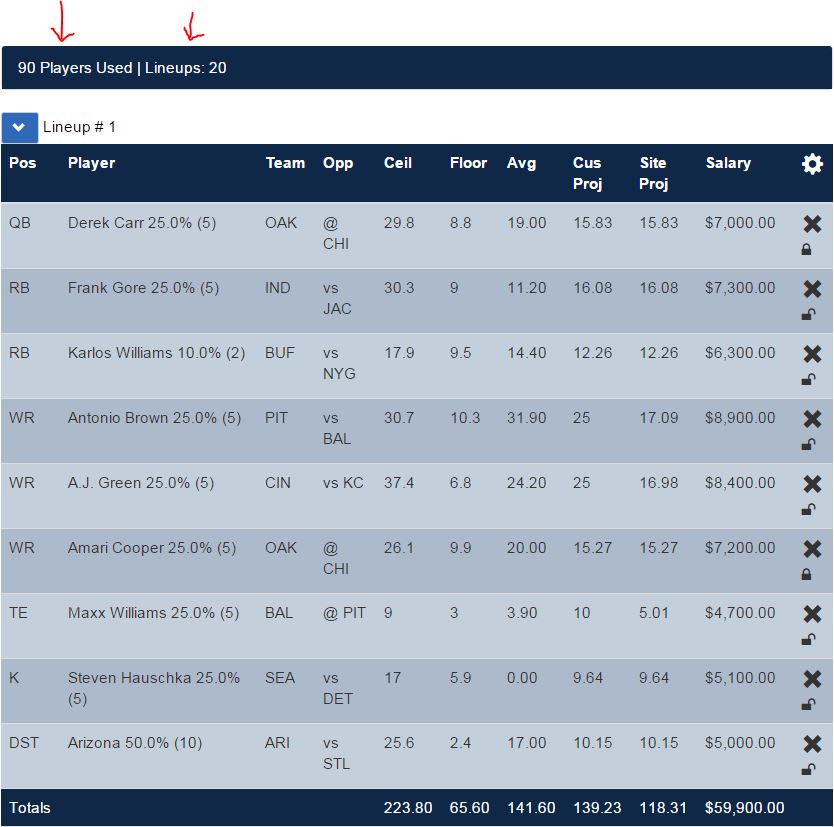 Here's the optimal lineup without the Thursday game included. I admit I'm not super high on Charles but I'm hoping he's under 20 percent owned, we shall see.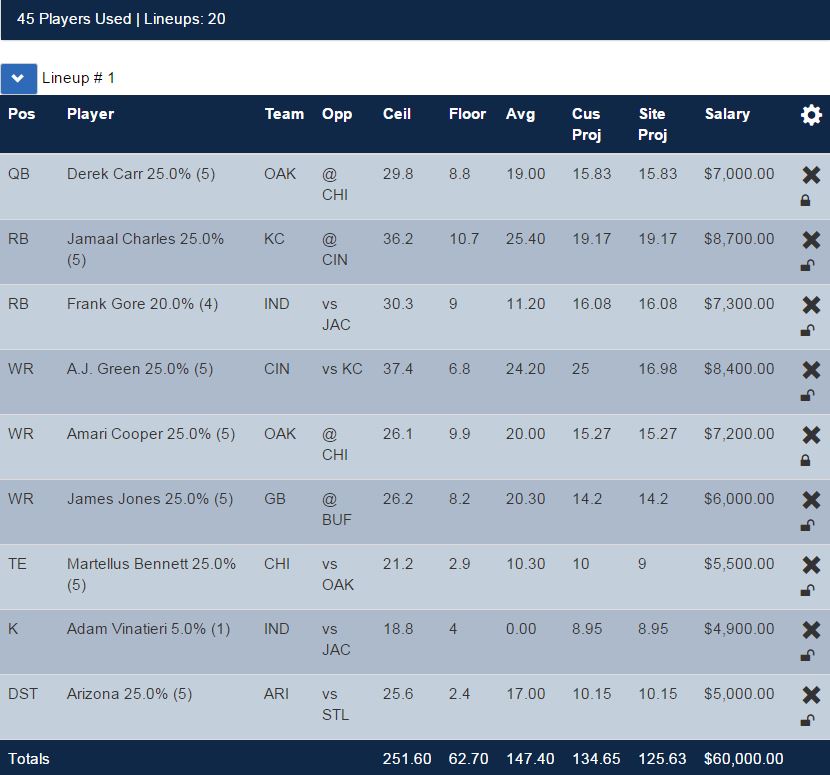 DraftKings Optimal Lineup for Week 4
On DraftKings we're going to rinse and repeat but apply a heavier focus on PPR running backs and wide receivers. We're going to go with a locked in stack and combine Cobbs and Rodgers. This stack will be high ownership and due to the history of the duo so far this season my confidence is high when using them in cash games.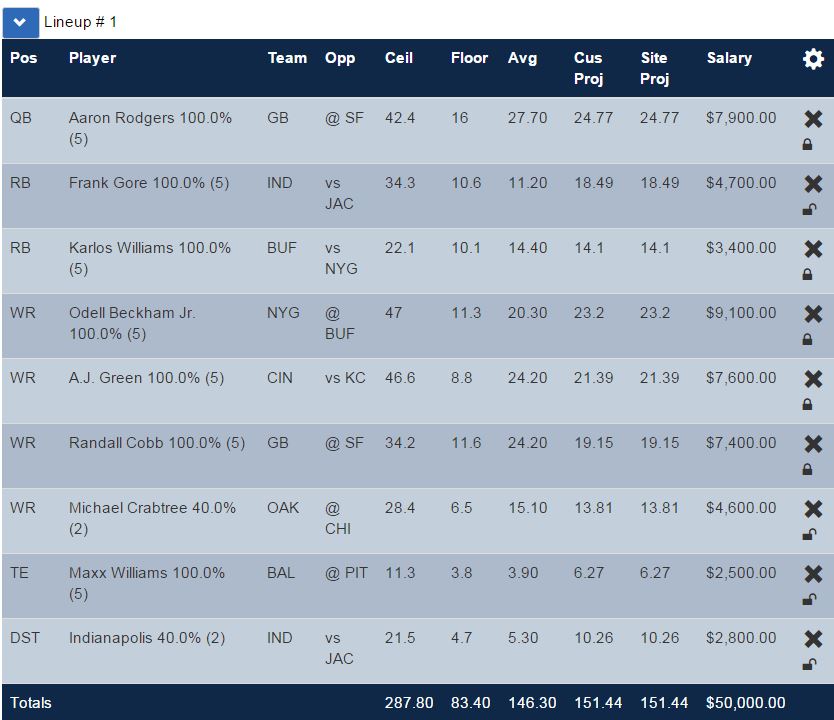 Be sure to use our salary comparison report, Draftkings projections and Fanduel projections if you don't have access to the optimal lineup tool.