What did we learn from Week 3? For starters, you can't just trust any ol' quarterback who goes up against The Jets. (Thanks for that life lesson, Jay.) Oh, and the Saints won't give it up to just anyone, either. (Appreciate that intel too, Cam.) For a more detailed look at past sleeper columns, check them all out here.
There's more to fantasy football than "playing the matchups" is my point. With that in mind, let's take a look at the big picture for this week's sleepers.
Quarterback
DeShaun Watson, HOU (vs. TEN)
DeShaun Watson looks good, doesn't he? Those of us assuming Watson would spend a majority of the season on the bench while "crafty" veteran Tom Savage led the team to a 4-4 start should be thrilled with the rookie's quick ascension. Football is more exciting with a player like him in the lead role. Whether that excitement will lead to fantasy production or statistical disasters in the long run remains to be seen.
This is all a long-winded way of saying Watson's a risky play from week to week. Luckily, he's up against a Titans defense that's been holding the door wide open for big plays. This suits the dangerous rookie just fine. I know I said matchups aren't everything, but Watson comes with so much upside here that you can't ignore him. His running instincts provide a nice floor, but expect his arm to do most of the dirty work this week.
Running Back
Christian McCaffrey, CAR (vs. NE)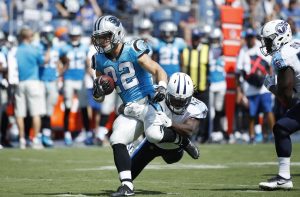 The Patriots defense is, how you say, "a toilet explosion" through three games. They've allowed points and yards in bundles, ranking dead last in both categories. New England has been especially susceptible to pass-catching running backs, which puts ChristMac (how is that not his nickname, by the way?) in an ideal situation this week.
Run CMC (oh, that's why) posted his first 100-yard game against New Orleans last week. His usage in the passing game should remain steady with Greg Olson out, Kelvin Benjamin nicked up, and Cam Newton doing his best Blaine Gabbert impersonation. McCaff & Cheese (nope, definitely  not better) is one of the few pieces you can trust on this iffy Panthers offense.
Wide Receiver
Taylor Gabriel, ATL (vs. Buffalo)
Gadget Man Gabriel showed up in this space two weeks ago, as I expected him to feast against the Packers at home. His breakout came a week later, lighting up Detroit for 79 yards and a touchdown. He boomed while Julio Jones nursed a back injury and that is why Gabriel makes the list again. Jones still isn't quite right, and might spend a little more time as a decoy this week.
Don't be fooled by the how strong the Bills' defense has looked thus far. They haven't gone up against a real, high-flying offense yet. Matty Ice's crew will give them a huge test this week and Gabriel looks ready to boom once again.
Tight End
Jared Cook, OAK (vs. DEN)
The entire Raiders offense looked lost last week. They moved around the field like top-heavy toddlers after a late night breast milk bender. It was ugly. The only guy on his game was Jared Cook, who has remained a consistent, reliable target for Derek Carr.
Cook will be the thumb in Carr's mouth once again this week, as the Raiders will face a stout Denver defense that has a soft spot for tight ends. Cook might not be on the field for 84 percent of offensive snaps again this week, but considering the utter dearth of options at the position, you need him on your roster.
Roll out your sleeper picks to fill the holes in your lineups. Be sure to check back with us daily for more of FK's exclusive content. As always, follow us on Twitter for more: @_knuckleheads and @JakeTrowbridge.