A good chunk of the football season is already over and that means the sample size for stats is growing. An unfortunate fact of life is that injuries happen and people lose their jobs. Our task is to identify the next man up and roster that guy before anyone else does. As such, I give you the week 4 waiver wire picks.
Quarterback
In A Pinch (Or Bye Week)
Ryan Tannehill MIA Rostered: 8%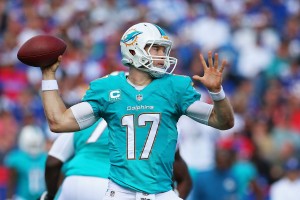 The Dolphins have come out like a house on fire to start the year. Tannehill is looking good and hitting big plays. There is every reason to believe that he should continue that trend as the Dolphins take on a struggling Patriots defense in week 4. With 7 touchdowns in his first four weeks, you could do worse than Tannehill as a matchup play or streamer.
Signs Of Life?
Josh Allen BUF
I don't know what to make of the Bills game against the Vikings. They shut down a great offense and put up points on a great defense. The amazing effort has to go down as an outlier for now, but Josh Allen has some skills. He will not rush for multiple touchdowns again this year. He certainly has the ability to make plays though. Only consider Allen in very deep leagues or 2 qb formats
Running Back
Stop Sleeping On
Javorius Allen BAL Rostered: 27%
For anyone that has not been paying attention, the Ravens back to deploy is Javorius Allen. The snaps and touches have been similar between Allen and Alex Collins, but Allen is doing more. He has the goal line touches and most of the receiving work. Despite how great Collins looks running the ball, the Ravens like splitting touches. Go for the catches and touchdowns with Allen while he is still available.
Check Out The Rest Of The Waiver Wire Picks
Committee Back
Wendell Smallwood PHI Rostered: 2%
The number of healthy backs in Philadelphia is going to determine the usefulness of Smallwood. He proved that he can put up decent numbers if he gets enough touches. Over 90 total yards and a touchdown made for a nice day against the Colts on Sunday. If Ajayi and Sproles sit again, then Smallwood could stay on a roll. Othewise he will likely take a back seat.
For Deep Benches
Chris Ivory BUF Rostered: 6%
Although his game was probably as fluky as the Bills overall performance, Ivory has value. LeSean McCoy has been beat up early in the season and he is no youngster. If Shady continues to miss time, Ivory is the back to own in Buffalo. He had 126 total yards on 23 touches against the Vikings. He would be a nice flex play against Green Bay if he starts.
Wide Receiver
How Is He Available?
Tyler Boyd CIN Rostered: 19%
Despite functioning as the de facto number one receiver on the Bengals, Boyd is still lightly owned. He is not a household name at the moment, but that could change by the end of the season. With 91 and 132 yards respectively over the last two games, Boyd is smoking the competition. Add 2 touchdowns on top of that and you have a no doubt waiver gem.
Geronimo Allison GB Rostered: 35%
The Packers have a pretty nice passing attack led by some guy named Aaron Rodgers. If a receiver can gain his trust, good things are sure to follow for them. Well, Allison has the trust of his quarterback and he also has at least 60 receiving yards in each game this season. He has also scored twice in three weeks. Go out and get him right now.
Young And Talented
Christian Kirk ARI Rostered: 4%
The Cardinals offense has been abysmal so far this season. They may have a ray of hope with the ascension of rookie quarterback Josh Rosen to starter. Rosen and Kirk are on the same page and that could mean good things statistically. Until the Cardinals show that they can put up points, this will be purely a bench grab.
Tight End
Vance McDonald PIT Rostered: 14%
Last week it was Jesse James, this week it is McDonald. The Steelers have plenty of weapons that they can feature in a given game. That makes any of them a bit of a risk to start. With bye weeks coming around, you could do worse as a fill in than the talented duo of Steelers tight ends.
Dallas Goedert PHI Rostered: 2%
There have been some questions about the Eagles offense early this season. One thing that is not in doubt is that Carson Wentz makes them more dangerous. Another sure thing is that Wentz likes the rookie tight end; he went to him seven times for 73 yards and a score. Zach Ertz is the top dog in Philly, but Goederthas the skills to get the job done as well. Like McDonald above, there will be weeks where another receiver is featured, but Goedert is almost universally available and has high upside.
Check back soon for the weekly positional rankings. Follow me on Twitter for some fun extras and shenanigans: @brendancole16.