This NFL season is almost one quarter finished and running back has been a bit of a quagmire. Injuries and lack of performance have put fantasy teams that looked good on paper behind the eight ball. C.J. Anderson and the Broncos backfield continue to stymie owners, LeSean McCoy is looking like he may need a week or two off to heal and DeMarco Murray gave owners hope then stole it away again as he sat out Sunday. These are the problems that send owners scurrying to the waiver wire for reinforcements. In week 4 there are some new names to look at and some others who should be rostered, but aren't yet.
Karlos Williams BUF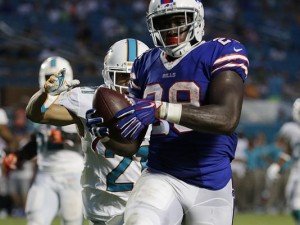 As I was saying above, Shady McCoy told reporters that he may need to sit out for a week or two. This contradicts what Coach Rex Ryan said, but even if McCoy plays, Williams has looked better. It seems like the lingering hamstring issue is sapping the expolsiveness from McCoy. Meanwhile, Williams has been bowling over defenders and seeing the end zone on a regular basis. I made this recommendation in another article already, but if Williams is available, grab him as McCoy may face lingering problems for the remainder of the season.
Charles Sims TB
Nobody is impressed by Doug Martin. Tampa Bay is not going to be a running team this year as they are often behind. So far Charles Sims has increased his fantasy point output each week as he becomes a familiar target of Jameis Winston. While Sims is not much of a threat running, he does very well catching the ball out of the backfield, a useful skill to a team that is often trailing. I think that Martin is mostly done and Sims may outperform him for the rest of the season. That performance will still likely only warrant a flex play (RB2 in PPR), but he is worth owning in all formats.
Week 4 Waiver Wire Picks - Wide Receiver
Thomas Rawls SEA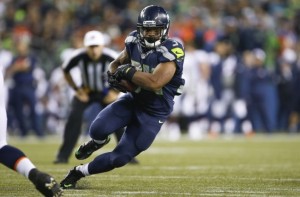 Rawls looked great in his game against the Bears, but the Bears are terrible. It seems unlikely that Lynch will miss a lot more time, but at the least Rawls has established himself as the handcuff to Beast Mode. The next game for the Seahawks is against a mediocre Lions defense. If Rawls gets the start, more good things should happen for fantasy owners.
Jonas Gray MIA
I loved Lamar Miller coming into this season; he is a contract year player and seemed to be on the rise. The entire team in Miami has been a bit of a mess so far, but Jonas Gray is sneaking into the backfield rotation. While a share of a bad running game is not the most valuable commodity, Gray did have some moderate success on Sunday. This could bode well for the future as their other backs have not done much so far. If you picked up Gray based on my speculation here, then great. Otherwise I think that he could be a decent investment if Miller continues to struggle.
Alfred Blue HOU
I don't feel incredibly strongly about this one, but the production is hard to ignore. The reason that I don't love Blue is the fact that Arian Foster should be back at some point. The situation is a bit murky so I think it warrants a pickup just in case. If Blue was the unquestioned starter the rest of the way I would say get him right now. As it is, I still think he should be rostered but I don't know for how long.
Week 4 Waiver Wire Picks - Quarterback and Tight End
Fool's Gold: Chris Thompson WAS
If you caught last week's Thursday night game, you may be thinking that Chris Thompson is worth an add. In fact he is just one more issue for the crowded Redskins backfield. He plays passing downs a lot of the time, but his workload is FAR from steady. I think that the pecking order right now is Matt Jones-1, Alfred Morris-B (not 1A), Chris Thompson-passing downs. The workload should shake out in similar fashion to Joseph Randle, Darren McFadden and Lance Dunbar in Dallas. Thompson will have occasional value in PPR leagues, but not enough to warrant a roster spot in any but the deepest leagues.