Week three of the NFL season was a wild ride. There was seemingly no rhyme or reason to the scoring and it threw fantasy football teams for a loop. Whether you won or lost, it's time to put it in the past and move on. There is a nice selection of talent available in the majority of leagues; hit the wires and stock up.
(All Waiver Wire Picks Must Be Available In Over 50% of ESPN leagues)
Quarterback
10 Team Leagues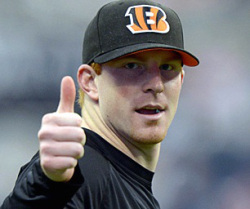 Andy Dalton CIN 15.8% Ownership
After being dropped in a lot of leagues, Dalton should have value again. He has a new offensive coordinator that can clearly see talented players for what they are. AJ Green and Joe Mixon are finally being utilized and the Bengals offense roared to life. This is all great, but the best part is that three of the next four games are against Cleveland, Buffalo and Indianapolis.
12 Team Leagues
Deshaun Watson HOU 11.9% Ownership
It is not always pretty, but Deshaun Watson is moving the Texans offense down the field. This formerly stagnant unit suddenly has life as the 12th overall pick brings a diverse skill set to the table. Watson has a couple of tough matchups coming up in Tennessee and Kansas City, but he is a nice matchup start later. At the very least, the games versus Cleveland and Indianapolis make him a good bye week fill in.
Worth A Look
Deshone Kizer CLE 5.0% Ownership
Cleveland has a dual threat quarterback in Kizer similar to Deshaun Watson. The difference is that Kizer does not have nearly the supporting staff that Cleveland offers. He has made some big plays, but there have been a ton of mistakes as well. At the least, Kizer is not afraid to take chances and that can mean huge plays. He is a scary start at this point in his career, but I would take him over some veterans (Flacco, Manning, etc.).
If you're curious, last week's picks are here.
Running Back
10 Team Leagues
Probably Gone, But…
Chris Carson SEA and Tarik Cohen CHI
There should be no competitive league where Carson or Cohen are on the waiver wire. However, if you have "that guy" in your league and he dropped them pick them up right now. Carson is the starting back for the Seahawks, he should be owned universally. Cohen is one of the most electrifying talents in football right now. He is not taking away Jordan Howard's job, but he is worth a roster spot anyway. Either one of these players needs to be owned everywhere.
D'Onta Foreman HOU 5.1% Ownership
There is little chance that Lamar Miller will be phased out of the Texans offense, but Foreman should be owned. Even with Miller getting a good chunk of the touches, Foreman has shown flashes of brilliance. If the Houston offense features a bit more of Foreman going forward, he profiles as a flex at least, possibly a matchup based RB2.
12 Team Leagues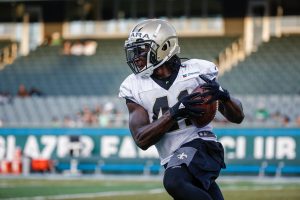 Alvin Kamara NO 11.3% Ownership
This is obviously a better pick for PPR leagues, but Kamara deserves standard consideration as well. The rookie back is part of a crowded backfield and that detracts from his value. He still finds ways to make plays on his limited touches, however. Things are not likely to change much with two veterans sharing the touches, but Kamara is electrifying.
Jamaal Charles DEN 22.2% Ownership
At the beginning of the season I was very skeptical of Charles and I still think he is a limited back. At this point in his career he is best used as a change of pace and Denver is doing it to perfection. The way that Charles is being deployed is the way that Lamar Miller was used in Miami when he was successful. There is every reason to think that as Charles regains his confidence he will be a very nice flex option.
PPR Specials
Javorius Allen BAL and Wendell Smallwood PHI
The Ravens offense is abysmal, but they are not as bad as they looked in London. Allen still has the passing down back role and that will have value in ppr leagues. Smallwood is the favorite to take over Darren Sproles passing down role, but I wouldn't overbid for him. He is a nice back and I have him as a solid streamer this week. I fully expect the Eagles to bring in reinforcements though.
Wide receiver
10 Team Leagues
Sterling Shepard NYG 32.3% Ownership
The Giants offense finally figured things out, at least for one week. They have no run game, but their receivers are top notch. Sterling Shepard has caught 7 passes twice in three games. He is clearly a big part of the game plan and things should get better from here. This may be the last chance to get a piece of the Giants passing game before it fully takes off.
Josh Doctson WAS 33.4% Ownership
The buzz surrounding Doctson coming out of college was enough to get fantasy football players excited. After being perpetually injured for about a year, he is finally scratching the surface of his potential. His usage has been very limited so far, but it should grow rapidly. Last week he showcased his big play ability on a 52 yard touchdown grab. If Terrelle Pryor cannot integrate into the Redskins offense, Doctson could earn a lot more playing time in a hurry. Grab and stash right away in all leagues.
12 Team Leagues
Jaron Brown ARI 4.3% Ownership
The Cardinals offense is showing signs of life as they acclimate to not having David Johnson on the field. John Brown has continued to be plagued by injury. That opened the door for Jaron Brown and he has flourished with this newfound opportunity. In week 2 he caught four balls for 73 yards. Week 3 brought a touchdown reception, although only 27 yards. As long as Larry Fitzgerald and JJ Nelson take the top defenders, Jaron Brown should see decent production.
Travis Benjamin LAC 1.2% Ownership
Here is a player that was a buzzy draft pick last season, but totally off the radar in 2017. Benjamin is not the Chargers top receiving threat, but he is producing. He has double digit fantasy points in two of three games so far. The targets are not overwhelming for Benjamin, but he has big play ability to spare. You could do much worse for a flex play.
Watch/Stash
Bruce Ellington HOU 0% Ownership
The Texans are an offense on the rise and we are yet to see who clicks with the young QB. In a close loss to the Patriots Watson leaned on Ellington often. He was second in targets to DeAndre Hopkins with seven. It will be a couple of weeks before Will Fuller is ready to return to the field. That means that Ellington (seen as a breakout candidate in SF) could make his mark in the meantime.
Tight End
10 Team Leagues
Charles Clay BUF 8.2% Ownership
Three weeks into the fantasy football season, Charles Clay is TE10. He has had 4, 3 and 6 catches respectively with touchdowns in two of three games. It is clear at this point that Clay is a focal point of the passing game for the Bills. He is one of the only receivers that Tyrod Taylor seems comfortable with at the moment. That makes him worth a start in almost any league size/format.
12 Team Leagues
Austin Seferian-Jenkins NYJ 1% Ownership
In his first game back from suspension Seferian-Jenkins caught 5 passes right out of the gate. He only gained 31 yards, but the volume is there. He is probably the most skilled pass catcher on the team and the Jets should lean on him. There will be weeks that nobody on the team produces, but Seferian-Jenkins should have opportunities every week.
David Njoku CLE 2.5% Ownership
The usage is not high enough to go crazy over yet, but Njoku is scoring touchdowns. He has scored in two straight games and it appears that Kizer is comfortable with him in the red zone. As Njoku and Kizer both acclimate to the pro game, their connections should become more frequent. In the meantime, he is a nice touchdown dependent flex/fill-in.
Week 4 is on the way so hit the waiver wire and grab some reinforcements for you squad. Check back often for more content exclusive to Fantasy Knuckleheads. As always, follow us on Twitter for more insight, analysis and occasional shenanigans: @_knuckleheads and @brendancole16.