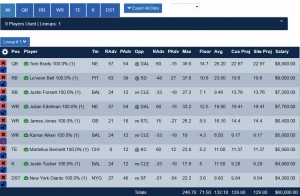 Last week was brutal! Five of my value picks were injured during the game (though Michael Crabtree's was only minor) and in general, the DFS landscape was a wasteland of match-ups and picks that should have worked out, but didn't. To add on to the ugliness, an insider trading scandal erupted in the industry. Not a pretty scene for daily fantasy players. On to the future, though, as the bye weeks continue. Let's have a look at my Week 5 Fanduel and DraftKings value picks at quarterback, running back, tight end, wide receiver and team defense.
Week 5 Quarterback Value Picks
Josh McCown - CLE - DraftKings Salary 5100 - Fanduel Salary 6700
McCown is coming off back-to-back 300+ yard passing games. At the price, it's harder to find better upside. It seems like McCown is finally settling into the offense and the emergence of Duke Johnson Jr. has only helped. The way to beat Baltimore this season has been through the air, not on the ground, so another big week for McCown could very well be in store.
Sam Bradford - PHI - DraftKings Salary 6000 - Fanduel Salary 7500
Bradford finally had a big week in week 4, firing a couple long touchdowns. Now, at home in week 5 against another suspect secondary (New Orleans is near the bottom of the league vs. opposing passers and pass-catchers), I think Bradford has an excellent chance to keep the Mojo going.
Jay Cutler - CHI - DraftKings Salary 5300 - Fanduel Salary 7400
As I mentioned last week, the Chiefs are dead last in the league against opposing passers. (Naturally, they thus gave up four rushing touchdowns to Cincinnati. Of course. That makes total sense and is predictable that the team worst against the pass would give up four rushing TDs. Naturally. Of course. Totally. Do you sense my bitterness?) Cutler returned from a hamstring injury and made it through his week four tilt with Oakland with no setbacks. He might have Alshon Jeffery back this week, but even without him I think there's enough upside here to take a flier on.
Week 5 Running Back Value Picks
Duke Johnson - CLE - DraftKings Salary 4600 - Fanduel Salary 5900
Nine receptions on ten targets. That's WR1 numbers. Love him in Draftkings, which is a full-point PPR, and again, the way to beat the Ravens is via the pass. Johnson is the clear passing down back in Cleveland, and while I don't think it's likely he'll have 9 catches again, even a modest drop to the 6-7 range gives him a very sustainable baseline performance.
Todd Gurley - STL - DraftKings Salary 4300 - Fanduel Salary 6700
Gurley exploded onto the scene in week 4 with a couple big plays. The Packers can best be beat via the run and if the Rams have any chance of keeping this close, they need big plays from Gurley early and often. He's clearly "the guy" now and was even able to catch a couple passes. Use him while his price remains low - it won't for long.
Chris Thompson - WAS - DraftKings Salary 3300 - Fanduel Salary 5100
Definitely more of a tourney play with upside, Thompson is featured in passing scenarios when Washington falls behind. Playing in Atlanta with a suspect secondary, I can see Washington falling behind. Quickly. While his receptions took a drop last week, his carries also took a bump, and he turned just six totes into 53 yards.
Week 5 Wide Receiver Value Picks
Leonard Hankerson - ATL - DraftKings Salary 4000 - Fanduel Salary 6000
See above regarding Washington's suspect secondary. I don't think Julio Jones will be so quiet every week, but I do think Hankerson is the clear number two receiver and Roddy White has clearly taken a back seat. Against the Redskins, I like Hankerson to have another decent week, and a WR1 performance like week 4 isn't out of the question.
John Brown - ARI - DraftKings Salary 5100 - Fanduel Salary 5900
I Prefer him on Fanduel because of price but like him on both. Brown remains well-targeted in a high powered offense, it's only a matter of time before he finds the endzone. Detroit's defense actually hasn't been quite as bad as their record indicates, but still the matchup is certainly nothing to be afraid of. Speed plays on turf and I think Brown could get loose for a long one. Even if not, his 7-for-75 stat line from last week is encouraging. He'll find the endzone soon enough.
Kamar Aiken - BAL - DraftKings Salary 3800 - Fanduel Salary 5800
No Steve Smith. No Breshad Perriman. Possibly no Crockett Gilmore. The Ravens are running out of options to throw to. Yes, this is more of a volume play than a case where I love his talent, but I think Gilmore is a very reasonable play this week and a good, cheap option if you want to spend heavy elsewhere.
Week 5 Tight End Value Picks
Owen Daniels - DEN - DraftKings Salary 2700 - Fanduel Salary4900
Play your tight ends against the Raiders. That's more or less the end of this analysis.
Larry Donnell - NYG - DraftKings Salary 2900 - Fanduel Salary 5200
Love the DraftKings price. Also, with Daniel Fells to IR, Donnell should now dominate the Giants' TE targets. He's always been a good red-zone option so if we project a few more targets and catches to his stat-line, Donnell could be a TE1 moving forward and you don't have to pay a TE1 price… yet.
Week 5 Defense-of-the-week
One thing I haven't been too bad at hitting in both weeks this season is the D/ST position. Again, I think the Broncos D/ST are worth the money. They're by far and away the best fantasy defense this year, and it's not close. If you have to save a few salary cap dollars, the Jaguars D/ST is a very reasonable option against Mr. 4-INT Jameis Winston and the Chiefs D/ST, which has been scary to use to-date, could finally get healthy at home against the 1-3 Bears. I know, I know, I just recommended Cutler as a high-upside play. You could consider this a hedge, or you could consider the fact that in different lineups, both are interesting upside plays.
Best of luck. As always you can tweet me @pkaragianis