A quarter of the NFL season is in the books, but fantasy football could still turn on a dime. Make the right waiver acquisition or trade and there is still time to turn around even the worst team. In that same spirit, here are the week 5 waiver wire picks.
Quarterback
Derek Carr OAK Rostered: 20%
It may be time to take Carr seriously as a starting quarterback at this point. Outside of week 1, Carr has scored at least 17 fantasy points in each game. Last week he exploded for 36 points, which is probably his absolute ceiling. It appears that Gruden has Carr on the right track and he should be a viable starter or at least QB2 for the rest of the season.
Blake Bortles JAC Rostered: 18%
Despite the occasional clunker, Bortles is a surprisingly productive quarterback. He seems to be on the same page with multiple receivers this season, despite the loss of Marqise Lee. Bortles is more of a matchup based play, but in a good matchup he is a safe bet for high end QB1 numbers. Keep an eye on Fournette as well, because when he misses time Bortles' numbers explode.
Captain Obvious
Any QB Playing The Bucs Defense
This does not qualify as a  waiver pick for this week since the Buccaneers are on a bye of course. Still, if you are the quarterback streaming type, take note that the Bucs cannot stop the pass...ever. Mitchell Trubisky just had an all time great game against this dumpster fire of a defense. A couple of streaming games to target might be week 7 and 8 where Baker Mayfield and Andy Dalton might be available.
Check Out The Past Waiver Wire Picks
Running Back
Flex Appeal
T.J. Yeldon JAC Rostered: 47%
It looks like Yeldon is ready to contribute whether or not Fournette is playing this year. He has at least 69 total yards in each game this season to go along with three scores. As a flex play, Yeldon is one of the more solid options that is widely available.
Nyheim Hines IND Rostered: 15%
This is a boom or bust pick, but the boom percentage increases as the Colts offense gels. Luck appears to be gaining confidence and that will be contagious among the young players like Hines. For true value, Hines is best deployed in PPR, but he has enough wiggle to rack up some yards and an occasional score among his many short catches.
Gross, But Worth A Look
Frank Gore MIA Rostered: 8%
It looks like Gore has moved firmly ahead of Kenyan Drake in Miami. The coaching staff will not give Drake the ball for any reason, so it is up to the aging plodder to anchor the run game. While the yardage totals are going to be awful, there is always a chance for a short TD run. Gore has much greater utility in standard leagues, but as a flex or bye week fill in.
Mike Davis SEA Rostered: 0.2%
It has not been a great year for the Seattle run game, but it was a great week 4 for Davis. He gained 101 yards on the ground and scored twice. I do not trust Davis going forward, but there is something to be said for production. When nobody else is getting the job done, the guy gaining yards is at least worth a bench spot. My feeling is that Davis will not have another game like this all year, but add him speculatively if you like.
Simmer Down
Nick Chubb CLE
He had three carries. Yes, they were scintillating carries that netted a boatload of points. This is still Carlos Hyde's show and Chubb is nothing but a handcuff.
Wide Receivers
Startable Receivers
Dede Westbrook JAC Rostered: 12%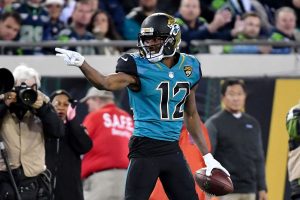 The passing game in Jacksonville has more capable receivers than volume. In a give week any player could emerge as the go-to guy. At the moment, it seems like Westbrook has the best chance to produce though. He has had at least 3 catches in each game and over 50 yards in three of the four. He is a widely available option with WR2 upside.
Phillip Dorsett NE Rostered: 11.2%
A lot of fantasy players are bailing on Dorsett because of the return of Edelman and the acquisition of Gordon. I do not think that Dorsett is just going to go away however. Aside from a game where he was dinged up, Dorsett has been targeted 7 times each week. Brady has some trust in him and that will not just go away. There is a chance that he sees less looks, but I think that Dorsett has decent ROS value in an improving offense.
Bench For Now, But Upside
Keke Coutee HOU Rostered: 0.5%
The game between Indy and Houston was an offensive explosion where everyone (except Lamar Miller) got involved. Coutee was one of the most surprising beneficiaries, as he had 15 targets in his NFL debut. He will not continue quite that high a target share when Fuller is back and Hopkins is active, but obviously Deshaun Watson likes the rookie. If Will Fuller misses more time, Coutee could be PPR gold. At worst, he is a great speculative add with lots of upside.
Not Buying Yet
Bears Receivers
The Bears faced the Buccaneers and absolutely pounded their defense into dust. I like Mitchell Trubisky as a project, and the Bears have some nice pieces. I would not go out of my way to acquire their services right now though.
Tight End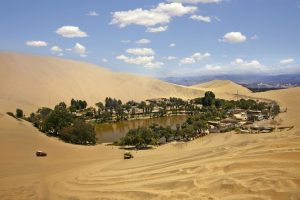 Tight end is just a vast wasteland of despair if you don't have a top performer this year. Here is a short list of guys that I think could have a starter-worthy week 5.
Ben Watson NO
Austin Hooper ATL
Austin Seferian-Jenkins JAC
Nick Vannett SEA
Make sure to check back tomorrow for our weekly positional rankings. Then get your lineups set for another week of fantasy football action. Check me out on Twitter for extra insight and analysis: @brendancole16.