Week 4 in the NFL was a strange time. I saw Michael Vick and Matt Hasselbeck both starting games despite the fact that it is 2015. Hopefully Andrew Luck will come back in week 5, but there are still plenty of bad quarterback situations. If you are in one of these or just like to stream quarterbacks, we've got you covered. Of course the same goes for tight end.
Week 4 Recap (Standard League Points):
Quarterbacks
Derek Carr  OAK - 15 pts
Ryan Fitzpatrick NYJ - 15 pts
Michael Vick  PIT - 13 pts
Tight Ends
Maxx Williams  BAL - 1 pt
Gary Barnidge  CLE - 13 pts
Owen Daniels  DEN - 6 pts
Sort of a mixed bag here, no big hits with the quarterbacks, but Barnidge and Daniels were decent for streaming tight ends. I really don't know why Maxx Williams does not get the ball more, very frustrating. I will say that I want to double down on Barnidge as long as McCown is at the helm, looks like he will be a big part of the passing game.
Teams on a bye Week 5: Carolina, Miami, Minnesota, NY Jets
Week 5 Picks - Quarterback
Jay Cutler  CHI
All of the trendy Jay Cutler breakout talk was put to rest in 2014, but he can still be useful. Turnovers are a killer in football, but in fantasy football they can be forgiven if production is high enough. Cutler may get Alshon Jeffery back in week 5 and they face a beatable Kansas City secondary. Bombs away.
Brandon Weeden  DAL
I honestly never thought that I would recommend Brandon Weeden for anything other than a practice squad quarterback. That changes with the Patriots coming to town and the Cowboys likely to play from behind all day. I hate Weeden's skills as a quarterback, but he does have some decent players around him. My hope is that the volume of throws will result in some points, but this is a tough call. I would feel better about recommending Cassel if he was starting, but he probably is not up to speed on the playbook yet.
Alex Smith  KC
Smith has only had one game this season where he has not put up at least 20 fantasy points. He is starting to click with his receivers and should be a solid starter most of the time going forward. The Bears are probably going to get shredded by Jamaal Charles and that may limit Smith's ceiling in week 5, but he is a safe play.
Week 5 Waiver Wire: Running Back / Wide Receiver / IDP
Week 5 Picks - Tight Ends
Coby Fleener  IND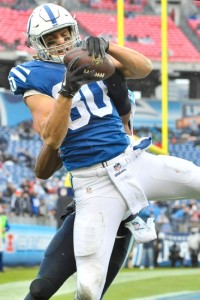 Fleener has been a decent play for the last two weeks and should remain so regardless of who starts at quarterback. With Dwayne Allen injured, Fleener is getting a lot more looks in the passing game. Houston is not the defense that many people thought they would be this year and that could mean another nice game for Fleener in week 5.
Richard Rodgers  GB
Green Bay is playing with spare parts and Aaron Rodgers is still making it work. Richard Rodgers is starting to get more looks in the passing game, particularly in the red zone. Although James Jones is one of the primary red zone targets, Rodgers gets less attention from defenders. Like most tight ends, he will put up a donut now and then, but you could do worse than having a piece of the Green Bay offense.
If He Is Out There - Antonio Gates  SD
Remember that Antonio Gates returns from his four game suspension in week 5. Ladarius Green has filled in admirably in his absence, but make no mistake-this is Gates's team. 24 percent of leagues show Gates on the waiver wire and that needs to change immediately. If he is available in your league, go get him yesterday.