Week 4 is just about in the books and the injuries keep piling up. Bye weeks are becoming a factor now and there are going to be some weeks that desperation could lead to bad choices. Not to worry, we're here to help and there is still under the radar value on the waiver wire. Last week's running back suggestions in large part worked out nicely and this week should see a similar result. I'm going to start with a quick recap of the recommendations from week 4 and then move on to new picks for week 5.
Week 4 Recap (pts in standard leagues):
Karlos Williams - 13 pts (and he will start for at least the next 3-4 weeks)
Charles Sims - 11 pts
Thomas Rawls - Will be the starter on Monday Night, Lynch is still injured
Jonas Gray - 0 pts
Alfred Blue - 1 pt (But Foster returned as I warned he might)
Recommended Against Chris Thompson - 7 pts
I still recommend Williams, Sims, Rawls and in deep leagues Gray. Blue is an afterthought with Foster returning and I still don't like Thompson (despite occasional PPR value), or anyone else in the Washington backfield with the inconsistent usage.
Teams on a bye: Carolina, Miami, Minnesota, NY Jets
Week 5 Waiver Wire: Running Back / IDP / Quarterback and Tight End
Week 5 Picks:
Duke Johnson Jr.  CLE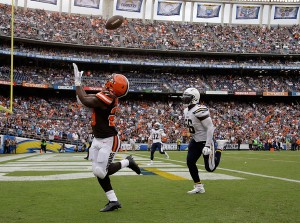 This is not exactly a deep pull as Johnson had some hype coming into the season. He has not exactly set the world on fire though and is available in over 50% of leagues. He was a big part of the passing game versus San Diego and if this continues versus a porous Baltimore pass defense it could mean big numbers in week 5.
Ronnie Hillman  DEN
Somebody finally made some noise in the Denver backfield and it wasn't C.J. Anderson. Hillman went over 100 yards (although most of it came on a 72 yard run) and scored a touchdown for the second week in a row. If things keep trending in this direction, Hillman could take over most of the rushing load for the Broncos. I told you to pick him up a couple of weeks ago, but if he's still out there get him now.
Anthony (Boobie) Dixon  BUF
Karlos Williams is obviously the lead dog in Buffalo at the moment, but he was not super impressive in week 4. If he does not pick it up in a big way, I would think that Dixon will start being mixed in more. LeSean McCoy's status is completely up in the air based on how he heals, I don't like to rely on that type of thing. I would grab Dixon now before he becomes more of a factor in the Buffalo run game.
*Karlos Williams now questionable for week 5 after sustaining a concussion.*
Keep An Eye On: Indianapolis Backfield
Frank Gore has not turned back the clock as some fantasy owners had hoped and Josh Robinson is not good. Indy has been talking to free agents like Montee Ball and Ahmad Bradshaw. This may not mean anything, but it is a situation that warrants your attention. If a proven veteran (or Montee Ball) is brought into the Colts stable of running backs it could mean they are worth stashing.
Fool's Gold: Terron Ward  ATL
Ward is not going to see much action in most games despite a gaudy stat sheet in week 4. Devonta Freeman has been setting the fantasy football world on fire and that should continue for the moment. If the Falcons go up huge on another team, Ward should see more action. This is not the type of thing that you want to rely on outside of a desperation flex play, however.