Welcome to the week 5 edition of waiver wire picks. Hopefully some of you are smiling after picking up huge points from my week 4 recommendations. If not, then let's see if we can get your team kicked into high gear with some more players who may be about to light it up on the gridiron. Here is a recap of the week 4 picks performances followed by my week 5 players.
Week 4 Recap (Points In Standard Leagues):
Rishard Mathews  MIA - 1 pt
Ted Ginn Jr.  CAR - 13 pts
Leonard Hankerson - 16 pts
Allen Hurns  JAC - 17 pts
Kenny Britt  STL - 0 pts
Marvin Jones  CIN - 0 pts
Major boom or bust in week 4, I still like everyone on that list except for Kenny Britt.
Teams on a bye Week 5: Carolina, Miami, Minnesota, NY Jets
Week 5 Waiver Wire: Running Back / IDP / Quarterback and Tight End
Week 5 Picks:
Eddie Royal  CHI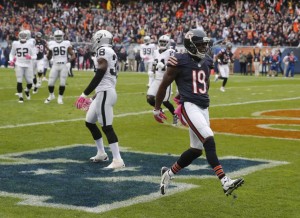 The return of Jay Cutler also signifies the return of Royal possibly having value. It looks like Alshon Jeffery may also come back for week 5 which would mean that Royal will not have to play against number one cornerbacks anymore. He went over 50 yards and scored in week 4 and that may just be the beginning if the Bears can get healthier. Royal may live up to his preseason sleeper billing yet.
Rueben Randle  NYG
I hate to recommend Randle because he is so haphazard in his production (and route running). The Giants need someone to step up and produce as a WR2 without Victor Cruz and Randle seems like the top candidate. Sometimes when it comes to fantasy football, opportunity is more useful than skill. This is one of the times that I'm banking on that.
Tavon Austin  STL
Austin had a huge week against the Cardinals, but be careful of the Rams passing game. Foles seems to have a new favorite receiver each week (see Kenny Britt). I do think that Austin is the most skilled member of the Rams receiving corps and should be owned. There is potential for disappointment, but there is the added upside of a few rushing touches and the occasional return touchdown.
Ty Montgomery  GB
Montgomery's value is tied to the health of Davante Adams. If Adams manages to get healthy, Montgomery is no longer worth rostering. Either way I would only pick him up in deep leagues due to his sporadic production. It is worth noting that he saw six targets in Sunday's matchup with San Francisco, so there is upside as long as he sees time on the field.
Just In Case: Martavis Bryant  PIT
Bryant is a player who had a lot of hype going into the season and he is owned in almost every league. Just do a cursory check of the waiver wire to make sure that his owner did not get impatient during his four game suspension. Bryant plays for the first time in week 5, unfortunately with Michael Vick at quarterback. His upside will be limited by the QB for the time being, but Bryant's potential is too much to ignore if you are in the 17 percent of leagues where he is on waivers.