The waiver wire is lit after some serious injuries during week 4. Owners have been left scrambling and now is the time to capitalize on opportunity. If your team needs a running back, there are several nice choices available; ditto for quarterback.
(All Waiver Picks Must Be Available In More Than 50% Of ESPN Standard Leagues)
Quarterback
10 Team Leagues
Deshaun Watson HOU 28.8% Owned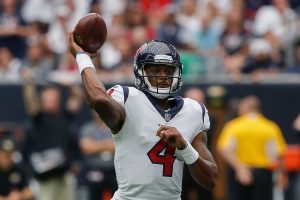 The Texans rookie quarterback has been a revelation for an offense in need of a spark. Watson has revived DeAndre Hopkins and Lamar Miller is finding room to run again. With the emergence of Bruce Ellington and Will Fuller's return from injury, things are looking up all around. Watson is looking good as a passer versus lower level defenses. Tougher matchups are less scary because of his rushing ability. You are looking at a player that is on the cusp of being an every week starter.
Carson Palmer ARI 16.8% Owned
The Cardinals offense had a hard time adjusting to the loss of David Johnson. Things are still a bit rocky, but Carson Palmer is putting it together. John Brown is back from injury and the rest of the receiving corps has stepped up their game. Larry Fitzgerald takes a lot of attention, leaving plays available for JJ Nelson and Jaron Brown. The running game is nonexistent, but the Cards tried a short passing game to Ellington last week with some success. Palmer is going to be busy and that is good news for his fantasy fortunes.
12 Team Leagues
Eli Manning NYG 18.6% Owned
The Giants offense has been up and down, but when they're up it is explosive. The reason that I don't like Manning in smaller leagues is the upcoming schedule. The Chargers aren't an awful matchup, but then the G-Men face Denver and Seattle. The Giants cannot stop the pass rush and those have single digit fantasy game written all over them for Eli.
Mitchell Trubisky CHI 1.2% Owned
The Bears will trot out their rookie quarterback as the starter in week 5. Mike Glennon has worn out his welcome and the number one overall pick is going to show what he has to offer. The receivers for the Bears are weak, to say the least. Tarik Cohen's pass catching ability adds a bit to the equation. Markus Wheaton brings some big play ability and also some drops. The biggest asset for Trubisky right now is his elusiveness. He can extend plays and scramble enough to be dangerous. He is more of a hold for the moment, but with upside.
Running Back
10 Team Leagues
Alvin Kamara NO 22.3% Owned
The top waiver add for week 5 is not an injury replacement, but a breakout in progress. Kamara is a beautiful fit for Sean Payton's offense and has a great three down skill set. Despite the presence of two veteran starters in New Orleans, Kamara is the obvious favorite to touch the ball. He catches the ball well and has the explosiveness to score at any time. At worst he is a weekly flex play with RB2 upside.
Wendell Smallwood PHI 16.2% Owned
It looks like LeGarrette Blount is the biggest beneficiary of Darren Sproles absence in Philadelphia. At the same time, Smallwood is seeing more action than I expected him to. He had almost 80 total yards and a score in week 4 and looks to continue with increased touches going forward. Smallwood is most effective in the passing game, but ran well also. He is worth an add if he is still available in your league.
Aaron Jones GB 2.6%  Owned
The Packers could be without starting running back Ty Montgomery in week 5. If he is absent, I love Aaron Jones as a fill in. He ran with authority in week 4, in stark contrast to the weak sauce of Jamaal Williams. Montgomery is not as badly injured as originally feared, but Jones is worth owning based on potential.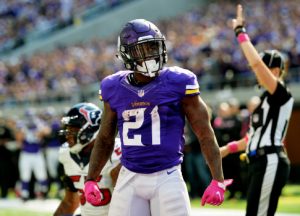 Jerick McKinnon MIN 0.9% Owned
A torn ACL is going to keep Dalvin Cook out for the remainder of the season. That means that the Vikings passing game is going to take a big step back. They have other running backs of course, but Cook is a special talent. McKinnon has the upside here based on his physical skills and pass catching ability. The Vikings offensive line is not as bad as it was last season when McKinnon was seeing increased playing time. There is some upside here, but not to the extent of what Cook showed.
12 Team Leagues
Latavius Murray MIN 21% Owned
It would seem like Murray is the obvious choice to start with Cook out, but slow down. Murray will see plenty of action, but do not expect too much from him. He is used to running through gaping holes created by the Raiders offensive line. The Vikings have improved, but not to that degree. He may score a couple of cheap touchdowns, but I'll avoid a plodder with a not-yet-recovered ankle.
Wayne Gallman NYG 0.2% Owned
The Giants rookie running back looked very good in limited action on Sunday. He led the team with 11 carries for 42 yards. That does not sound like much, but compared to Paul Perkins he looked like Emmitt Smith. The Giants have tried desperately to find a run game and Gallman has the hot hand. At the least that should mean more opportunities in the short term. I would like him better behind another offensive line, but he is worth a speculative add.
CJ Prosise, Thomas Rawls and Eddie Lacy SEA
If you want a piece of the Seahawks running game, see if any of these guys are available. Chris Carson is done with a fracture in his leg. If he could stay healthy I would prefer Prosise, but he cannot stay healthy. Neither can Rawls for that matter. Lacy is just used up and slow, but he may end up being the early down rusher of choice. I am going to avoid the situation personally, but if you like gambling this is your backfield.
Wide Receiver
10 Team Leagues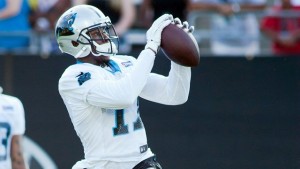 Devin Funchess CAR 14.5% Owned
The Panthers have discovered some offense of late and Funchess has had a hand in it. Of course, the Patriots have had a bigger hand in it, but they are another story. Either way, Funchess is seeing a dramatically increased target share in the absence of Greg Olsen. He has caught 15 balls for just shy of 200 yards and 2 touchdowns over the last three weeks. He is a solid weekly play while Olsen is ailing.
Will Fuller V HOU 9.8% Owned
Fresh off a broken collarbone, Fuller came back with a vengeance in week 4. He had four catches for 35 yards and 2 touchdowns versus the Titans. He has a clear rapport with Deshaun Watson and there should be plenty more where this came from. Fuller is going to be owned in most leagues in short order, so work fast with those waiver claims.
12 Team Leagues
Jaron Brown ARI 2.8% Owned
One of the major reasons for the Cardinals offensive resurgence is Jaron Brown. He has seen his fantasy points rise in each of the past three weeks. One of those weeks was touchdown dependent, but that still counts in fantasy. The wide receiver corps is crowded in Arizona, but Brown has been as steady as anyone on the team. He is a risk to bottom out some weeks, but overall the upside makes up for it.
Kendall Wright/Markus Wheaton CHI 7.4/0.8% Owned Respectively
Wright is the possession receiver for the Bears, but look for Wheaton to come on as well. The change to Mitchell Trubisky should help the Bears passing game, but there is no telling which receiver he'll favor. At this point, both of these guys would be speculative adds with Wright having the stats so far of course. It will take a week or two to see which wideout Trubisky clicks with, but one of the two should be worth a spot.
Watch
Brice Butler DAL 1% Owned
Despite having nice production over the past two weeks, Butler is probably not an add yet. He routinely outplays fellow receiver Terrance Williams, but Williams is still ahead on the depth chart. The ability is certainly there for Butler, but until he gets more frequent opportunities he is just a watch list candidate.
Tight Ends
10 Team Leagues
Evan Engram NYG 24.6% Owned
There are not many playmakers on the Giants, but Engram is definitely one of them. He has not caught less than 4 passes in a game and over the last three weeks, he has caught 4, 5 and 6. With his role in the offense steadily increasing, his value should not fall off. He is a great add in PPR leagues and a good add in standard formats.
12 Team Leagues
Austin Seferian-Jenkins NYJ 1.4% Owned
The yardage is not great at this point, but Seferian-Jenkins is getting looks. The Jets offense is not likely to steamroll anyone, but at a thin position catches are enough. If McCown stays healthy, his rapport with Seferian-Jenkins will improve and the results should get better, in theory.
Be sure to check back tomorrow for a gut check of our computer-generated rankings. As always, follow us on Twitter for more insight and analysis:@_knuckleheads and @brendancole16.