The middle of the season is when fantasy football starts to get truly challenging. The meat of the schedule brings bye weeks and stacks of injuries. Both of these are factors heading into week 6, so the waiver wire is going to be competitive. Make sure to get your claims in for the right players using the week 6 waiver wire picks.
Quarterback
Blake Bortles JAC Rostered: 40%
Despite being (rightfully) the butt of plenty of jokes, Blake Bortles can be a valuable fantasy commodity. If he is the quarterback of your team in real life, that is a problem. A matchup based fantasy play; you're good to go. Just look at last week, he was awful and still put up 24 fantasy points.
C.J. Beathard SF Rostered: 3%
This is kind of similar to Bortles. The 49ers knew that their season was in a tailspin once Beathard became their starting quarterback. For fantasy purposes, however, he has been very serviceable. Beathard has started two games and was over 20 fantasy points both times.
Running Back
Start Them
Alfred Morris SF Rostered: 50%
Since the Niners lost their starting back in the preseason there have been several phases. It has gone from "who will be the lead back", to "Breida is the lead back", and now "Breida is hurt, so use Morris I guess". He is not going to put up monster numbers, but Morris should see plenty of touches and he has been decent. There is every reason to expect at least flex-worthy numbers while Breida is out.
Nyheim Hines IND Rostered: 47%
Similar to the situation in San Francisco, the Colts backfield looked murky heading into the year. It is no longer murky, but the talent is not top shelf. For the mere fact that Hines can do a little bit of everything, I would recommend having him on your roster. If the Colts scheme his way a bit more, he could surprise some people with big games down the stretch.
Corey Clement PHI Rostered: 28% (Wendell Smallwood – 7%, Josh Adams – 0.3%)
For the remainder of 2018 the Eagles will be without Jay Ajayi, but which back will step up? Assuming the team does not grab LeVeon Bell or LeSean McCoy, my first choice would be Corey Clement. He is a solid all around back that has looked great when give a chance. Since Doug Pederson loves the committee approach, Smallwood and Adams are both worth a speculative add as well in deep leagues.
Speculative Add
Jamaal Charles JAC Rostered: 0%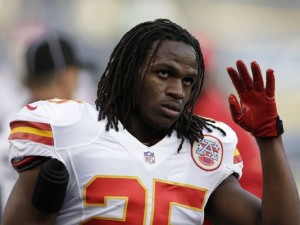 This is some news that just came out. The Jags have signed Jamaal Charles and he will probably play right away. The top 3 running backs on the Jacksonville roster are out or dinged up for week 6. Yeldon is the guy for now, but this may end up being more than just speculative in a hurry.
Mike Davis SEA Rostered: 14.5%
I admit that I was wrong about Mike Davis, and the whole Seattle running game all year for that matter. I have not been able to figure out what Carroll is going to do and I'm not sure that he knows himself. What was obvious in week 5, was that Davis is at worst option 1B at the moment. Chris Carson is starting, but Davis is getting a solid workload and is worth hanging on to for the moment.
Wide Receivers
Ready To Roll
Robby Anderson NYJ Rostered: 43%
Just about everyone knows that Robby Anderson has the skill of a number one receiver. He looked like a breakout star multiple times in his career. Another thing that is common knowledge is that Anderson is a head case and can disappear at times. It looks like he is finally on the same page as Darnold after a 123 yard day capped off by 2 touchdowns.
Keke Coutee HOU Rostered: 20%
After a solid debut, there were questions about how involved Coutee would stay in the Texans offense week to week. Those questions were answered in week 5 as the offense clearly had some plays thrown in just to get the ball to the rookie. With DeAndre Hopkins and Will Fuller to spread out defenders, Coutee should continue to find space to work underneath. He is PPR gold, with the speed and wiggle to break a big play at any moment.
Up And Coming
Christian Kirk ARI Rostered: 11%
As the Cardinals search for any kind of footing on offense, they are hoping that their two rookies can gel in the passing game. Josh Rosen and Christian Kirk have the talent to be a nice tandem for years to come and it looks like they're figuring it out. Kirk has 18 catches over the past four games and he has been over 85 yards in two of the last three. If that kind of production can continue, he will be more than worthy of a flex spot.
Tre'Quan Smith NO Rostered: 1%
Trying to predict the habits of Drew Brees can be a losing battle, but he has a special talent in this rookie receiver. He is tough to bet on going forward because of the number of options in New Orleans, but his potential was on display Monday Night Football as he caught 3 balls for 111 yards and 2 touchdowns. He would be a nice stash for owners with bench space or a desperation boom or bust play.
Opportunities Increasing
David Moore SEA Rostered: 0.1%
Nobody is describing the Seahawks as "the greatest show on turf" or even "a serviceable offense" in 2018. That may actually help the value of this young receiver, however. Russell Wilson has very few good options and that means that everyone is getting a shot to prove themselves. Brandon Marshall is falling down the pecking order while Moore is on the rise. Of course week 5 was probably the only multi touchdown game that Moore will have this year, but he should see more chances following that production.
Marquez Valdes-Scantling GB Rostered: 3%
Not exactly a household name here, but the Packers are really banged up at the moment. Right now, Valdes-Scantling has to rely on injuries to earn some playing time, but he certainly made the most of his opportunity. With no Cobb or Allison, Valdes-Scantling went for 68 yards and a score on 7 catches. That is the type of line that can earn you the trust of your QB, and thus more playing time.
Tight End
Austin Hooper ATL Rostered: 50%
Tight end continues to be a disgusting crapshoot (sorry NFL tight ends). The offensive schemes in the league are changing and the position is just not what it used to be. Relying solely on opportunities and the skill of surrounding players, Hooper has a decent shot to produce going forward. He is a nice player in a good offense.
Geoff Swaim DAL Rostered: 7%
Swaim is seeing a lot of opportunities to produce. Unlike Hooper, he is not in a good offense. His quarterback is running for his life and checking down, which works out for a tight end. Swaim is more of a PPR play.
Get your waiver claims in and get ready for another wild week of football. Check back tomorrow for our weekly positional rankings as well. Be sure to check me out on Twitter for more insights and analysis or for specific questions: @brendancole16.