The waiver wire is about to open up for week 6, time to research your bids. As they do just about every week, some star players went down with injuries. Guys like Odell Beckham Jr. leave a big hole in a lineup, but waivers can help. Let's get into it and see which player is a fit for your team.
Quarterback
10 Team Leagues
Jared Goff LAR  23.4% owned
The Rams schedule is going to get easier soon. They have a game against Jacksonville and that is a nightmare for opposing wideouts. After that things open up and Goff should be free to show his stuff. He is a solid matchup play, just don't play him in week 6.
12 Team Leagues
Brian Hoyer SF  7.3% owned
Owning Hoyer can be a roller coaster ride, but the right matchup offers big dividends. There have been two instances where Hoyer topped 25 fantasy points. There have also been two single digit games. He is a wild card, but he can be a nice bye week player.
Running Back
10 Team Leagues
Jerick McKinnon MIN  28.9% owned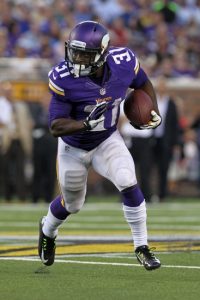 If you said that I had an unhealthy level of trust in McKinnon, you would be right. I have hyped him up since he was a rookie and so far it has not panned out. Although he did have a big game on Monday night. His athleticism is off the charts and he should get a lot of opportunities to prove himself this season. Latavius Murray is a dinged up plodder whose main utility is around the goal line. I'll take McKinnon's potential for the long haul.
Wayne Gallman NYG  26.9% owned
The Giants offense lost...pretty much every wide receiver on Sunday. They are going to be bringing guys off the street to run routes for a couple of weeks. That will not help the running game, but Gallman looked spry in limited action. He split carries with Orleans Darkwa and Darkwa got the touchdown. On the flip side, he dropped multiple key passes. Gallman is the back to own going forward, but he may not immediately pay off.
Elijah McGuire NYJ  14.6% owned
Across town, another backup is moving up the depth chart. McGuire is the opposite of Gallman as his immediate future may be brighter. Bilal Powell and Matt Forte are both dinged up and both may sit out the next game. McGuire has not amazed, but he has enough to put up some points if the volume is that. For week 6 at least, the volume will be there.
Marlon Mack IND  3.3% owned
There was a lot of sleeper talk surrounding Mack in the offseason. Frank Gore is used up and the Colts are in desperate need of weapons on offense. In week 5 Mack had a nice showing and it may be his coming out party. He ripped off 91 yards on just 9 carries. The problem is that Gore still got 17 touches. Mack is headed in the right direction, but be patient.
12 Team Leagues
J.D. McKissic SEA  9.2% owned
The Seahawks are awash in mediocre running back talent. Lacy, Rawls and Prosise are all decent, but not starter material. That is why Chris Carson shot to the top of the depth chart. I do not foresee the same thing with McKissic. What I do expect is a ton of short passes for a team that cannot run the ball. Since Prosise can't stay healthy, McKissic is the guy to grab particularly in PPR.
Corey Clement PHI  4.2% owned
The backfield in Philadelphia is producing in spite of itself. They are not incredibly talented, but the passing game sets up the run. Clement is the healthiest backup to LeGarrette Blount at the moment. That means that he should see decent volume and production should follow.
Wide Receivers
10 Team Leagues
Nelson Agholor PHI  19.6% owned
Agholor has been fairly consistent this season for a near-bust. The Eagles passing game is legit and Agholor is a major component of it. It seems like each week Alshon Jeffery draws one of the top cornerbacks in the league. This has greatly benefited the other receivers on the team. In PPR leagues, Agholor has only had one game where he scored less than 8 points. He is a reliable flex at worst and he may yet develop to a WR3 or even WR2.
John Brown ARI  41.6% owned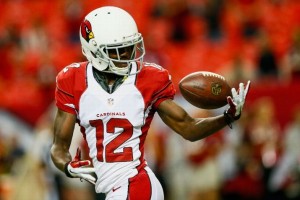 He is not universally available, but many owners lost patience with Brown and his health issues. He is now close to full strength and his snap count is increasing. Carson Palmer has confidence in Brown and he will be targeting him more as he gets more playing time. There are going to be plenty of visits to the end zone on the horizon as long as Brown can keep the injury imp at bay.
12 Team Leagues
Jermaine Kearse NYJ  40.6% owned
The results are not always great, but the volume continues to be there for Kearse. He has caught at least three passes in each game this season. He is not turning those catches into a ton of yards, but targets are valuable. As one of the top two targets in a weak offense, Kearse has value, but not enough to be owned in shallow leagues.
Mike Williams LAC  7% owned
The Chargers first round pick is reportedly ready to take the field in week 6. There are plenty of playmakers in the Chargers receiving corps, so Williams may not start immediately. He has the playmaking ability to pay dividends if he gets on the same page as Rivers though. In my opinion, Williams is worth a speculative add based on ability.
Don't Fall For It
Torrey Smith PHI
The Eagles passing game had a big day versus the Cardinals, but not everyone merits an add. Torrey Smith is not the player that he was in Baltimore. He is the ultimate boom or bust at this point in his career. He caught a long touchdown pass in week 5, but it may not happen again this season. Do yourself a favor and leave him on waivers.
Tight End
10 Team League
Austin Seferian-Jenkins NYJ 36.1% owned
I cannot recommend Seferian-Jenkins highly enough. At a thin and injury ravaged position, he offers major upside every week. Seferian-Jenkins is the best receiver on his team and his stats will only improve from here. If he is available in your league, get him.
Ed Dickson CAR 8.9% owned
Look at Cam Newton's completion percentage versus Ed Dickson's stats. Dickson got on the field in a meaningful way in week 3. His stats vs. Newton's completion pct:
Dickson: 8 yards      62 yards      175 yards
Newton:   65%              75%               78%
Is there a correlation between the two, possibly. It seems that Newton has realized he has a competent fill-in for Greg Olsen and that has helped his game. There is reason to believe that Dickson can offer stats similar to what Olsen would have provided. I like Dickson as immediate help from the waiver wire.
12 Team Leagues
David Njoku CLE  6% owned
The volume of targets is not there yet for Njoku, but he is scoring touchdowns. When you get outside the top few tight ends, scoring is about as much as you can hope for from the position. The Browns have not put up a lot of points this season, but Njoku has scored in 3 of 5 games. He is a decent bye week fill-in/matchup play.
Zach Miller CHI  19% owned
In their first game together, Miller and Mitchell Trubisky seemed to click. The Bears offense as a whole stalled, but Miller had 3 catches for 39 yards and a score. Young quarterbacks tend to gravitate toward the tight end and this looks like no exception. Miller could be a sneaky good start going forward.
If your league has a thinner waiver wire, check yesterday's post for some streaming options. As always, there is more exclusive content on the way every day from Fantasy Knuckleheads. Follow us on Twitter for more insight and analysis: @_knuckleheads and @brendancole16.