Week 5 was not a spectacular one for my waiver wire picks, at least not in the quarterback and tight end area. When combing the bottom of the barrel, mixed results are to be expected on occasion and this was one of those occasions. Nevertheless, I am confident in my suggestions for week 6. Let's get back on track and grab some gems who can help out during bye weeks.
Week 5 Recap (Standard League Points):
Quarterbacks
Jay Cutler CHI - 20 pts
Brandon Weeden DAL - 7 pts
Alex Smith KC - 13 pts
Tight Ends
Coby Fleener IND - 0 pts
Richard Rodgers GB - 4 pts
Shallow Leagues Antonio Gates SD - 9 pts @ half (as of when this is published)
Cutler's numbers are fairly impressive as Jeffery and Royal ended up being ruled out for the game. Weeden's numbers are also impressive, as far as being incomprehensibly bad. Weeden should not be starting for a professional football team. Smith was decent, but did not really have to throw to stay ahead. As far as the tight ends, cut Fleener loose with Dwayne Allen back. If someone gave up on Rodgers after a bad week, scoop him up. The window, if there ever was one, has closed on picking up Gates.
Week 6 Waiver Wire Picks: Running Back / Wide Receiver
Teams on a bye Week 6: Dallas, Oakland, Tampa Bay, St. Louis
Week 6 Picks - Quarterback
Colin Kaepernick SF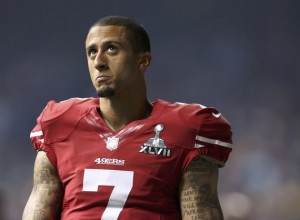 Kaepernick appeared to be regaining some of his shattered confidence in a solid performance versus the Giants. In week 6 he goes up against a Baltimore secondary that has been torched repeatedly, most recently by the Cleveland Browns. This matchup is too good to pass on if you have quarterback issues or a bye week. Grab Kaepernick for the passing yards and enjoy any rushing points that you get as a secondary benefit.
Ryan Fitzpatrick NYJ
The Jets have some great weapons this year and Fitzpatrick has never been afraid to fling the ball all over. While I recommended picking him up a couple of weeks ago and the results were not great, he has a chance at a big game every time out. Waiver wire quarterbacks are always going to be a bit of a dice roll, but Fitzpatrick has had some huge games in the past and you could do worse than Brandon Marshall and Eric Decker catching passes.
Be Careful: Josh McCown CLE
If you plan to stream McCown this week, you may be a bit late to the party. The Browns have been throwing the ball all over the yard with success for the last couple of weeks. This week, they come up against a very stout Broncos defense though. The pass rush and cover corners of the Broncos will probably be too much for McCown and hoping for his big numbers to continue is a fantasy, at least for week 6.
Week 6 Picks - Tight End
Dwayne Allen IND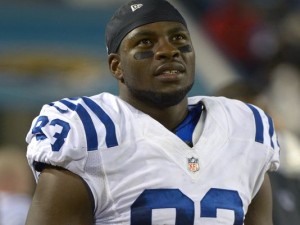 Allen made his return to the Colts lineup without much fanfare in week 5. A matchup with a high scoring New England offense could change that story, however. Andrew Luck has a soft spot for throwing to Dwayne Allen in the red zone and it looks like Luck may start versus the Pats. A touchdown or two would be about the best that Allen could hope for, but it seems like a good possibility that he may score.
Vernon Davis SF

Questionable
Davis suiting up in week 6 is no sure thing, but if he does he could be a decent play. As I mentioned above, the Ravens defense is not good when it comes to the passing game. It should be mentioned that before week 5, they had been very tough on tight ends. Gary Barnidge managed to break out for a huge game last week, so Davis could see the same if he plays. Otherwise, Garrett Celek might be worth a look in hopes of a red zone look or two.
Drop It Like It's Hot: Ladarius Green
Green has always had talent but with the return of Antonio Gates, he will once again be hard pressed to see consistent targets. If you are in a keeper league, by all means hang onto Green. In redraft leagues, he is little more than a handcuff. There is a reason that you don't hear much about tight end handcuffs.