Week 6 is upon us and the fantasy football season is nearing the halfway point. Some situations that seemed fluid are coming into focus, like the Atlanta backfield. Others are still murky and best avoided, for instance the Redskins or Broncos backfields. The one constant is that there are players available to help out your fantasy team on any given week. Whether you have the bye week blues or injury troubles, read on and mine for gold in the running back waiver wire picks.
Week 6 Waiver Wire: Wide Receivers / Quarterbacks and Tight Ends
Week 5 Recap (Standard League Points):
Duke Johnson Jr. CLE - 7 pts
Ronnie Hillman DEN - 2 pts
Anthony Dixon BUF - 3 pts
Recommend Against - Terron Ward - 0 pts
I think that Hillman and Dixon are both worth owning for the time being, but they are sketchy starts even at flex. Duke Johnson Jr. could definitely finish up the season strong and should be owned in all leagues. Terron Ward is now beyond an afterthought with the emergence of Devonta Freeman and the return of Tevin Coleman.
Teams On A Bye Week 6: Dallas, Oakland, Tampa Bay, St. Louis
Which Back Is Worth A Pickup With LeSean McCoy Injured?
Week 6 Picks:
Antonio Andrews TEN
Andrews is not seeing tremendous volume and is in an up and down offense. With that being said, he has found the end zone two weeks in a row and may see a bigger role moving forward. Andrews is getting the goal line carries and is incorporated into the receiving game. These things mean that he has weekly potential, particularly in PPR leagues.
Knile Davis / Charcandrick West KC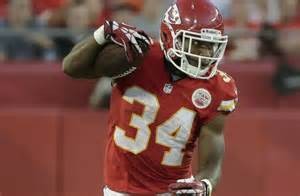 It is tough to predict which Chiefs running back will take the larger part of the rushing load with Jamaal Charles done for the year. Davis has been decent in the past based on volume, but he is not impressive. West seems to have some nice potential, but less of a track record. I think that Davis is going to get more carries to start, but long term West could be the back to own. Either way, if your team is hurting at running back it isn't the worst idea to grab a Chiefs running back and hope for the best. This is reminiscent of Adrian Peterson being out last season and there could be some serious rewards for fantasy owners who choose the right back.
Chris Thompson WAS
I realize that I recommended against Thompson earlier in the season, but now Matt Jones has sustained an injury. He may or may not miss time, but if he does Thompson becomes appealing. Either way, Thompson is taking away carries and doing most of the work on passing downs. Since the Redskins are usually playing from behind, this role carries some value.
Fool's Gold: Marcel Reece OAK
I do realize that Oakland is on a bye, but if Reece were an emerging player it would be worth a pickup and waiting a week. Unfortunately, Reece's production is almost completely dependent on touchdowns. He has a role in the passing game and has had a couple of serviceable weeks. When he does not get into the end zone, he will be an anchor on your lineup. Reece is a desperation matchup play starting in week 7, but no more.