The wire is about to open up in most leagues, so it's decision time. If you want a part of the possible-zeke-suspension version of the Dallas backfield, now is the time. There are still big time players that can affect the fate of your team available in most leagues. Get out there and take your championship using this article and the rest of our waiver wire content.
Quarterback
10 Team Leagues
Josh McCown NYJ 10.3% Owned
The Jets are not as bad as everyone expected and neither is McCown. He has a couple of workable weapons in the offense and has played a passable quarterback so far. In 4 of the last 5 games, McCown has scored at least 15 fantasy points. The lone exception was the Jaguars and they are one of the top defenses in the league against the pass. At this point, the Jets QB is more than just a streaming play.
12 Team Leagues
C.J. Beathard SF 0.1% Owned
The rookie has been handed the reins to the 49ers after Brian Hoyer flamed out. This is an offense that has showed signs of life at times and Beathard led them efficiently. Odds are he will not be an every week start this season, but a fill-in is not out of the question. Quarterback injuries are taking a toll, odds are somebody will be starting Beathard against the Cowboys.
Stash Or Wait
Brett Hundley GB 0.1% Owned
It may be prudent to wait until after the bye week to grab Hundley. I think that he will have some success based on Green Bay's weapons. I also think that the improved Saints defense is going to make him look foolish in week 7. Once Hundley has the bye week to work with the first team offense, he should make some plays. Either stash him for two weeks, or see if he is out there going into week 9.
Running Back
10 Team Leagues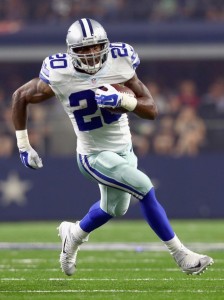 Darren McFadden DAL 49.7% Owned
It looks like Zeke Elliott may be forced to serve a suspension yet. The Cowboys backfield could be up for grabs, but it is not the gold mine that it once was. I personally like McFadden to take the reins if Elliott is out, but Alfred Morris will be in the mix. Neither back is a stud, but McFadden is a better pass catcher and more of a three down back type.
Alex Collins BAL 29% Owned
The Ravens have seemingly assigned the lead back role to Collins for the moment. He is averaging over 6 yards per carry and leading the Ravens in carries. The downside is that scores have not been there. If things keep going in his favor, however, odds are Collins will reach paydirt soon.
12 Team Leagues
Dion Lewis NE 6.5% Owned
There is no way to tell what New England will do from week to week, but Lewis is looking good. He put up 52 yards on 11 carries and added a touchdown in week 6. The touchdown came from a yard out and likely would have gone to Gillislee had he not fumbled earlier. Still, Lewis is looking like the most effective rusher on the team right now. If he can eke out a few more carries per game, he could be a hot commodity down the stretch.
Orleans Darkwa NYG 4.3% Owned
It appears that the Giants have stuck to their decision from week 5 when they named Darkwa the starter. He carried the ball 21 times and shockingly gained 117 yards versus an elite Broncos defense. I cannot see this success continuing as the Giants are just too thin on offense. Still, it seems like the volume is going to be there and that makes Darkwa worth a pickup.
Wide Receivers
10 Team Leagues
John Brown ARI 47% Owned
There is a strong chance that Brown is taken if your league is competitive. If he is out there for some reason, then go get him. He is looking as healthy as he has in a long time and the production is coming. Brown has put up 5, 8 and 12 points in standard formats over the last three weeks. Carson Palmer appears to be confident in throwing to his number two wideout, including in the red zone. If Brown can stay on the field, he could have a big second half.
Nelson Agholor PHI 36% Owned
Another receiver that has no business being on waivers is Nelson Agholor. The Eagles offense if flying high and Agholor has had a big part in that. He has put up at least 50 receiving yards in each of the last three games. In two of those games, he also got into the end zone. Carson Wentz clearly looks for Agholor in key situations and that trust will mean more good things to come. This is a guy that should be owned in all leagues going forward.
12 Team Leagues
Ted Ginn Jr. NO 40% Owned
A popular sleeper candidate going into the season, Ginn has largely disappointed. Over the last couple of weeks, however, he has seen more success in the Saints passing game. Two scores in three weeks have Ginn back on the usable player radar. Last week he caught 4 passes meaning that he is also on Drew Brees's radar. He is always going to be a risky play, but during the bye weeks Ginn is worth owning.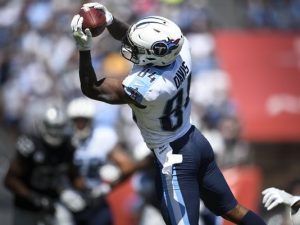 Corey Davis TEN 26% Owned
The Titans dynamic rookie is nearing his return to the playing field. It has been a disappointing campaign so far, as injuries have prevented any real results. If Davis can get on the field, he has the ability to be a season-altering force for fantasy teams. The Titans have said that they will not make him wait until after the bye to play if he is ready. That means that week 7 versus the Browns could be a coming out party for Davis.
PPR Special
Adam Humphries TB 2.2% Owned
The Buccaneers have a lot of offensive weapons, but Humphries is still getting consistent touches. He has registered 6 catches in 3 of the past 4 games. He has also been over the 50 receiving yard mark in all 4 games. For the moment, it looks like the ceiling is not much higher for Humphries, but he is a safe weekly start in ppr leagues.
Tight Ends
10 Team Leagues
Austin Hooper ATL 37.8% Owned
The Falcons refuse to throw to Julio Jones, but somebody is going to catch the ball. Over the last two weeks, Hooper has 5 and 7 catches. The yardage has not been huge and he has not scored, but the volume is there. It stands to reason that the young tight end will continue to see a good deal of passes heading his way. At a thin position, Hooper is one of the safer options to put a decent number of points on the board.
12 Team Leagues
Zach Miller CHI 25.2% Owned
The passing game in Chicago is a mess and Mitchell Trubisky is not to blame. There are not pro-caliber weapons outside of Zach Miller and maybe Tarik Cohen. It has been two straight weeks of Miller scoring now. That is not sustainable of course, but he is one of the only players guaranteed to get touches. The results will not be entirely predictable, but what is predictable is the fact that Miller will get a lot of looks.
George Kittle SF 9.2% Owned
The 49ers are a team in transition this season. Their coach is moving from an older crop of players to the guys that he likes. Kittle appears to have the favor of the coach and he should be a nice option going forward. He has a combined 11 catches for 129 yards and a touchdown over the last two weeks. The ball is spread around in this offense, but Garcon and Kittle are both getting regular looks.
Make sure to get those waiver claims in if your league processes on Tuesday. Tomorrow, check back for a column on the highest upside players of week 7. For more content, follow us on Twitter: @_knuckleheads and @brendancole16.