There were some nice passing performances in week 6, although none of them were by Peyton Manning. Tight ends put up big numbers as well, including Jimmy Graham making an appearance in dominant fashion. If your team was not lucky enough to be the beneficiary of one of these big performances (or you have Peyton Manning), it's time to hit the waiver wire. Let's see who is still out there ready to prop up your team through mid-season.
Week 6 Recap (Standard League Points)
Quarterbacks
Colin Kaepernick SF - 26 pts
Ryan Fitzpatrick NYJ - 27 pts
Recommend Against - Josh McCown CLE - 15 pts
Tight Ends
Dwayne Allen IND - 2 pts
Vernon Davis SF - 0 pts
Recommend Against - Ladarius Green SD - 9 pts
Kaepernick is too volatile to trust on a weekly basis, but obviously can pay dividends when the matchup is right. Fitzpatrick is almost a weekly starter based on his receivers, but he throws too many picks. McCown was not huge against the tough Broncos defense, but Gary Barnidge and Travis Benjamin both proved that they are must starts. Dwayne Allen was not a big part of the Colts offense and Vernon Davis was silent. Ladarius Green is not a major part of the Chargers offense, but Phillip Rivers threw for over 500 yards so everyone got a piece.
Week 7 Waiver Wire Picks: Running Back / Wide Receiver
Teams On A Bye Week 7: Chicago, Cincinnati, Denver, Green Bay
Week 7 Picks - Quarterback
Teddy Bridgewater MIN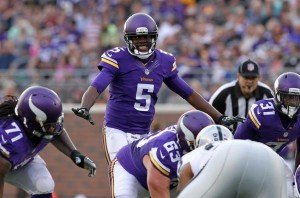 The Vikings have not been able to generate much with their passing game so far this season, but week 7 brings a nice matchup. The division rival Lions have been bad this year, but Stafford is getting the passing game going recently. This could result in a high scoring affair in the motor city. The last matchup with the Lions was Bridgewater's highest scoring game of the season and week 7 should eclipse that as he has a new go to receiver.
Derek Carr OAK
Speaking of nice matchups, the Raiders head to San Diego in week 7 to face the hapless Chargers defense. The Raiders offense has been a bit disappointing in their last couple of games, but the bye week gave them a chance to regroup. Latavius Murray should get his share of the action, but the passing game will be the star of the show for the Raiders in week 7.
Could Be Dicey - Blake Bortles JAC
Bortles has been a fantasy star recently, but the week 7 matchup with Buffalo might be too hot to handle. There has not been a performance to complain about since week 1 versus Carolina, but Jacksonville is due for a rough game and the Bills look like a team that could deliver a beatdown.
Week 7 Picks - Tight Ends
Benjamin Watson NO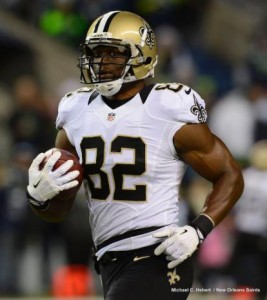 Watson could end up being a flash in the pan, but it seems like the Saints are starting to get their bearings. If this passing game can get going then it will pay big dividends for teams who have the right pieces. At the moment it is looking like Watson and Snead are the leaders in the passing game and should be worth rolling out there for the time being.
Kyle Rudolph MIN
This pick is totally based on the likelihood of Rudolph reaching the end zone. His weekly value is tied almost exclusively to scoring and against the Lions that looks like a good possibility. I think that the Vikings should be a good bet for some cheap points in week 7 and Rudolph factors into that equation.
Shallow Leagues - Julius Thomas JAC
Thomas is available in over 30 percent of leagues for the moment. His big week 6 performance is probably going to change that in a hurry. If you're lucky enough to be in a league where Thomas is not currently rostered, that needs to be changed right away. Go get him.