Blockbuster trades, costly suspensions, and those godforsaken byes. Yep, Week 9 is shaping up like a Cypress Hill song. (It's insane...in...the membrane? Boom?) Terrible jokes aside, this week is chock full of intrigue at just about every position. That means there are plenty of potential sleepers to awake from their sideline slumbers.
So let's not waste any time getting to the goods.
Quarterback
Jacoby Brissett, IND (vs. HOU)
Houston just surrendered 4 touchdowns and 450 yards to Russell Wilson in what could go down as the most epic shootout of the season. Seattle brought this defense's warts to the surface, and now it's up to Jacoby Brissett to burn them. Brissett hasn't been anything to write home about this season (though...why are you writing home about fantasy football? Don't you have more important things to tell your wayward family?), but he did put together his first multi-touchdown game against a tough Cincinatti defense last week.
This came after a game against Jacksonville in which he was sacked 10 times, by the way, which at the very least proves there's no crisis of confidence with the young QB. The sudden lack of star players on the Texans defense hasn't stopped them from trying to blitz, but they haven't gotten after the passer with as much consistency since JJ Watt went down. That should leave Brissett a little more room to breathe this Sunday.
Running Back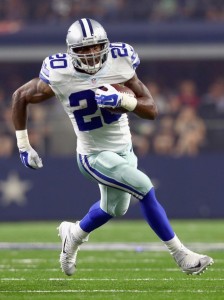 Darren McFadden, DAL (vs. KC)
You could put any of the three Cowboys backups in this slot, really, because all three have the same odds of coming out of this weekend's matchup with the Chiefs as the lead dog. Dallas' brass has been non-commital about who will take over while Ezekiel Elliott endures his suspension, so we'll likely see a 3-headed rushing attack this week. McFadden has the freshest legs and the most proven track record of the lot, though, and we can't forget that DMC put together a 1,000-yard season right before Zeke came to town.
Kansas City has allowed plenty of yards on the ground this season -- they're one of 5 teams to allow 1,000-plus to rushers -- so expect McFadden (and company) to make some hay while the opportunities are there for the taking.
Check Out All Of the Sleeper Content
Wide Receiver
Cooper Kupp, LAR (vs. NYG) 
The Giants suspended Janoris Jenkins, inarguably their best cornerback, ahead of this week's matchup with Jared Goff and his merry band of Rams. That's good news for Sammy Watkins, but it's even better news for Kupp, who should now face off against Ross Cockrell in the slot.
The rookie wideout has been a steady hand this season, averaging 3 catches and 45 yards per game. I know those aren't exactly Will Fuller numbers, but the he's been the second most-targeted player on this offense through 7 games, and a date with a plus-matchup is nothing to turn your nose up at during this week's Bye-mageddon.
Tight End
Nick O'Leary, BUF (vs. NYJ)
Look out folks, there's a new target hog in Buffalo. Kelvin Benjamin's insertion into this pass-light offense will ultimately mean the end of Nick O'Leary's relevance. It should actually help his fantasy value in the short term though. Benjamin could play against the Jets this Thursday -- it is currently a 50/50 proposition. That would give him only two days to get acclimated with the offense and form a connection with Tyrod Taylor.
Still, defenses will have to account for the big guy as a potential threat. This should leave a little extra freedom for the likes of O'Leary. He already has a pretty stellar matchup with a Jets team that's given up the 8th most points to his position.
Football action starts tonight, so get those lineups set. Check back daily for more of our exclusive content. As always follow us on Twitter for extras: @_knuckleheads and @jaketrowbridge.