As the season rolls along, more injuries are stacking up. At the same time, some unlikely performers are emerging and veterans are returning to past glory. Depending on which end of this your roster falls on, you may need some help. I've got your back, especially now in the bye weeks. Check out the week 9 waiver wire picks and get a winning team out on the field.
Quarterback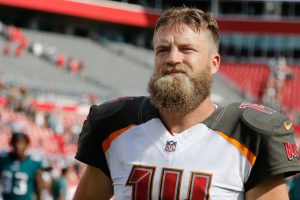 Ryan Fitzpatrick TB Rostered: 6%
I was hard on this journeyman earlier in the season, but he can put up numbers in the right situation. Right now, the Bucs offensive players believe that they can win when Fitzpatrick is at the helm. He has as many weapons as any quarterback in the league and will need to throw. There is every reason to believe that Fitzpatrick has a shot at 30+ fantasy points in any given week. Even if a lot of them come in garbage time.
Baker Mayfield CLE Rostered: 40%
It has been a predictably inconsistent season for the number one pick in the 2018 draft. Despite playing for a perennial joke of a team, Mayfield has had his moments. He showed the ability to exploit a bad defense in Tampa, putting up 23 fantasy points against the Bucs. Now he gets a Chiefs team with a defense that is almost as bad and Mayfield could fill in as a starter. He is more than a streaming pick as the Browns face the Falcons the next week.
Running Back
If He's Out There
Aaron Jones GB Rostered: 48%
The fact that Aaron Jones has not gotten consistent work on the ground is baffling. He does nothing but pick up chunks of yardage, but spends most of his time on the bench. Jamaal Williams is a better pass blocker; he's also a plodding drive-killing mess running the ball. In his best game of the season, Jones only got 12 carries, but turned them into 86 yards including a 33 yard score. He is still a risky start, but Jones has a high ceiling if he can get more work.
Useful Passing Down Backs
Javorius Allen BAL Rostered 47%
There will not be a time that Javorius Allen is dominating the NFL or fantasy football. He can be a useful piece on a winning roster though. The Ravens are intent on continuing to give Buck his playing time and that is a valuable commodity. He makes for a passable flex, especially during the bye weeks.
Nyheim Hines IND Rostered: 39%
The offense in Indy is playing at a high level for the first time in years. Marlon Mack is getting the job done on the ground, but Hines is his pass-catching complement. Of course, the recent success for Hines came as a rusher, but that is not where his true value lies. When Luck is targeting the fleet footed rookie out of the backfield, he stacks PPR points in bunches.
Check Out My Past Waiver Wire Articles
Deeper Pull
Josh Adams PHI Rostered: 0.4%
Predicting the Philadelphia backfield is like trying to herd cats. The usage is completely haphazard to everyone but Doug Pederson (I assume he has a plan). In the Eagles week 8 win, Adams carried the ball 9 times and managed 61 yards on the ground. On most teams that would earn him some additional work going forward. Since we are talking about the Eagles, Adams is a speculative add at the moment.
Wide Receiver
Not A Mirage
David Moore SEA Rostered: 3%
For anyone thinking that the Seahawks don't have any receivers, look at the numbers. Tyler Lockett is having a borderline WR1 season, but the real surprise is David Moore. The second year wideout has scored in three straight games, and of course that is not sustainable. He also has the attention of his quarterback and a growing target share, though. Moore has come out of nowhere to be one of the top options for Russell Wilson and that should lead to sustainable growth down the stretch.
Same Initials, Different Pay Grade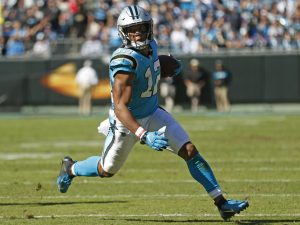 DJ Moore CAR Rostered: 10%
Where David Moore came out of nowhere, DJ Moore was the first round pick of the Panthers. Both players are on the rise, but DJ was expected to be a contributor. He has elite skills and is finally getting the opportunity to showcase them as a pro. Last week Moore showed off on the ground and through the air against a solid Baltimore defense. It looks like he is gaining the trust of his coaches and quarterback and Carolina has an easy schedule for receivers down the stretch.
If You Dare
DeVante Parker MIA Rostered: 22%
Last week I reluctantly recommended picking up Parker based on a lukewarm endorsement from his coach. That advice would have panned out for anyone desperate enough to take it. Going forward, there is reason to believe that Parker should be more involved, because there is nobody else to do the job. As much as I hate to double down on a guy that has burned me so many times, the Dolphins have no reason to not feature Parker down the stretch.
Tight End
Grab Him During The Bye
Jack Doyle IND Rostered: 32%
Given the dearth of talent at tight end, it is necessary to take advantage of a talented player being so widely available. Doyle went out in week 2 and just returned this past weekend. In that return, he was able to turn seven targets into six catches for 70 yards and a score. For the first time in years, the Colts offense is something that you will want to be involved with for fantasy purposes. Grab Doyle and enjoy.
Another Return From Injury
Ed Dickson SEA Rostered: 0.5%
Like Doyle, Ed Dickson is just coming back from an extended injury absence. They are also similar in that they are both part of offenses on the rise. The difference is that Dickson has no proven option to compete with for touches. Nick Vannett is a serviceable filler, but not a real receiving option. As long as he can stay healthy, Dickson should quickly work his way to the top receiving option at tight end for the Seahawks.
Come back tomorrow to check out our weekly positional rankings. Be sure to follow me on Twitter for extra analysis and lineup questions answered: @brendancole16.