Hitting the nail right on the head. It always feels good, doesn't it? That resonating smack of hammer on metal, the satisfying sink of the pin into the wood... ah. The sound and sensation of a job well done. Which is, more or less, what my 2014 version of rookie targets was able to achieve. One nail pounded properly directly on the head. Except for that small bit about WR S. Watkins, who again proved that talent can overcome situation, as every fantasy owner should know. Last year I picked M. Evans, O. Beckham Jr., J. Matthews, B. Cooks, and K. Benjamin. Hammer. Nail. Head. This seems an appropriate point to note that I have Benjamin and Matthews on my longest-standing keeper league squad for a dollar each. Yup. At any rate, all tomfoolery and self-aggrandizing aside, we (the inclusive "we", "us", "fantasy owners") have work to do. The 2015 Fantasy Football season brings with it new promise, new hope, and new headaches. To remove some of the "shoulda-woulda-couldas", I present to you my 2015 Fantasy Rookie Draft Targets in the hopes that my mallet will once again strike through and drive your team home to victory.
This year, instead of separating them by position, I will do my best to rank them in order, as in "I'd take this guy over that guy" order. Without further ado, my top-10 Fantasy Football Rookie draft targets:
Jameis Winston, QB, TB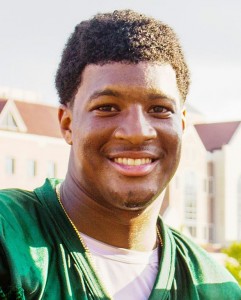 Thanks, captain obvious, for recommending the number one overall pick! Well, you're welcome. Honestly, I've seen projections/outlooks for Winston that are all over the map. From a purely fantasy perspective, however, I view Winston's prospectus as a near-perfect marriage of situation and talent.
First, the situation. The Bucs hired former Atlanta Falcons OC Dirk Koetter to come in and run the show. While Buccaneers HC Lovie Smith is about as conservative as they come, Koetter's most recent stint in Atlanta produced plenty of fantasy goodness and, honestly, I see a lot of parallels between Koetter's previous gig and his current one: a stud young WR (Julio Jones - Mike Evans), a proven veteran target (Roddy White - Vincent Jackson), a young and somewhat mobile QB with a rocket arm (Matt Ryan - Jameis Winston) and a pretty awful offensive line (though it should be noted the Bucs did attempt to address their line in the 2015 draft). Long story short: I could see good fantasy things happen in 2015, even if the Bucs don't light up the standings.
Bold Prediction: Winston finishes top-12 in fantasy scoring. (I'm going down in flames with this one, aren't I?)
Devante Parker, WR, MIA
This one comes with sort of a giant caveat: watch his injury issues. Parker is currently recovering from foot surgery, but if he heals up in time for the regular season (which, according to latest reports is expected) then he should be on your team. The Dolphins recently inked QB Ryan Tannehill to a long term deal that signifies their belief in him as their franchise QB. After a strong 2014, Tannehill's arrow is pointed up and the Fins used their first round selection on what they hope will be his franchise receiver. Parker has size and speed and can win contested balls. Watching his tape, I like him as a good fit in Miami and wouldn't be surprised to see him used in a versatile manner all over the field.
Bold Prediction: 8 Touchdowns.
Ameer Abdullah, RB, DET
The Lions took Abdullah with the 54th overall pick and, I believe, with the idea of eventually turning him into a feature back. Think Theo Riddick in the passing game with more carries/touches overall. Nice, right? Abdullah took starter reps in the Lions June minicamp, but don't read too much into that - Joique Bell was injured. Still, from what we've seen so far he's a hard worker with the potential to be a feature back. And let's be honest, Bell doesn't exactly have an ironman reputation. Abdullah will get a chance and when he does, look out.
Bold Prediction: Abdullah gets the most touches of any Lions RB, finishes in top 25 fantasy RBs.
Amari Cooper, WR, OAK
I view Cooper's prospectus in much the same way as Sammy Watkins last year: amazing talent, top pick, questionable situation. Hey, Derek Carr is serviceable, but not much more than that. True, Cooper remains the most pro-ready WR taken in 2015. Moreover, he's clearly the top dog in the receiving corps. Nonetheless, I'm tempering my expectations just the smallest of smidgens. There's upside here, but also risk.
Bold Prediction: Cooper finishes outside the top-5 of rookie receivers.
TJ Yeldon, RB, JAC
What are they going to do, let Blake Bortles throw it?
Ok sorry but seriously what are they going to do, let Blake Bortles throw it?
Alright sorry. Perhaps another question: Dear all that is good in this world, am I really recommending a Jaguars running back? (Deep breath) Yes. But this is mainly a reflection of the fantasy RB situation. Yeldon is talented and will get every opportunity to be the feature back. I don't think the Jaguars could possibly be as atrocious on offense as last year, even if they tried, and even a modest step forward plus oodles of touches should yield Yeldon reasonable fantasy numbers. Remember, the number of RBs who have the gig all to themselves shrinks seemingly by the minute. This is definitely a workload pick, but I think he's worth owning. Then again, I could just as easily see him being this year's Bishop Sankey. Yikes.
Bold Prediction: 1,000 rushing yards
Breshad Perriman, WR, BAL
Am I really ranking Perriman above Parker and Cooper? Yeah, I think so. In Parker's case, I'm perhaps a bit more concerned about his injury than I should be. If he gets a clean bill of health (and enough reps to be comfortable in the offense) then he should probably move up this list. But Perriman, unlike Cooper, steps into a good situation with a competent quarterback and likely immediately takes over the role of no. 1 WR. Perriman has the talent and he will get the opportunity-- Joe Flacco has attempted 1,168 passes in the past two years. How many of those go Perriman's way in 2015?
Bold Prediction: Finishes as top-20 WR.
Todd Gurley, RB, STL
Similar to Parker, Gurley has lingering injury concerns (ACL). Nonetheless, when he's healthy, he's the guy. I think the Rams continue to take steps forwards in 2015 (boy, the NFC West is scary), and while Gurley may not start the season atop the depth chart, I think he finishes there. If not for uncertainty regarding his injury and playing status, he very well may be number one on this list.
Bold Prediction: tough because of the varying injury reports, but let's go with double digit TDs.
Nelson Agholor, WR, PHI
Jeremy Maclin and Desean Jackson are gone. Riley Cooper is, you know, just a guy. And I think everyone and their various mothers and pets have heard about Chip Kelley's offensive tempo. It just all adds up, doesn't it? I'm curious what the Eagles with do with their receivers. The logical assumption is Jordan Matthews takes on a larger role, working on both the outside and out of the slot, while Agholor complements him and Cooper plays the role of reliable veteran. Of course, another question entirely is what happens with the Eagles QB position. The odds of Sam Bradford navigating his way through an entire season are about the same as an erstwhile space captain navigating his way through an asteroid field (bad analogy, the Millenium Falcon was successful… but let's all pause and have a moment of silence for what happened to those poor TIE fighter pilots) and Mark Sanchez was reasonable in relief last year but I mean c'mon, it's Mark Sanchez. Still, I think Agholor can impress, and will.
Bold Prediction: breaks 1,000 receiving yards
Kevin White, WR, CHI 

--  Now Injured - Do Not Draft in Re-Draft Leagues



Maybe it's my homerism shining through, but I love White. I also think the Bears will be vastly improved under new coach John Fox and OC Adam Gase. I love the Bears draft all around and, honestly, the question with this team is not the offensive side of the ball. I think Fox and his staff are just the right group to rein in the erratic Jay Cutler and White will be a key beneficiary. The only scary thing here is how high his ceiling might actually be.
Bold Prediction: Both Bears receivers (White and Alshon Jefferey) finish in the top-20
Melvin Gordon, RB, SD
In case you missed it, Ryan Mathews is gone. Mathews departure leaves a void in the Chargers backfield that will likely not be filled by Branden Oliver. Look, Gordon is the guy. Lead role in a competent offense? Check. Talented? Check. What's not to like? Gordon will get every opportunity to prove he can be the top dog in an NFL backfield, and my money is on him succeeding.
Bold Prediction: Finishes the year as a top-10 fantasy RB.
Notables
-Obviously, I feel much better about Jameis Winston's situation than I do that of Marcus Mariota, despite believing Mariota is the better player. I like Marcus in 2016 and beyond more than Winston, so if you're in a keeper or dynasty league, Mariota is your guy.
-I could see Devin Funchess and Kelvin Benjamin both finding the endzone quite a bit. Both are big targets for Cam Newton. The Panthers could be a surprisingly exciting offense.
-There's a lot of buzz surrounding Tevin Coleman, of the Falcons, but I just don't see him as an every down back, which is why he didn't make my top-10. Definitely upside to be had, though, and it wouldn't surprise me if he put up starter-worthy numbers starting as soon as this year.
-Jeremy Langford is another Bear rookie to keep an eye on especially in dynasty leagues. I watched a lot of his tape and he runs very well. I think he wins the number two spot behind Matt Forte (soon to be on the wrong side of 30) and, moving forwards, has a very high ceiling behind a Bears offensive line that is actually quite good.
-Dorial Green-Beckham is another name more for keeper or dynasty scenarios and another high-ceiling selection, but those of you who have read me in the past know my absolute fantasy infatuation with size when it comes to receivers. I still think Tennessee is at least a year away from producing useful fantasy options, but if Mariota and Green-Beckham find some chemistry, look out.
Until next time…
_PDK