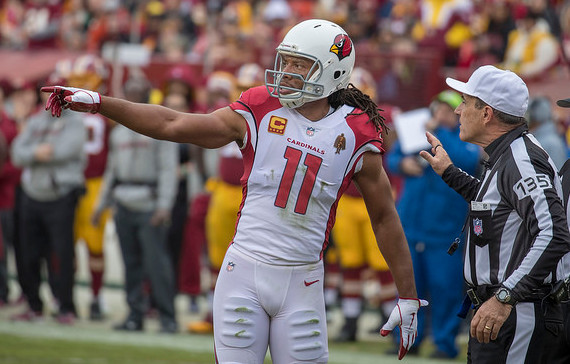 There's a common misconception in certain dynasty football circles that youth is more important than anything. It's like modern-day MTV: If you're 30 or older, you're not worth the time of day.
But I'm here to tell you it doesn't have to be this way. You can build your team to be more like old school MTV, with a Kurt Loder here and there to keep things consistent and respectable. Despite that super outdated reference, trust me when I say it's perfectly okay to build your dynasty team around older players.
The Jon Gruden Method
New (and old) Oakland Raiders head coach Jon Gruden has taken a lot of flak, perhaps rightfully, in the media about his affinity for much older players. The man who said he wants to "throw the game back to 1998" is putting his money where his mouth is, signing a gaggle of players who are 30+ years old.
While that may not be the ideal way to build a real life NFL team, it's honestly not a bad methodology for constructing a dynasty team. Now just to be clear, I'm not advocating that you only sign players who are long in the tooth, but a 50/50 split is perfectly acceptable. It's not a popular strategy, but it's one that could work wonders for your squad.
One of the greatest adages in fantasy football is to zig when everybody else zags. And nothing zags harder in dynasty than taking the Gruden approach and signing a bunch of players who were alive when Baywatch debuted on television.
Older Players Are CHEAPER
Once a player heads into their golden years in the NFL, the cost for accruing them drops off a cliff. Three years ago, you'd likely have to spend yourself into a major hole to get a piece of LeSean McCoy. Now? Shady can be had for a bucket of loose change. (More on that later.)
So many dynasty owners are fixated on longevity and youth that they completely undervalue the impact of a borderline stud who still has a couple of years left in the tank. So in exchange for a young, unproven guy with upside, you're able to snatch up a solidified starter who's in a secure position on the totem pole.
If you're able to grab someone like Golden Tate for an early 3rd round pick -- which is about where his value sits right now -- then by all means take advantage of the "old people are icky" mentality of your league mates.
Older Players Are EFFICIENT
According to studies by numberFire and ProFootballFocus, wide receivers tend to peak around 26-years-old and decline anywhere between 32 and 35. So if you get a guy when he's 30, you have potentially 5 years of solid production until he drops off. That's not a short amount of time. Why wouldn't you want to grab as many of these guys as you can for as cheap as they are?
For running backs, the consensus is that workhorse types hit a wall once they reach about 28. There are obviously exceptions to the rule (what up, Frank Gore), but in general, between-the-tackles runners won't see much production beyond 30.
As for quarterbacks, there's no reason they can't perform at a high level into their mid-to-late 30s. Not all of them will stretch it to the limit like Tom Brady, but guys like Drew Brees, Ben Roethlisberger, and Philip Rivers have all proven to be effective for longer than you'd have thought possible.
What Happens When They Hit The Wall?
Father Time is the biggest risk to this strategy, because he'll eventually catch up to even the most elite players. So what happens when your old timer finally drops off that cliff? Well, then you go find another old timer with 2-3 more years left of high level production to replace him. It's really no different than the youth philosophy of use/replace, you're just working on a much shorter timeline than the rest of your league.
But what if Father Time is on a scavenger hunt that includes, like, half of your roster? Here's a simple method to protect yourself from losing your entire squad to the nursing home: Every time you make a trade for an older player, and you give up a super young player or a higher draft pick, ask for at least one 4th round pick in return. And I mean EVERY time. Which is basically nothing, right? A 4th round pick is like the ice cream at a Chinese buffet: I mean, I'll obviously have some if I have room, but I'm not going to be sad if I don't get any.
But because every draft pick is a lottery ticket, if you collect enough of them, your chances on hitting on a big time contributor increase. And it only takes a couple of hits to get your roster back on track. Or if you'd prefer, you can also unload a bunch of those picks to help get another old timer with some gas in the tank because, as I said before, people are giving up guys like Golden Tate for next to nothing.
Besides, as long as you're diligent about scouting the waiver wire and are comfortable constantly throwing out trades, you can dig yourself out of a potential rebuilding year in no time.
What's It All Mean?
It's super hard to project what a player's value will be a year from now, let alone 5 years from now. The NFL is constantly changing, teams are constantly in flux, and it's much easier to project a player's value for the immediate future. Coaching changes, trades, the NFL draft, and the much-feared injury bug can all change a player's value in an instant. And rookie sensations don't always pan out. (What up, Trent Richardson.)
In this respect, there's actually less risk in building your team with older guys who have an established role and have proven they can hang out at the top of the food chain. So please, don't be afraid to take a venerable asset over someone who's biggest NFL attribute is that he's too young to understand my MTV reference from the intro.