This year's draft is absolutely stuffed at the receiver position. You shouldn't feel rushed into snatching one off the board in the first couple of rounds (unless their names rhyme with Shmantonio Shmown, Shmulio Shmones, or Shmodell Shmeckham Shmunior). Every player on this list has an ADP in the 8th round or later of 12 team leagues. An one of them could be the breakout receiver to push you into the championship.
Tier 1 Breakout Wide Receivers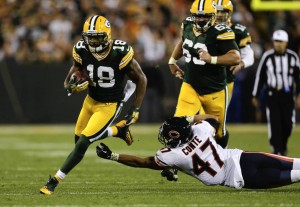 Randall Cobb (GB): Expectations for Randall Cobb have plummeted now that we're two years removed from his breakout campaign. In 2015, with field-stretcher Jordy Nelson out, Cobb failed to step up and produce in his stead. In 2016, the emergence of Davante Adams left the oft-injured Cobb begging for scraps alongside the likes of Geronimo Allison. But almost every coach, coordinator, and teammate has said Cobb needs to get the ball more this year. Mike McCarthy. There may be a lot of mouths to feed in Green Bay, but it seems everyone's intent on giving the spoon to Cobb a lot more this year. Expect the 27-year-old to break out again.
John Brown (ARI) - Far too many fantasy football players have a "what have you done for me lately?" mentality. And while it's important to factor in last season's stats, you've got to use them as part of the bigger picture. And the bigger picture for Brown was tainted last year by his sickle-cell condition, which all but erased his  breakout sophomore season (1,003 yards, 7 TDs) from fantasy owners' memories. That sickle-cell issue looks to be resolved, and Brown is looking to smoke defensive backs once again. The ageless Larry Fitzgerald will still secure the bulk of the team's receptions, but Brown should lead the team in TDs. He's a bargain.
Tyrell Williams (LAC) - Just a year ago, Williams led all Chargers receivers with 1,059 yards and 69 receptions. The return of Keenan Allen has many worried that Williams' day in the sun is over, but Allen has to prove he can stay healthy and get back to his 2014 form before we worry about Williams' getting shoved into a secondary role. With news that rookie Mike Williams -- who was drafted 7th overall this year -- may have a season-ending injury, it's likely Tyrell posts another 1,000 yard season.
Tier 2 Breakout Wide Receivers
Kevin White (CHI) - It's understandable that most fantasy players want to stay far, far away from Chicago's receiving corp. After all, there's nary a "sexy" pick in the lot. But there's an Alshon Jeffery-sized hole on that lineup that needs to be filled, and someone on the Bears offense is going to have to awkwardly wedge themselves into that opening. Most money seems to be on Cameron Meredith, whose ADP sits at a very reasonable WR38 (100 Overall), but third-year receiver Kevin White has a chance to become the big play threat Chicago drafted him to be as a 1st rounder in 2015. His injuries are obviously a concern, but if he stays healthy, White would be the easy No 2 receiver on a team that has the benefit of Jordan Howard and a defense that will ensure they're playing from behind very often.
Taylor Gabriel (ATL) - Getting cut by a team as bad as the Browns is rarely a good sign for that player's future prospects, but not for Taylor Gabriel. The big-play speedster started just 3 games last season, but he racked up 579 yards and 6 TDs off only 35 receptions. Oh, and he added another 51 yards and an additional TD on the ground...just because he can. Now, Gabriel obviously won't surpass Julio Jones or Mohammad Sanu on the depth chart, and he'll catch fewer passes than the RB duo of Devonta Freeman and Tevin Coleman, but stat still leaves him as a boom-or-bust option on one of the NFL's most potent passing attacks. But supposing he starts even 8 games this year -- or anyone on the Falcons offense goes down with an injury -- Gabriel will boom big, and he will boom often.
Tier 3 Breakout Wide Receivers
Quincy Enunwa (NYJ) - The Jets' 2017 season looks to be a wasteland of disappointment, but like all terrible teams, there are bound to be a few redeeming fantasy players you can comfortably hitch your wagon to. Enunwa is the de facto No 1 receiver now that the team has jettisoned anyone old enough to remember when MTV still played music videos. Enunwa should do no worse than last year's 850 yards, as the 25-year-old receiver's only legitimate competition is second-year man Robby Anderson, who found himself embroiled in legal troubles this offseason. Nab him anywhere after the 10th round and be confident you're getting a team's No 1 Receiver -- and someone you can plug into the Flex on any given week -- for practically nothing. He's done with a season ending injury.
Kenny Britt (CLE) might very well be the least sexy pick on your draft board, but sometimes the "responsible pick" is the right way to go. Last year Britt showed himself to be a physical receiver capable of wrangling contested catches a la Dez Bryant or Alshon Jeffery on his way to a 1,000 yard season. The only competition he has right now for targets is 2nd year wideout Corey Coleman, who's been collecting major injuries like playing cards since his days at Baylor. That bodes well, considering the Browns need to fill more than 250 targets from last year after cutting Terrell Pryor, Gary Barnidge, and Andrew Hawkins. Look for Britt to put up consistent, steady numbers, which is all you need in your Flex spot some weeks. Oh, and Britt is used to coping with bad quarterback play, so don't let Cody Kessler scare you away.
Tier 4 Breakout Wide Receivers
Zay Jones (BUF) - If all it takes to break out in fantasy is talent and opportunity, then rookie Zay Jones is about to make some lucky owner a very happy camper. Jones steps in as the immediate No 2 receiver, just behind Sammy Watkins, who's missed 11 games over the last two seasons. If Watkins goes down at any time during the season, Jones will have an immense opportunity to shine. The Bills will still operate a run-first approach so long as Shady McCoy is in their backfield, but Jones is still worth a Flex spot based on his outrageous upside. (Editor's Note: Watkins is now in LA and Jordan Mathews has taken his place. Jones is still the number 2 receiver at the moment.)
Kenny Golladay (DET) - Here's a sleeper so deep you could rob his house while lighting off fireworks and blasting an air horn. Detroit loves to line up three receivers on the field. The pass-happy Lions ranked 2nd in the use of those sets in 2016. This year's 3rd round pick, Kenny Golladay, appears to have the No 3 job right now. He is in no real danger of losing it. Considering how wildly inconsistent Marvin Jones was last year, it's even possible Golladay moves up to receiver 2. He's an ultra-sneaky flex option in PPR formats.
You should also read our Top 5 Running Backs With Comeback Potential.