Running back is a volatile position because at any given moment a "hot hand" can ascend to the starting position and a veteran may be done. There are some players that get hurt or fall out of favor and bounce back though and this breakout potential at running back is key to winning. Identifying a player that could rise back to glory could be the clincher for a great fantasy roster.
RB1 Potential
Todd Gurley STL 2016 Stats: 278 rush attempts 885 yards 6 touchdowns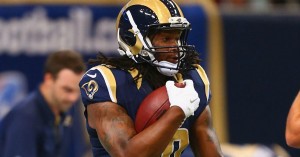 There was not much to like about Todd Gurley's 2016 season and that is common knowledge in fantasy circles. After bursting onto the scene with over 1,000 yards and 10 touchdowns as a rookie hopes were high. Those hopes were quickly dashed as an awful team and predictable play calling stalled Gurley. The Rams have not improved greatly and it could be another tough season for Gurley. He has the talent to get back to being a top of the league runner, but it is hard to see him having enough open space in this anemic offense.
Potential Comeback Wide Receivers
RB2 Potential
C.J. Anderson DEN 2016 Stats: 110 rush attempts 437 yards 4 touchdowns
The statistics for Anderson look terrible because of injury, but he was disappointing before he got hurt. Anderson struggled in 2015 and then again in 2016 prior to his injury. There have been some growing pains for the entire team since Peyton Manning became ineffective and then retired. Anderson has had trouble duplicating his electrifying performance in the second half of 2014. At this point it is probably make or break for Anderson showing that he can be a lead back. He is a risk, but at his current ADP around the 19th running back there is plenty of room for profit if his comeback happens.
Marshawn Lynch OAK 2016 Stats: Retired
There is a lot of excitement for the return of Beast Mode. In one respect, the hype is warranted. There are bound to be some vicious stiff arms and amazing broken tackles. On the other hand, an aging back that has been away from the game for a year is a big risk. He is bound to have a nice touchdown total if he can stay healthy, but the Raiders are going to throw a lot as well. Jalen Richard also looks very exciting and he is going to be involved in the offense. I love to watch Lynch play and he should have a nice comeback year. In the end, however, the price tag is probably going to be too high to justify drafting this bruiser.
RB2/Flex – Borderline Potential
Ameer Abdullah DET 2016 Stats: 18 rush attempts 101 yards 0 touchdowns
It looked like things were lined up for Abdullah to break out in 2016. Unfortunately, he broke down instead and he did so early on. All of the physical skills are there for Abdullah and he was averaging 5.6 yards per carry before injury last season. He is a bit limited by Theo Riddick taking passing downs, but there is reason for optimism. The Lions appear enamored with Abdullah's talent and will continue to feed him the rock on rushing downs. If he can manage to stay on the field this year, he should have a big season.
Adrian Peterson NO 2016 Stats: 37 rush attempts 72 yards 0 touchdowns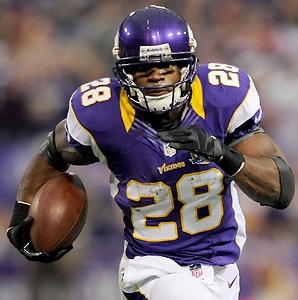 Last season was a lost year for Peterson in every way. He looked slow and old in two games before going down with a season ending injury. A 32 year old running back coming back from injury after looking washed up is a tough sell, but Peterson has been a generational talent. He is essentially starting out as Mark Ingram's backup, but of course a few vintage runs could change that in an instant. In order to prove worthwhile in fantasy, Peterson will need to show his trademark superhuman rehabbing ability one more time. While it would be a huge surprise to see him have a big year, the price tag in some leagues is worth the gamble.