Okay knuckleheads we're drafting out of the 1 spot (we've got the first pick) in a 12 team standard scoring league. Your draft strategy is usually based on who's available but this year I'm really digging taking a late quarterback. Staying true to my philosophy I drafted quarterback toward the end of the middle rounds. While diving into my Standard League Draft Strategy I'll explain why I drafted Lacy as the first pick in the draft as well as the reasoning behind my overall strategy.
12 Team Standard League Draft Results
The below image is the rating FantasyPros gave my team after the draft. As you can see, I have the #1 overall team,#3 ranked group of starters and #1 ranked bench. When you have the #1 pick you're forced to wait a long time before your next draft pick, it can really suck! Typically what happens is by the time your 2nd and 3rd pick roles around the best value is in wide receiver so my strategy typically involves drafting RB, WR, WR.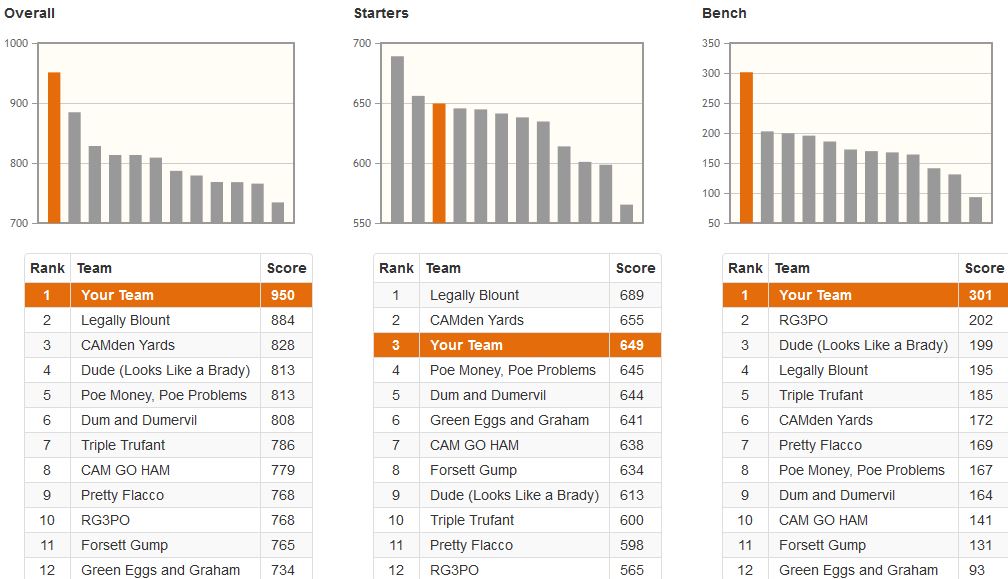 Round by Round Strategy
Insight into my positional concepts:
RB - Running back is very important, especially in standard leagues, and always when you have the first pick in your draft.
WR - Historical touchdown consistency is the key and you clearly want to target the large and or faster guys not always the possession receivers.
TE - There are several late round tight ends with plenty of upside, draft two of them.
QB - I like waiting it out at QB. Cheap guys like Eli Manning and Phillip Rivers are decent picks and Eli could really surprise this year.
DEF - When you have the first pick it always seems to make sense to wait on picking your team defense. Target them based on strength of schedule.
Kicker - Use you last pick and draft a kicker on a high powered offense.
Round by round analysis: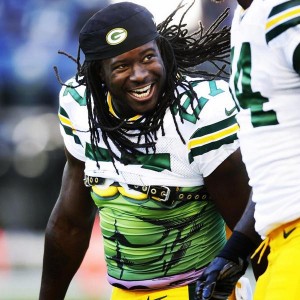 I had the 1st pick in a 12 team standard league, here's how my draft strategy played out.
1.1 Eddie Lacy, GB - With my first pick I snatched up Lacy. The news of Jordy's ACL tear solidifies Lacy as this year #1 draft pick.
2.12 Randall Cobb, GB - Okay so Nelson's ACL tear also boost Cobb up, or so we hope.
3.1 Alshon Jeffery, CHI - Taking Jeffery was the obvious choice. I felt good about my chances at running back later and wanted a dominate WR core.
4.12 Keenan Allen, SD - Keenan is a 3rd year wide receiver and I firmly believe he's going to net us 10 touchdowns this year.
5.1 T.J. Yeldon, JAC - Remember MJD? Yes you can get solid production out of the running back position on a less than dominate team. Was I targeting Yeldon this year, no, but he'll do... for now.
6.12 C.J. Spiller, NO - Yes it's a standard league but 8 total touch downs isn't out of the question. New Orleans will run the ball more this year and Spiller should benefit from the new scenery.
7.1 Ameer Abdullah, DET - Do you think Bell will stay healthy? I don't. Ameer was my version of "wishing on a star" in this draft. He could be an expensive bust, or a home run pick.
8.12 Davante Adams, GB - Man I love me some Green Bay Packers! Adams will see an uptick in snaps due to Nelsons unfortunate injury and folks haven't caught on yet.
9.1 Eli Manning, NYG - Beckham and Cruz on the field on the same time with no clear number 1 running back, Eli better have his arm ready because they are going to be throwing it a bunch.
10.12 Devin Funchess, CAR - Kelvin is out for the season, another ACL victim, and Funchess will be tossed into the fire. He's a low risk high upside pick and I couldn't be happier.
11.1 Philip Rivers, SD - Because Eli isn't that sexy.
12.12 Tyler Eifert, CIN - He's been untouchable in camp and did well in the pre-season footage I've watched. At 6'6' 250 pounds the kid has a shot at being a top 5 TE.
13.1 Dwayne Allen, IND - In case Eifert doesn't pan out Allen will serve as a more than viable starter and he only cost me a late pick. Waiting for TE seems like the strategy to use this year.
14.12 Baltimore Ravens, Bal
15.1 Stephen Gostkowski, NE - High power offense and a history of being reliable.
What This Team Lacks
I'm clearly lacking RB depth, typically you'll want to roster four backs due to the nature of injuries in the NFL. I'll certainly be a waiver wire hawk and by week 4 I'll have another running back on my bench. Every single year a 2 or 3 running backs emerge that are worthy of starting or at least keeping on your bench. I'm sure you've got an opinion and I'd love to here it so don't be shy.