Due to an early run on the quarterback position, common in 1 and 2 QB leagues, I deployed a late round quarterback draft strategy. It's the perfect PPR draft strategy with a late round quarterback philosophy. You'll need to ignore the early run and stock up on the other skill positions. If this happens in your league I advise you to draft the other skill positions early (bypassing quarterback in this instance) to maximize your total team scoring in-season. The drop off in projected points between the 8th QB drafted and the 12th QB drafted is minimal however, the average draft position for the 12th quarterback off the board is substantial. While diving into my PPR draft strategy I'll explain why I picked this player or that player, hopefully giving you insight into my logic behind each draft choice.
PPR Draft Results
Let's take a look at the draft results. As you can see, the team I drafted is projected for the highest total points both overall and just the starters. The strategy is simple and we will take a look at that later on. Bottom line: don't follow the herd, drafting based on position runs only leaves you at the bottom of the pack. You may feel like you're missing out but in all actuality you're not!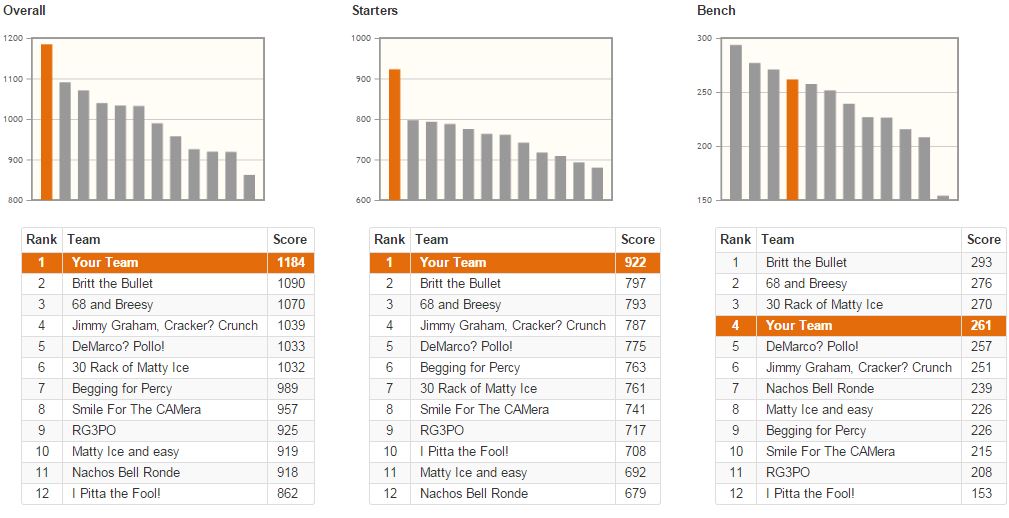 Round by Round Strategy
Insight into my positional concepts:
RB - Running back is very important, even in PPR Drafts, and you obviously target running backs that have a history of gathering receptions.
WR - Consistency is the key and your clear possession wide receivers are your primary objective.
TE - There are several mid-to-late round tight ends with a huge ceiling so wait it out.
QB - Preferably I'll target high upside guys that are cheap like Eli Manning and Phillip Rivers. But I didn't have that luxury this time, more on that later.
DEF - You can go about this 1 of 2 ways: either take the best defense early (round 9 through 11) or wait until much later and draft two based on strength of schedule.
Kicker - Use your last or second to last pick and ensure you grab a guy from a high power offense and tough strength of schedule overall. High powered offenses get into the red-zone more frequently and if they have a tough strength of schedule then you may or may not get more kicker production.
Round by round analysis:
I had the 8th pick in a 12 team PPR league, here's the fallout.
Eddie Lacy, GB -He's a three down back and that's what you want with your first pick in a PPR draft. A running back that catches the ball and gets all three downs is pure gold.
Demaryius Thomas, DEN: Everyone else was hawking quarterback but I didn't panic and took advantage of the position run by not following herd. Thomas in the second round, what a bunch of rookies!
Lamar Miller, MIA -Miller hasn't been a PPR stud but he's a three down back in an improving offense. It doesn't hurt that he's a free agent next season and theoretically playing for a big payday!
Brandin Cooks, NO - Someone has got to pick up the slack now that Jimmy is gone and Cooks should be a very consistent PPR machine.
C.J. Spiller, NO - Spiller could easily surpass 70 receptions and 1,000 overall yards. I usually

stray from player switching to a new team

but the history of Sean Payton and his ability to turn scat-backs into PPR gold is undeniable.
Julian Edelman, NE - 90 to 110 receptions is well within Edelman's wheelhouse.
Andy Dalton, CIN - I know you hate this pick, but in the grand scheme of things waiting at the quarterback position allowed me to find value at RB/WR and draft a dominate team. Dalton was without his top 2 wide receivers at various points through the season last year. Now that Jones and Green are back at full strength he's a lock to surpass the 33 touchdown ceiling he set in 2013. As a side note Bengals OC Hue Jackson said, "We're going to open it up a little bit more this year and be who I think we can be."
Joique Bell, DET - Slight injury concern here but in the 8th round I couldn't resist. Bush is gone too which helps his early season projections in my book.
Seattle Seahawks, Sea - I drafted them a little earlier than I wanted but I knew the other guys I liked would still be there in the later rounds. When strategizing and making on-the-fly decisions you've got to see past your next move, just like playing chess.
Roddy White, ATL - He was absolutely riddled with injuries last year (which caused him to drop to the 10th round) and if he can return to form this pick is a humdinger or at least a solid bye-week filler.
Pierre Garcon, WAS - This is a pure upside pick, he could find himself on the waiver wire come week four because I need another running back.
Tyler Eifert, CIN - He's been untouchable in camp and did well in the pre-season footage I've watched. At 6'6' 250 pounds the kid has a shot at being a top 5 TE.
Austin Seferian-Jenkins, TB - His rookie quarterback should target him frequently (Winston made his TE in college the most targeted TE in college) and having two upside tight-ends 

is a must for all teams I manage

.
Alex Smith, KC - Gotta have a bye-week filler and what the heck, he was the only QB worth 2 beans remaining on the board. Hopefully Maclin helps KC more than we expect.
Connor Barth, DEN - High power offense, check. Last round, check.
What This Team Lacks
Obviously things could be better and in our constant pursuit of perfection lets pick this team apart and figure out how to address it in-season. I'm lacking RB depth, typically you'll want to roster four running backs due to the volatility of the position. Leaning on the waiver wire, by week 4 I'll have another running back on this team, that's a certainly. Every single year a couple running backs emerge (usually by week 4) that are worthy of starting or at least keeping your bench warm. I'm sure you've got an opinion and I'd love to here it so don't be shy.