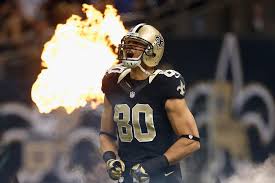 Tight End can make a huge impact on your fantasy football teams overall performance. It's very hard to draft the next breakout TE, luck of the draw so to speak. But take Gronk or Jimmy and you're going to dominate your opponents TE almost every single matchup. I personally prefer to take Gronk or Jimmy and trust my mid to late round drafting skills to compensate for skipping on WR/RB in the early rounds. And if I fail to draft a solid core of WR/RB in the draft I'll simply make up for it via waivers, no worries; and yes I make it to the playoffs in most leagues with this strategy. The value over replacement at TE is huge, so I recommend you invest in Rob or Jimmy if possible without over reaching. My rule of thumb is this, if the top tier RB are gone I'm looking at Rob or Jimmy.
Also read: RB Preview - QB Preview - WR Preview
My (Early) Top 20 For 2015
First tier (Round 2)
1. Jimmy Graham, Saints
2. Rob Gronkowski, Patriots (injury history bumps him down one)
Second tier (Round 4)
3. Greg Olsen, Panthers
4. Travis Kelce, Chiefs
Third tier (Round 7)
5. Julius Thomas, Broncos (didn't make a huge impact upon his return from injury, need to see more)
6. Dwayne Allen, Colts (a lock to score almost every game in 2014, or so it seemed)
7. Martellus Bennett, Bears
Fourth tier (Rounds 9-12)
8. Antonio Gates, Chargers
9. Jordan Reed, Redskins
10. Coby Fleener, Colts
11. Jordan Cameron, Browns
12. Larry Donnell, Giants
13. Jason Witten, Cowboys
14. Delanie Walker, Titans
Fifth tier (free-agent material)
15. Dennis Pitta, Ravens
16. Kyle Rudolph, Vikings
17. Tyler Eifert, Bengals
18. Charles Clay, Dolphins
19. Eric Ebron, Lions
20. Zach Ertz, Eagles
Blocking: We tend to ignore information about who blocks well and who doesn't, but it can really impact snap counts especially at tight end. We saw this with talents such as Zach Ertz, J. Thomas and Jordan Cameron. If they can improve blocking in the 2015 off-season then we could see larger roles this year and more fantasy points. Which makes them all potential breakouts on my late round watch list.
Obvious Notes: Gronkowski and Graham remain the most valuable picks at TE in 2015. Julius Thomas could leave Denver for a big payday. Greg Olsen is the third best option in PPR league, yet I doubt his ADP will reflect that in the upcoming 2015 fantasy drafts. I recommend you stick with safe picks or obvious upside picks at running back and wide receiver after Gronkowski and Graham.
Three TE Stats to Keep In Mind
Comparing 2013 to 2014, Gronkowski didn't approach the massive numbers put up by Graham in 2013, but in 13 and 14 nine tight ends reached 100 standard fantasy points (none ppr). Graham, Gates, Thomas and Olsen are the only tight ends to score 100 points in each of the last two seasons.
In 2014 Gronkowski just beat Martellus Bennett for most targets at the position, but Bennett had a better catch rate. His 90 catches led all TE in 2014. The last time a tight end caught 100 passes was Witten in 12 and prior to that, Dallas Clark in 2009. Gronk and Olsen led the 2014 tight ends in receiving yards as the only ones to surpass 1,000 receiving yards. Keep in mind Graham was playing the role of decoy for much of the 2014 season.
Tight ends are usually check down guys but some excelled in the downfield passing games, but 3 TE were among the top 40 overall in yards per reception. Gronkowski came in at 13.7 yards per catch, his lowest figure since 2010. Delanie Walker of the Tennessee Titans averaged 14.1 yards per catch. Fleener at 15.2 lead all TE's with the same 15.2 as Calvin Johnson but keep in mind, Allen was out for several games in 2014.