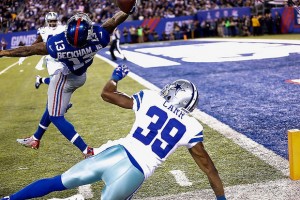 Will the 2015 rookie class produce near the history production levels of the 2014 class and will you bank on that in your 2015 fantasy football draft? Rookie wide receivers usually don't make a fantasy impact. But in 2014 rookies like Odell Beckham Jr., Mike Evans and Kelvin Benjamin were all solid fantasy starters. Close seconds were Sammy Watkins of the Buffalo Bills, Jordan Matthews of the Philadelphia Eagles and Jarvis Landry of the Miami Dolphins. We will talk about this and the many veteran wide receivers headed into the 2015 fantasy football draft.
Also read: RB Preview - QB Preview - TE Preview
My Top 50 For 2015
First tier (mid-to-late Round 1)
1. Antonio Brown, Steelers
2. Calvin Johnson, Lions
3. Demaryius Thomas, Broncos
4. Dez Bryant, Cowboys
5. Odell Beckham Jr., Giants
Second tier (Round 2)
6. A.J. Green, Bengals
7. Jordy Nelson, Packers
8. Julio Jones, Falcons
9. Emmanuel Sanders, Broncos
10. Randall Cobb, Packers
Third tier (Round 3)
11. Alshon Jeffery, Bears
12. DeAndre Hopkins, Texans
13. T.Y. Hilton, Colts
14. Brandon Marshall, Bears
15. Kelvin Benjamin, Panthers
16. Mike Evans, Buccaneers
Fourth tier (Rounds 4-5)
17. Brandin Cooks, Saints
18. Jeremy Maclin, Eagles
19. Roddy White, Falcons
20. Keenan Allen, Chargers
21. Allen Robinson, Jaguars
22. Sammy Watkins, Bills
23. Golden Tate, Lions
24. Michael Floyd, Cardinals
Fifth tier (Rounds 6-7)
25. Jordan Matthews, Eagles
26. Julian Edelman, Patriots
27. Martavis Bryant, Steelers
28. Jarvis Landry, Dolphins
29. Torrey Smith, Ravens
30. DeSean Jackson, Redskins
Sixth tier (Rounds 8-9)
31. Donte Moncrief, Colts
32. Victor Cruz, Giants
33. Brandon LaFell, Patriots
34. Vincent Jackson, Buccaneers
35. Mike Wallace, Dolphins
36. Andre Johnson, Texans
37. Steve Smith, Ravens
38. Anquan Boldin, 49ers
39. Eric Decker, Jets
40. Larry Fitzgerald, Cardinals
41. Kendall Wright, Titans
Seventh tier (Round 10 on)
42. Cody Latimer, Broncos
43. John Brown, Cardinals
44. Andrew Hawkins, Browns
45. Marvin Jones, Bengals
46. Kenny Stills, Saints
47. Pierre Garcon, Redskins
48. Cordarrelle Patterson, Vikings
49. Davante Adams, Packers
50. Marques Colston, Saints
Wide receiver Winners and Losers: Beckham scored 197 standard fantasy points and 288 points in PPR leagues in just 12 games. Antonio Brown fantasy's top overall wide receiver, but Beckham outscored him on a per-game basis and, of course, was a far greater value. Calvin Johnson owners probably drafted him in the first round and got rewarded with a lowly 1,000 receiving yards and eight touchdowns. Brandon Marshall, Vincent Jackson and Percy Harvin underperformed their ADP and will be mild sleepers in the 2015 draft, don't be afraid to draft them as a bounce back is looming.
PS: Josh Gordon is suspended for 2015.
Will They Repeat?
Jeremy Maclin set career highs in receptions, yards and tied his career best touchdowns with 10. Those numbers landed him as fantasy's #9 ranked wide receiver. I expect those numbers to regress toward the mean in 2015 as Maclin historically has injury bugs. If Carson Palmer is healthy his wide receivers shouldn't be overlooked in the draft. Larry Fitzgerald has moved to the WR2 spot with Michael Floyd dropping 17.9 yards per reception with Palmer at the helm. Victor Cruz will be healthy this year but can he coexists with Beckham. Will this WR duo make quarterback Eli Manning a legitimate statistical stud? Stranger things have happened.
Young WR Watch: Brandin Cooks, Donte Moncrief, Cordarrelle Patterson and Allen Robinson lead a promising 2nd/3rd year class. Cooks was on the verge of a breakout before his injury, he's a game-changer and has Drew Brees. Moncrief has more upside if Reggie Wayne and Hakeem Nicks don't return. Robinson is the most talented active WR for the Jag and Bortles is the real deal. Patterson underperformed in 2014, no doubt, but the light could come on in his 3rd year deemed the magical year at wide receiver.