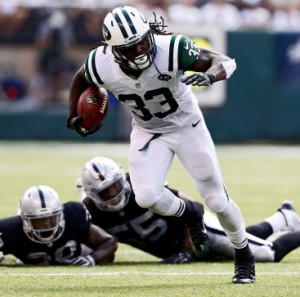 Last week we covered the over drafted players list, or "DND" list, complete with an amazing image of Gandalf and a troll lining up to take a snap. Now, just like the wizard in white, I have returned at the turn of the tide with another list! A good way to think of the following Under Drafted Value Picks piece is "Hey Pete, can you make a Value All-Star team for me?" Think of this like the NBA All-Star game: a top five of value guys who I think will end up on a lot of my rosters based on where they are currently being taken in drafts. The five names below are all players I believe will out-perform their current expectations and ADP.
Again, for those of you who missed last week, a player's average draft position is different than their overall rank among all players. "Overall" denotes where their ADP places them if you were to arrange every player in order according to their ADP. I have also tried to arrange this list in order from "least egregiously under-drafted" to "most egregiously under-drafted."
INJURY NOTE: I am staying away from the obvious D. Adams (WR-GB) and D. Funchess (WR-CAR) as their situations have drastically changed with injuries to J. Nelson and K. Benjamin, respectively. I expect both of their ADPs to rise rapidly this week.
Under-Drafted Value Pick No. 5: Jeremy Maclin, WR, PHI ADP: 66 Overall: 60
Apparently, many of you read last week's article and acted on it, as I advocated taking Maclin higher. And he has risen from an ADP of 69.3 to 66.0. Great! Now keep the needle moving. Last year's Kansas City WR numbers mean nothing. Nothing. Maclin is a legit number one, Andy Reid loves him, he's looked good in the preseason, he's better than where he's going at WR24. Keep reading, keep acting, and keep the needle moving!
Under-Drafted Value Pick No. 4: Christopher Ivory RB, NYJ ADP: 81.3 Overall: 76
I know, I know.. there are no sexy Jets. Similar to 2014, the fewer Jets I have on my fantasy roster the happier I am. Nevertheless, Ivory is currently being drafted as RB 31. Let me say that again: RB 31?!?! Are you people insane? There are only 32 NFL teams! And the job is all his! And it's not like he's talent-less! He's actually looked pretty good in the preseason! Should I stop using exclamation points now(!)? Ok. I will stop exclamation points now.
Under-Drafted Value Pick No. 3: Charles Johnson WR, MIN ADP: 104.3 Overall: 98
Who's your guy in Minnesota, Johnson or Mike Wallace? Whoever it is should be going in the top-25 at WRs and both Wallace (WR28) and Johnson (WR36) currently aren't. I know the Vikings brought in Wallace to contribute and like him a lot, but it's not like Johnson is yesterday's bacon. Wallace is a well-known commodity: he'll be a boom-or-bust, take-the-top-off-the-defense sort of guy. Do I think Norv Turner will trust Bridgewater enough on deeper throws to help Wallace achieve consistent production? Actually, yes. I think I do. But Johnson will get more than enough looks (if I had to bet on it today, I'd say he gets more 2015 targets than Wallace) and, honestly, in my opinion is the better player. Move him on up!
Under-Drafted Value Pick No. 2: Alshon Jeffery WR, CHI ADP: 25.0 Overall: 23
Currently going as WR10 and I've got him at WR6. Yes, at this point I'd take him over Calvin Johnson, TY HIlton, AJ Green and mayyybbbee Randall Cobb but that last one is extremely close after the aforementioned injury to Nelson. I think he's a target monster this year and for all the hype about Odell Beckham Jr's insane catches was anyone watching Jeffery's 2013 season? Seriously, the dude plays with superglue on his gloves. For those of you worried about his calf injury don't fret, he will be fine.
Under-Drafted Value Pick No. 1: Jeremy Hill RB, CIN ADP: 14.7 Overall: 16
Name one guy currently going outside the top-10 who could finish at number one overall fantasy scoring among non-quarterbacks. How many of you just said "Jeremy Hill?" Answer: not enough. If the cookie crumbles the right way I could see Hill as an absolute year-winner, and he's currently going in the back-half of the second round and ninth among running backs. I put him more in the Eddie Lacy/Marshawn Lynch/Matt Forte tier, and I think between all those guys it's a wash.
Best of luck. As always you can tweet me rants, dissertations, and random nonsense:
Do the @Colts have enough receivers yet?

— Petros Karagianis (@pkaragianis) May 1, 2015