The NFL season is over, but fantasy football managers should adopt the mantra of the Panthers and keep pounding. The offseason pre-draft is a good time to take stock of the way players performed throughout the year. With the games finished, it is easier to take a step back and really examine things with no distractions. In this case, I will look at the second half of the wide receivers who will head into their second year in 2016.
Second Year Quarterbacks - 2016
Devin Funchess CAR
2015 Stats: 31 receptions 473 yards 5 touchdowns
Funchess had a lot of developing to do in his rookie season and he did take some big strides. He has a long way to go before he can be considered a reliable NFL threat, but his size and physical gifts make him an interesting wildcard. The return of Kelvin Benjamin in 2016 will certainly take away targets from everyone else, but it will also spread out defenses. I like Funchess to take another step forward in 2016 and produce around 700 yards with another 5 or 6 touchdowns.
Nelson Agholor PHI
2015 Stats: 23 receptions 283 yards 1 touchdown
Agholor was a player that came into 2015 with high hopes and ended up being a huge disappointment; sort of the story of the Eagles. Although he was a star in college, this failed to translate to the NFL in his rookie campaign. I am giving him a pass to some extent as the whole team was chaotic and dysfunctional in Chip Kelly's final season as head coach. The Eagles are still looking for someone to step up and be the true number one receiver in place of the departed Jeremy Maclin. I do not think that Agholor will be up to this in his second season, but he should improve drastically. He could be a nice sleeper pick in the late rounds.
Second Year Running Backs - 2016
Stefon Diggs MIN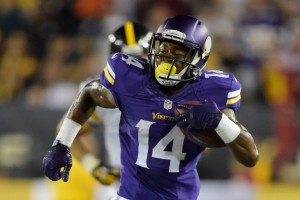 2015 Stats: 52 receptions 720 yards 4 touchdowns
Diggs had a torrid 4 game streak in 2015 where he racked up the majority of his stats for the year. He has a nice rapport with Teddy Bridgewater, but I question how much higher his ceiling is. While he has the ability to make some big plays, the continued development of his quarterback will be integral to his utility as anything more than a flex option. He is certainly draftable for the 2016 season, but be prepared for long dry spells as the Vikings offense is not designed to be explosive in the passing game.
DeVante Parker MIA
2015 Stats: 26 receptions 494 yards 3 touchdowns
Parker is a talented player being weighed down by too many mouths to feed in the 'Fins passing game. Miami looked like a team that would be explosive offensively but rarely made good on that promise. 2015 was a bit of a lost season for much of the team and Parker failed to make an impact in most of their games. He still has a tremendous amount of potential moving forward but there is little reason to see him getting the majority of targets with Jarvis Landry and Rishard Matthews competing with him. Fantasy owners could find Parker to be a mediocre fantasy option in 2016 unless something changes drastically.
Phillip Dorsett IND
2015 Stats: 18 receptions 225 yards 1 touchdown
In similar fashion to Parker, Dorsett was buried behind a plethora of talented wideouts in Indianapolis. Perennial star T.Y. Hilton and breakout Donte Moncrief both stand in the way of Dorsett carving out a real niche for himself in 2016. Andrew Luck should come back healthy which will be a major boost to the entire Colts offense, but Dorsett will still not see enough targets to be an every week play. He has some sleeper potential if Hilton or Moncrief are injured at some point during the season. Keep an eye on the depth chart during the preseason and the picture should be a bit clearer.
Second Year Wide Receiver - 2016 (Part I)
Other Notable Second Year Receivers (In Order Of Preference)
Jamison Crowder WSH
Devin Smith NYJ
Ty Montgomery GB
J.J. Nelson ARI
Jaelen Strong HOU
Rashad Greene JAC