The NFL regular season is over and with the playoffs looming many teams are thinking about the draft. This is always a popular subject for fantasy football players, but before we get ahead of ourselves, how about the players with one season under their belts. Some rookies had big debut seasons and some were big disappointments. Now the question on the minds of fantasy owners should be: Which second year players will I want next year? Of course, this question is especially pressing in keeper and dynasty leagues.
In this article, the focus will be on the quarterback position. There are two obvious names to consider and a couple of lesser known players who could see some playing time given the right situation (or the wrong one, depending on your perspective).
Jameis Winston TB
2015 Stats: Passing - 4042 yards 22 touchdowns 15 interceptions
Rushing - 213 yards 6 touchdowns
Coming into the 2015 season, I had some major questions about the maturity of Jameis Winston. I thought that his rookie year would be a serious struggle, but he proved me wrong. Although the Buccaneers did not set the world on fire, their offense was very respectable. Winston limited his turnovers and showed some real leadership; very impressive for a 22 year old. Off the field he acquitted himself very well, he was basically the anti-Johnny Manziel.
Going into next season, Winston has all of the makings of a superstar. He has a top flight wide receiver in Mike Evans and Austin Seferian-Jenkins has the tools to be a star at tight end if he could stay healthy. There is some question regarding the status of Doug Martin, but running backs are replaceable in the modern NFL. Lovie Smith is being replaced and it will be interesting to see the effect (if any) of a new head coach. Overall, I am buying Jameis Winston going into 2016. I think that he will take another step forward and could push for top-10 quarterback status.
Players To Watch In The 2015 NFL Playoffs
Marcus Mariota TEN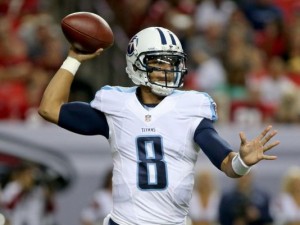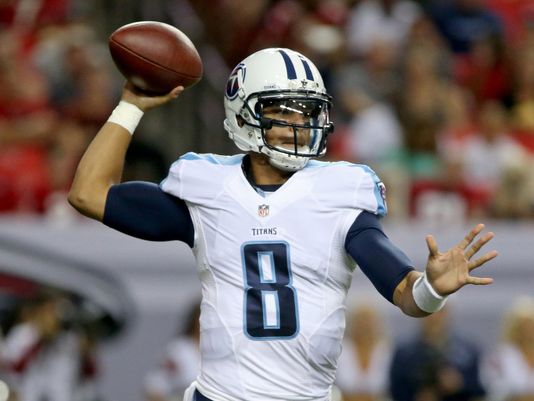 2015 Stats: Passing - 2818 yards 19 touchdowns 10 interceptions
Rushing - 252 yards 2 touchdowns
Mariota's rookie year was up and down, in large part due to injury. He showed the ability to take advantage of a bad defense as he had huge games against Tampa Bay, New Orleans and Jacksonville. There were also games where he was completely shut down; not an uncommon occurrence for rookie quarterbacks. Of course my main complaint would be the fact that he missed time due to injury twice during the season. This may be a fluke or it could be a trend based on his style of play and offensive line. For a quarterback that is going to get a fair amount of yardage by running the ball, you want to see either size i.e. Cam Newton or elusiveness i.e. Russell Wilson. Mariota is not a large quarterback and he has not been able to avoid the big hit as well as Wilson so far.
I would absolutely not draft Mariota as my QB1 in 2016, mainly because he is an injury risk. I would be very cautious as he could very well go the way of Robert Griffin III in terms of injury. With that being said, he is a very high end QB2 and he could end up being worthy of weekly starts by the end of the season if he proves more durable than I expect. Depending on the offseason moves by the Titans I could change my position slightly, but for now Mariota is a QB2 with upside.
Garrett Grayson NO
2015 Stats: N/A
Grayson was drafted with development in mind and did not play a single snap in 2015. There is no guarantee that he will even be the second string quarterback in 2016 and he should certainly not be considered in fantasy drafts outside of the very deepest dynasty formats. Now that all of that is out of the way, he is an unproven commodity on a team with some real offensive weapons and an aging starter at quarterback. While there is a very real chance that he sits out another whole season, his name should be in the very back of fantasy owners' minds just in case.
Bryce Petty NYJ
2015 Stats: N/A
Another developmental project, Petty is more physically gifted than Grayson. He also needs more development from a football perspective as he came out of a spread system and will need to learn the pro game. It seems likely that Ryan Fitzpatrick will be firmly entrenched as the Jets starter in 2016 after leading the team to 10 wins. The team does have some serious offensive firepower and if Petty were to get into the game via injury or the like, he would have the opportunity to put up some numbers. It seems like he is still too far off to be much help to fantasy owners in 2016 however. While Grayson has some dark-horse potential, Petty is more likely to be a factor in 2017.
Other quarterbacks drafted in 2015:
Sean Mannion STL, Brett Hundley GB, Trevor Siemian DEN