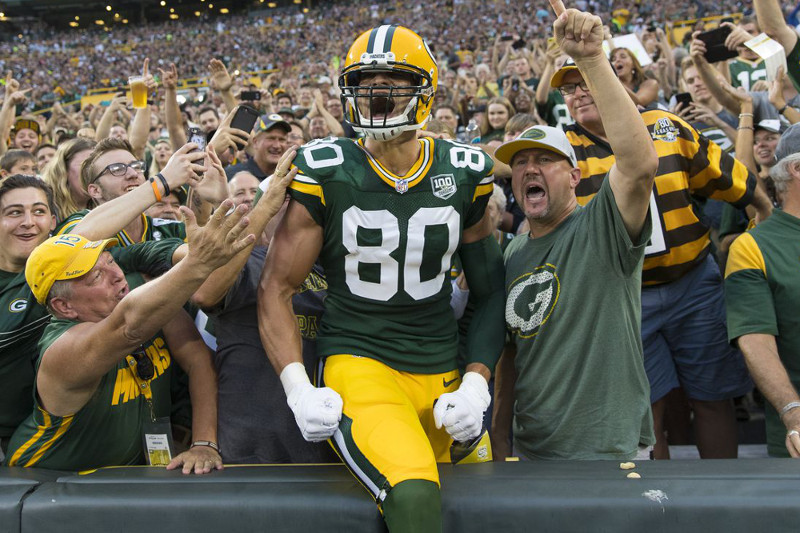 Jimmy Graham found a new home over the offseason, moving from Seattle to Green Bay. He transitioned from one high-powered offense to another, and from one seemingly superhuman quarterback to another. And yet, not many fantasy experts are sold on Graham at his current ADP of 5.03.
You've likely heard a bundle of negative takes about Graham over the offseason. So let's examine a few of them and see if they hold any water.
Argument 1: Jimmy Graham's Lost A Step
The biggest problem fantasy draftniks have with Graham is that he hasn't looked as "explosive" as he did back in New Orleans days. And at first glance, the stats seem to bear that out. Graham's 9.1 yards per reception in 2017 were the lowest of his career, finishing neck-and-neck with fellow fantasy disappointment Jordy Nelson.
And while that's certainly not a great mark, the season before that Graham posted 14.2 YPR, a career best. He may have had a down year, but we shouldn't be so quick to put him in the Julius Thomas/Jason Witten camp.
It's also worth noting Kyle Rudolph just barely outperformed Graham's 2017 number with 9.3 YPR. So where are all the critics saying Rudolph has lost a step?
Besides, overall yards per reception can be a deceiving stat, especially for such a dominant red zone threat like Graham. After all, the more passes a player catches in the red zone, the more their YPR is going to drop. And Graham had 28 percent of his catches inside the 20-yard line last year, 2nd most in the league behind only Jarvis Landry. (Another YPR "slouch.")
By contrast, just 12 percent of his receptions were inside the 20-yard line in 2016. That's how you put up a career high yards per reception number.
What's more interesting is that if you only look at Graham's catches between the 20s, he actually averaged 11.0 YPR last year. That's the same he averaged in 2014, his last season with the Saints, back when he was still "explosive Jimmy." By comparison, Zach Ertz put up 11.4 YPR between the 20s last season. And again, no one is lobbying that Ertz has lost a step.
Argument 2: Aaron Rodgers Can't Support A Top Fantasy Tight End
Fact: Aaron Rodgers is one of the greatest -- if not the greatest -- real life and fantasy quarterback in the game. But for some reason, he's only supported a TE1 three times in his entire career. Hence the narrative that Green Bay is where talented tight ends go to die.
Exhibit A: Martellus Bennett. Those pooh-poohing the Rodgers-to-Graham potential are probably having flashbacks to this time last offseason, when the fantasy world was tripping over themselves to proclaim Bennett a goldmine. How did that work out? Bennett finished outside the Top 35 tight ends.
Exhibit B: Jared Cook. Aside from a handful of highlight reel catches -- remember that sideline bullet against the Cowboys in the playoffs? -- Cook's time in Green Bay was largely forgettable.
Here's the problem with those 2 examples: Neither of them played a full season with Rodgers. Bennett had just 6 games with the future Hall of Famer before Rodgers was taken out with a broken collarbone. Cook battled injuries all throughout 2016, and played only 9 full games.
The last starting tight end to play a full 16 with Aaron was Richard Rodgers, who just so happened to finish 2015 as the TE11 in fantasy. If Aaron Rodgers can make Richard Rodgers a top flight fantasy tight end, he can certainly do the same for Jimmy Graham.
Argument 3: But He's Too Touchdown Dependent
First of all, couldn't that be an argument against 98 percent of tight ends? Unless you're snagging one of the Big 3 at the position (Gronk, Kelce, or Ertz), you're going to need a touchdown in the TE slot for them to help your team that week. Luckily, Graham is set up for success in that department.
Here are a couple fun, touchdown-related facts:
Rodgers has averaged 35 touchdown passes over his last 8 healthy seasons.
Graham has averaged 8.5 touchdown receptions over his last 8 seasons.
If Rodgers tosses 35 touchdowns this year, and Jordy Nelson is no longer there to catch them, you can bet a whole lot of them will be going Graham's way. In Nelson's last 2 healthy seasons, he scored 14 and 13 touchdowns, respectively.
Projecting Graham for double digit TDs in 2018 isn't exactly a stretch.
Argument 4: There Are Much Safer Tight Ends Than Jimmy Graham
Once again, couldn't that be said for most tight ends? It's a volatile position, and one that's harder to project than wide receiver or running back. If you want a safe bet this year, you're not likely to find one outside the aforementioned Top 3. With all that said, Graham may actually be the safest of the next options. Let's look at who's currently going around him in drafts:
Greg Olsen: Has more competition than ever with Christian McCaffrey, DJ Moore, and Devin Funchess all potentially eating up larger chunks of the pie. In the 7 games he saw action in last year, Olsen averaged 2.5 catches and 27 yards per game.
Trey Burton: I like this guy's potential a lot. But he's in a new, unproven offense with a second year quarterback expected to make at least 4 different pass catchers fantasy relevant.
Evan Engram: Had exactly ZERO competition for targets last season, as the Giants' receiving corp was demolished by injuries. With Odell Beckham and Sterling Shepard back in the lineup -- and Saquon Barkley primed to catch a bundle of passes out of the backfield -- he's due for significant regression.
Kyle Rudolph: Has a new quarterback slinging him the ball, and still has to compete with Stefon Diggs and Adam Thielen for targets. And his defense will keep him from being the beneficiary of too many shootouts.
Delanie Walker: Foot injury. No longer the only game in town in the receiving game.
Jordan Reed: Hasn't played a full season in his entire NFL career.
And it only gets less secure from there, folks.
So, Should You Draft Him?
In the 5th round, Graham is practically your last chance to grab a locked and loaded TE1. At that point in the draft, you could already have 2 workhorse running backs and 2 stud wide receivers on your roster. Taking Graham at that spot isn't going to torpedo your draft if he finishes outside the Top 5 tight ends, which he's only done twice in his career.
There are always concerns about a player learning and adjusting to a new system, but Graham's role is a simple one: Go up and get the ball. Aaron Rodgers should take care of the rest for him. (Their connection already looks fantastic in very limited preseason action.)
That said, I have no problem waiting and taking a flier on the aforementioned Trey Burton, or perhaps drafting both Jordan Reed AND Vernon Davis to lock up Washington's tight end group.
But if you want to take the "set it and forget it" approach to the tight end position, Graham is your man. Draft him in the 5th round if he's there and don't look back.
For more in-depth analysis, check out the Fantasy Knuckleheads draft guide!