After scrolling through the wide receiver ADP I notice there are some trends to avoid. A few players are going at a slot/auction price that would best be avoided based on the risk that they present. As with the running back article, these are still very good players, but their perceived value is making them over valued at their current ADP.
Dez Bryant DAL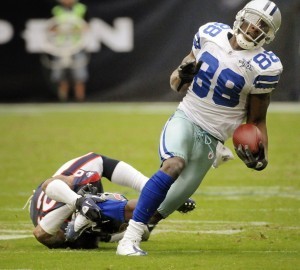 It has been a while since Dez Bryant could be referred to as a risky draft choice, but I find myself avoiding him repeatedly this year. He is about the sixth wide receiver being taken on average and there are several players below him that I would rather have. This is not about ability, as when things are clicking Bryant is one of the best at what he does. It is also not about age; not his age anyway. The biggest risk that I see here is the health of quarterback Tony Romo. He has had several serious injuries, including multiple breaks of the collarbone. The odds of him finishing out a healthy season diminish with each passing year and the lack of a viable backup does not bode well for Dez. Bryant is also coming off a serious injury himself. Even after his return last year he did not look like the same player. Until I see a healthy season back, I am not willing to pay an elite price for Bryant.
Jordy Nelson GB
Considered one of the elite, he has appeared to be an extension of Aaron Rodgers when they are at their best. The combo of Nelson and Rodgers has been the closest thing to unstoppable in the league. But I'll looking at his age, 31, and he has been suffering minor injuries this preseason. The Packers have a talented young wide receiver corps and no reason to rush Nelson back to game action. Like Bryant, I will want to see a healthy return from Nelson before I shell out a top pick for his services.
Demaryius Thomas DEN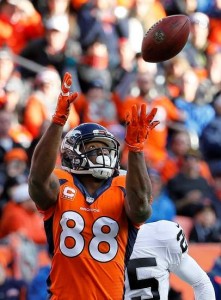 Thomas has been one of the preeminent wide receivers in the league over the last few seasons. Basically his production took off when Peyton Manning became the quarterback of the Broncos and that is no coincidence. Now Manning is gone and so is Brock Osweiler, this leaves the Broncos with Mark Sanchez as the heir apparent. I am not ruling out a 1,000 yard season for Thomas, but there is a lot of uncertainty with a new quarterback that has been a career backup. There are so many talented receivers and so many people high on Thomas; let someone else inherit the uncertainty of the Sanchise.
If you are looking for advice on what wide receivers you should be taking, check out my sleeper article, our wide receiver ranks or my recommended draft picks by round. Also, be sure to check out which running backs to avoid in the early rounds.