With the majority of fantasy football drafts taking place over the next couple of weeks, players are looking for bargains. Getting the best value every round is a surefire way to guard against injury and the other uncertainties of football. I am going to go 16 rounds deep here and point out what I believe are the best value picks in each round.
Round 1:
Antonio Brown WR PIT
A.J. Green WR CIN
Brown is the best player in fantasy and I think that even at the first pick he is a good value. If for some reason he falls lower than pick number 1, rejoice and snag him quickly. A.J. Green is going, on average, around pick number 11. I could see him having a top-5 type value by the end of the season. The Bengals are stacked and Green is their ace.
Round 2:
Alshon Jeffery WR CHI
Eddie Lacy RB GB
Jeffery is underrated because he has been dinged up too often throughout his young career. Staying healthy is an important skill and should not be forgotten, but the upside here is huge. Lacy is due for a bounce back season after showing up in terrible shape last year. I think that if you take Lacy around pick 22 or so where he is valued, he'll look like a steal at the end of the season.
Top 10 Third Year Wide Receivers
Round 3:
LeSean McCoy RB BUF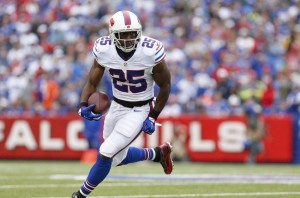 C.J. Anderson RB DEN
McCoy is lower than he deserves because he was injured last year and his backups had decent showings. While this is a bit of a red flag, I still see the same burst and wiggle that Shady displayed in Philadelphia. Grab him for some sweet RB1 upside. C.J. Anderson was closer to abysmal last season, but I think that Kubiak sticks with him out of the gate. If Anderson regains some of his 2014 form, he'll end up being a steal.
Round 4:
Carlos Hyde RB SF
Julian Edelman WR NE
Hyde is a back with almost unlimited talent, but he plays in a sad place called San Francisco. This year, Chip Kelly institutes his fast paced offense where Hyde will see a ton of touches. If he can stay on the field, big numbers are coming. Edelman is one of the only top level receivers that has never gotten any respect. He does have a tendency to miss some games, but when he is on there are few better PPR options. Pick number 44 is significantly later than he should be on the board.
Round 5:
Golden Tate WR DET
Matt Jones RB WAS
Tate is going to be Stafford's favorite target this year despite the talk about Marvin Jones being the number one receiver on the team. I like Marvin Jones; I've hyped him hard in the past. Golden Tate's skill is on another level and he has a chance to have a special season now that Calvin Johnson has retired. Matt Jones has not shown a ton to impress me, but he has every opportunity to see the majority of the carries in Washington. The coaches are high on Jones and the opportunity is there, that is enough to take a chance.
Round 6:
Jordan Matthews WR PHI
Giovani Bernard RB CIIN
Matthews should be the no doubt number one receiver in Philly. While the Eagles do not have a prolific passing attack, that sort of volume is bound to translate to starter worthy numbers. Bernard was clearly the best running back in Cincinnati last season. He should be the starter and see the majority of the carries barring a baffling decision by the coaches. I like Bernard to outplay Hill by a fair margin again in 2016.
Round 7:
John Brown WR ARI
Tyler Lockett WR SEA
Brown could potentially push for the number one wide receiver spot in Arizona this season. He had a big season last year and has the third year wide receiver appeal going for him. If he can be out on the field for the majority of plays in that offense, very big things are coming. Lockett, like Brown, has amazing game breaking ability. Russell Wilson attempts more passes each season and he has been establishing a nice rapport with Lockett. With some more chances this year, the second year man could have a nice showing.
Round 8:
Justin Forsett RB BAL
Philip Rivers QB SD
Forsett looks like he has a grip on the starting running back job and he has had success in the past. If you can get a starting running back in the eighth round, you're doing alright. Rivers has the potential to have a top-5 type season this year. He has arguably the best group of receivers in recent memory and looks poised to put up sneaky good numbers.
Round 9:
Arian Foster RB MIA
Stefon Diggs WR MIN
Foster looks like the odds on favorite to be the starter out of training camp. He is an older back with an injury history and that needs to be taken into account. If you can get him in the ninth round or later, however, I think that he is worth the risk. Diggs had some big games last year which could be chalked up as fluky. He looks like a good bet to lead the mediocre Vikes receiving corps this year and that is worth something.
Round 10:
Travis Benjamin WR SD
Tevin Coleman RB ATL
Benjamin was a revelation last season in Cleveland and he may be a lock to start with the injury to Stevie Johnson. With Rivers throwing to him instead of McCown/Manziel, Benjamin should be able to build on what he accomplished in 2015. I believe that Devonta Freeman can be a very good back again this season, but a lot of you disagree. If you are among the disbelievers, this pick is for you. If you think that Freeman falters, then Coleman is an amazing value in round 10.
Round 11:
Markus Wheaton WR PIT
Josh Gordon WR CLE
I know that there is all kinds of hype around the Steelers saying "look out for Sammie Coates", just cool it. Wheaton is still the second wide receiver on the team and I think that he is the best bet for stats after Antonio Brown. Josh Gordon is a different case; he has repeatedly let down owners and he will do it again. I just think that the numbers he will put up before he does so will be worth the eventual letdown.
Should You Draft RB Or WR In The Early Rounds?
Round 12:
Ryan Tannehill QB MIA
Bilal Powell RB NYJ
I am not a huge fan of Tannehill, but does any QB in the league have such an embarrassment of riches when it comes to talent. If Tannehill manages to fail this year, write him off as a bust. Powell may be the best value that I have seen so far if you play in a PPR league. I could see him having a better year than Matt Forte, who has clearly lost more than a step. Powell is a big part of the Jets' game plan and a valuable pick in round 12.
Round 13:
DeAndre Washington RB OAK
Darren Sproles RB PHI
Washington has been drawing rave reviews from coaches and plays on a team with Latavius Murray who is just decent. Behind the offensive line of the Raiders, Murray should have been rolling up teams for 150 yards, but instead he averaged about 4.0 yards per carry. Watch for Washington to usurp Murray's role as the seaon goes on. Sproles just never seems to go away, especially for the PPR crowd. There are rumblings that he is seeing a lot of snaps with the first team and he may be more involved than people think this season. At the least he is a solid flex play most weeks.
Round 14:
Jerick McKinnon RB MIN
Zach Miller TE CHI
McKinnon is a sheer speculation pick, but he has the ability to make it well worth the gamble if he gets some solid playing time. Miller has had success in the past and should be a favorite of Jay Cutler again this season.
Round 15:
Kenyan Drake RB MIA
Terrance Williams WR DAL
I know that I said Arian Foster would be a good value pick and that is still true. He is also a big injury risk and Jay Ajayi is not very interesting. I think that Drake is more of a third down back, but there are guys who have carved out value from that role i.e. Sproles, Woodhead, Vereen. Terrance Williams has repeatedly been a disappointment in the past but perhaps he can move past that with Romo back in the fold. The Cowboys really need a second receiver to step up beside Dez Bryant and I think that Williams is best equipped to do so.
Round 16:
Nelson Agholor WR PHI
Victor Cruz WR NYG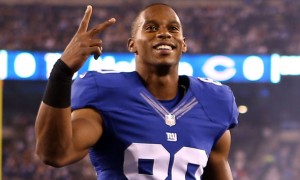 Agholor had a lot of people talking before his rookie season, but he fizzled out. He still has the same skill set as he did before and now he is almost free. I say grab him and hope that he can put it all together. Cruz has already been a top receiver before being derailed by injury. Like Agholor, he is basically free and that makes him worth a shot.