No matter what the sport, a new season presents fresh opportunities, particularly for those teams or players who feel like they left something out on the field, court, mat, etc. Every NFL team outside of the Super Bowl champion New England Patriots enters 2015 with a squeamish taste in their mouths.
Just over two months from kickoff, the opportunity to get back to the drawing board and sketch the path to the promised land is upon us. In regards to fantasy football, owners whose teams were decimated by injuries, underperforming stars and/or a myriad of other unlucky issues are keen to grasp hold of a similar opportunity. Whether it's a draft strategy that needs to be tweaked or a classic case of karma reversal, plenty of fantasy players are already hard at work trying to zero in on doing what it takes to win their leagues.
Even with a rock solid strategy or a star-studded roster, life and football have been known to throw their fair share of wrenches into the equation. This often leads to disappointment on multiple levels. "How did he throw so many interceptions?" or "Why don't they run the ball more?" Questions that remind us that even the utmost gurus of fantasy football can not control everything.
As for the disappointments, the new season and the opportunity to rebound resonate most with the players we are looking to draft. The guy who threw too many picks, or the one who didn't get enough opportunities at the goal line want their chance at redemption more than anyone else. The opportunity to bounce back is the chance these players are waiting for, eager to prove their worth and stature within the game.
Here's a look at 5 particularly intriguing 2015 bounce-back candidates that fantasy owners will be monitoring:
Andre Johnson - WR - Colts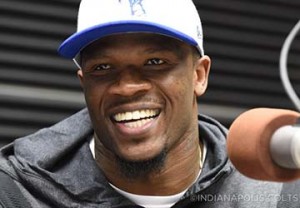 Not only does Johnson have a fresh start in terms of a new season; he's got a new team to boot. Having spent all of his career in Houston, Andre enters 2015 as a member of the Texans' divisional rival Colts. Having played with a literal Who's Who of substandard or competent-at-best quarterbacks over the years, Johnson now joins forces with one of the game's brightest stars in Colts' QB Andrew Luck. In spite of the Texans' struggles to find consistency at quarterback amidst the likes of David Carr, Sage Rosenfels, Matt Schaub, T.J. Yates and the 2014 four-headed monster of Ryan Fitzpatrick, Ryan Mallett, Case Keenum and Tom Savage, Johnson has consistently established himself as one of the best receivers in the game. Approaching his 34th birthday, Johnson's skills may not be as sharp as they were 5 years ago, but the chance to produce exists in Indy. Take Reggie Wayne, for instance. Wayne was able to put a 106 reception, 1,355 yard, 5 touchdown line together at age 34 during Luck's rookie year in 2012. Even last season while playing on a gimpy knee and with a bum arm, Wayne maintained a presence in the offense, catching 64 balls for 779 yards and a pair of scores. Johnson will be joining a receiving corps that includes the likes of T.Y. Hilton, rising sophomore Donte Moncrief, rookie Phillip Dorsett, along with tight ends Coby Fleener and Dwayne Allen, but he is staring high-end WR2 value right in the face. Luck's completions, completion percentage, and passing touchdowns have all increased over his three-year career, and the ceiling is still very high for the Colts' signal-caller. Look for Johnson to bounce back from last year's 85-936-3 line in Houston towards the 90-1,100-6 area. The Colts' passing game, driven by Luck's smarts and ability to deliver the ball on point, is as high-volume as they come, so a healthy and rejuvenated Johnson will have no shortage of opportunities to deliver.
C.J. Spiller - RB - Saints
Speaking of voluminous passing games, New Orleans can hold their own against anyone. Coach Sean Payton and quarterback Drew Brees acquired a new chess piece in the form of ex-Buffalo Bill C.J. Spiller. Spiller's Bills career was blighted by injuries, inconsistency and a sometimes mystifying usage rate. However, Payton and Brees know how to squeeze the most out of talent, and Spiller has the talent and skills to thrive in the Saints' system for days. With Pierre Thomas and Travaris Cadet out of the picture, New Orleans will need a versatile backfield threat like Spiller to step up while Mark Ingram and Khiry Robinson do work between the tackles. Spiller should see plenty of action as a runner, but his receiving skills will come in quite handy in New Orleans. The Saints attempted a league-high 166 pass targets to their running backs last season. That has been the norm during the Payton-Brees era with the likes of Thomas and Reggie Bush excelling as backfield receivers for the Saints. Bush caught 88 passes as a rookie, while Thomas averaged nearly 53 receptions per year over the course of his last four seasons in black and gold. Spiller figures to occupy a similar "satellite" role to that of Bush, who was a threat all over the field during his time in New Orleans. "He understands what to do in the passing game," Payton said of Spiller. "He'll provide versatility. He can do a handful of things pretty well. It's up to us to find ways to get him the ball in space." Health will always be a question mark with the soon-to-be 28-year-old, but Spiller should be on high alert to bounce back from some frustrating times in Buffalo, particularly in PPR formats where he could flirt with RB1 territory.
Doug Martin - RB - Buccaneers
There is really nowhere for the Muscle Hamster to go, but up. Martin, who burst onto the scene as a rookie in 2012 with a 319-1,454-11 line in addition to 49 receptions, has endured a frustrating two years since that nice start. Injuries have derailed his progress, but the 26-year-old enters 2015 with some positive vibes on his side. Coach Lovie Smith and offensive coordinator Dirk Koetter have sung Martin's praises this offseason, a program which Martin enters at full-strength for the first time since his productive rookie year. The likes of Charles Sims and Bobby Rainey will play their roles, but Martin is Tampa's best bet to build their ground game around as they look to take some of the weight off of number one overall draft pick Jameis Winston's shoulders as a rookie. After back-to-back injury-riddled sub-500 yard seasons, Martin is a nice bet to creep back up to a four-figure rush yard total and should easily handle short-yardage work. He can also be a valuable commodity to Winston and Tampa as a receiver out of the backfield. Adding to his intrigue, Martin is in a contract year, so expect him to run extra-hard and leave nothing on the field in 2015.
Cam Newton - QB - Panthers
Newton's biggest foe in 2015 was his own body. Lingering issues from offseason ankle surgery, a painful rib injury sustained in a preseason game, injuries sustained in a scary mid-season car accident, and the usual bumps and bruises of an NFL season left Carolina's signal-caller battered throughout 2014. Nevertheless, Newton and the Panthers still managed to take advantage of a down NFC South and made the playoffs for the second consecutive season. Playing through so much pain and adversity, Newton's numbers as both a passer and runner were down almost all the way across the board last season. Now, with a new 5-year contract which includes $60 million guaranteed, Newton is ready to prove his worth. Only 26 and with one of the game's most unique skill sets, Newton enters 2015 with an added air of confidence; a trait which he seemingly never lacks. Carolina's selection of ex-Michigan standout Devin Funchess gives him a new, big target to throw to on the perimeter opposite last year's rookie revelation Kelvin Benjamin. Greg Olsen remains one of the league's best tight ends with Philly Brown developing into a capable inside receiver. The Falcons, Saints and even the Bucs will all be gunning for the Panthers' NFC South crown, one which Newton won't relinquish without a fight. Look for Newton to get back on track as a touchdown-scoring machine. Having averaged a shade over 30 scores over his first three years, Newton was limited to 23 a season ago, only 5 of which came on the ground. The Panthers have invested a ton in Cam, but they know they need to let him be Cam in order to taste continued success. That means letting him make plays with his legs, while hoping he continues to develop into a proper passer with his unique arm talent.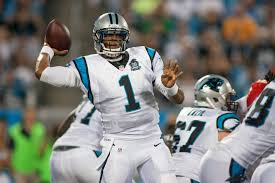 LeSean McCoy- RB- Bills
A no-brainer, really. McCoy was traded to the Bills in spring, ending his productive tenure as a Philadelphia Eagle after six seasons. Joining forces with new Bills' coach Rex Ryan, McCoy will have no shortage of opportunities to trend back towards his 2013 self. Ryan's offense should be the polar opposite of a New Orleans or Indianapolis in the form of a ground-and-pound style, leaving Shady and Fred Jackson the chance to carry the team as Buffalo's quarterback situation is certainly less-than-stellar. McCoy was still quite productive in 2014, gaining 1,319 yards on the ground in Philly, but his YPC was down almost a full yard (4.2), he scored just 5 touchdowns, and caught a career-low 28 passes as Darren Sproles absorbed reps in the passing game and Chris Polk vultured short-yardage work. Jackson, Anthony Dixon and former Eagles teammate Bryce Brown will be in line for touches, but McCoy will carry the load for Buffalo by every stretch of the imagination. Expect much more than 5 rushing touchdowns and some extra passing game work as Matt Cassel, E.J. Manuel, or Tyrod Taylor (does it really matter who?) look to check down time and time again. McCoy should have an easy time bouncing back to his 2013 season form which saw him enter last summer as the consensus top-overall fantasy back.
These five players represent just a fraction of those NFL standouts looking to get back to their star status. As for us fantasy owners who didn't win our leagues last year, it's bounce-back or bust in 2015.