Questions are answered each week throughout the football season. The good thing (for writers anyway) is that there are new questions raised each week as well. Every roster move and outside the curve performance presents the opportunity to analyze situations. This week there are some interesting questions that will help crystallize fantasy football rosters.
1. What Does The Bills Quarterback Change Mean For The Offense?
Obviously Tyrod Taylor is no longer a focal point, for starters. The Bills traded away Sammy Watkins and Robert Woods, leaving Taylor and LeSean McCoy as the tested veterans. It looks like the team is ready to move away from Taylor now. This can only mean bad things for the passing game in the short term. We could be watching the next great quarterback in Nate Peterman, but he has no experience. The top two receivers in Buffalo, Jordan Matthews and Kelvin Benjamin, are still learning the offense. Gameplans moving forward should feature a whole lot of LeSean McCoy running into stacked boxes.
2. Are The Cowboys Done?
For fantasy purposes, the short answer is no. There are too many skilled players for the Cowboys to have no production. The absence of Tyron Smith casts a long shadow however; fantasy owners should have rock bottom expectations right now. The running game lacks explosiveness and the line cannot protect Dak Prescott. Things look bleak in Week 11 because the Eagles and their league leading run defense loom. There will be forced throws for Dak and the pass rush will be vicious. The team announced that Tyron Smith will miss this one and the Cowboys are going to be lucky to get out in one piece. The Cowboys offense should be trustworthy in weeks 14 and 15. Other than that things may be very ugly.
3. How Should The Vikings Run Game Be Handled?
If you own Latavius Murray or Jerick McKinnon, you're likely handling it as well as anyone. Game script plays some part in how the backs are deployed, but there is also some chaos here. Both runners are going to get touches each week, it is just a matter of who breaks free. The exception is that McKinnon handles much more in the passing game. When the Vikes get way behind (not easy with that defense) Murray will not be much of a factor. For now, consider each back a RB2 with McKinnon having the edge. Give him an extra bump in ppr.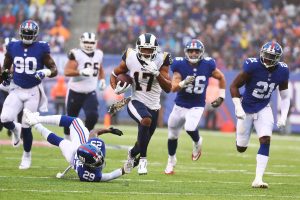 4. Can Robert Woods Sustain His Production?
If his production means two touchdowns per week, then hell no he can't sustain it. If sustained production means consistent, borderline WR1 finishes then yes. The rapport is there for Woods and Jared Goff. As the top option in a high powered offense, Woods is poised for big things. There are tougher matchups on the schedule including MIN, NO and SEA. Even with half of his opponents being tough on the pass I would start Woods. The Rams have too many weapons for teams to key in on one guy. If you claimed him off waivers, then congratulations. You probably got one of the gems of fantasy free agency.
5. I Need To Fill A Lineup Spot, Who Can I Pick Up Right Now?
Last minute lineup help is here for you. Feel free to check to streaming picks for week 11. I have listed one lightly owned pick for each position if none of the streamers catch your eye.
QB - Joe Flacco 7.8% owned
RB - DeAndre Washington OAK 15.3% owned
WR - Dontrelle Inman CHI 6% owned
TE - Marcedes Lewis JAC 3.3% owned
K - Giorgio Tavecchio OAK 9.8% owned
D/ST - Miami Dolphins 13% owned
Be sure to check back tomorrow for the second edition of our staff bold predictions for the week. We had a couple of clunkers and a close call last week. For some extras check us out on Twitter as well: @_knuckleheads, @BrendanCole16, and @JakeTrowbridge.