We all need a little help now and then. Even those among us who'd like to consider ourselves independent, well-informed, and generally handy people sometimes need to bring in an expert to take care of the tough jobs we're simply incapable of performing ourselves. Whether you have a plumbing issue that, for whatever reason, doesn't respond to your repeated wrench beatings, or you're having trouble getting your dog to stop dry-humping your neighbor's petunias, sometimes you just need a little outside help.
Fantasy football is no different. You might be a wiz on draft day but constantly make the wrong decisions setting your weekly lineup, so you turn to a popular Start/Sit column for some guidance. You've made the first step -- admitting you have a problem -- and want to do something to change your fortunes. That's wonderful!
Here's where it gets tricky, though: How do you know the person giving you that advice is well-equipped to do so? Fantasy football is a big business. We crave more and more fantasy content these days and, with so much demand, there are bound to be opportunists who rush to fill those voids even though they have little to no idea what they're talking about. Because people suck. Some of those people try to pass themselves off as fantasy "experts." And it can make finding accurate, credible information a stupidly difficult endeavor.
So how can you tell if the so-called "expert" you're following is legit or legitimately full of crap? Here are a few key things to look for when sniffing out a fantasy bullcrap artist:
1. They Use "Insider" Football Terms Way Too Often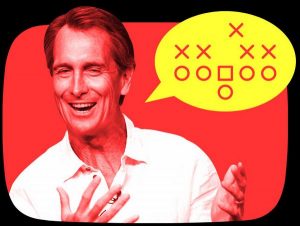 There are certain words and phrases fantasy analysts use that may sound strange to outsiders, but are really just a convenient shorthand used to declutter their articles. Phrases like "lottery ticket" or "upside potential" pop up all over fantasy football articles, as do abbreviations such as "RBBC" and "ADP," because nobody wants to waste precious time and space (like I am here) writing out Running Back By Committee and Average Draft Position.
These are all legitimate terms you should feel comfortable with if you have moderate knowledge of fantasy football. But if the analyst you follow starts tossing around words like "tilt" instead of matchup, or inexplicably focuses on a wide receiver's preference for the "Slugo" route, you should start to get a little twinge in your stomach. Unless the article is focusing especially on Individual Defensive Players (which...eww), the writer shouldn't be using phrases like "crackback block." Ever. If they are, this person is overcompensating for something. But what? Maybe they just have an abundance of real life football knowledge they want to spray all over you, but more often than not, they're throwing these insider terms around to mask some godawful advice.
2. They Flaunt The Number Of Leagues They Play In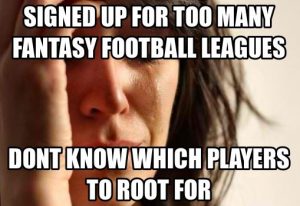 Like the guy at a college party who tallies every beer he puts down his gullet, there are fewer things sadder than a so-called fantasy football expert who constantly reminds his followers about the obscene number of leagues he participates in. If you want to juggle 11 different rosters, cool. Get wasted on those lineups, bro! But then shut the hell up about it. And definitely don't judge everyone else for nursing their one or two leagues. (Some of us choose to fantasy football responsibly.)
Just to get this out of the way, I currently play in two leagues, one of which is a dynasty and the other a traditional season-long league. I also dabble in the occasional DFS tournament. And that's probably as much as I'll ever do at one time. This doesn't necessarily make me a better analyst than those managing a dozen lineups every week, but it also doesn't make me a worse analyst. There is, however, reason to be skeptical of someone who constantly mentions their heinous fantasy multitasking to their readers/listeners, and once again it comes down to a simple question: "What are they trying to compensate for?"
3. They Don't Back Up Their Predictions With Actual Research
Everyone who plays fantasy football has "a feeling" about certain players. While trusting your gut is a perfectly fine way for a fantasy owner to go through the season, if you want to be considered an "expert", you need to leave those gut feelings at the door. Or at least be ready to back them up with stats.
Now, one might assume that everyone who writes about fantasy football for a living spends hours poring over the relevant data, but unless they actually include it right there in the article, can you really be sure? If you're using an analyst's advice to help determine your draft strategy or set your lineup for the week, make sure they bolster that advice with plenty of hard data. Flowery language and entertaining exposition certainly has its place (I'm using it in this very article and loving it), but never in lieu of target percentages, touchdown ratios, snap counts. You know, numbers. JUST GIVE US NUMBERS, DAMMIT!
4. They're Too Close To Their Own Teams And Players
People who write about fantasy football for a living probably also play fantasy football. Go figure. And while it's expected that these two worlds -- personal and professional -- will overlap in some way, what you don't want to see is an "expert" whose personal biases creep into his analysis. Maybe he got burned by Lamar Miller too many games last year, and now he refuses to acknowledge that Miller is one of the most consistent producers at his position this season. Well, then you can't possibly take anything he says about Miller seriously going forward and you should absolutely block out that part of his advice.
But how many more players does he have the kind of twisted connection to? Does he repeatedly list Sammy Watkins as a must-start receiver because he has some obscure statistical analysis to back up that wild claim? Or does he have him on his team right now and badly wants to believe that Sammy can turn it around and save his fantasy season? Be weary of anyone who lets their personal fantasy league interfere with their professional advice, even in some small way.
5. They Overreact To A Single Game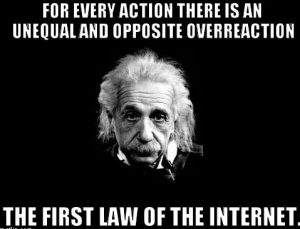 Recency bias is death in fantasy football. Unfortunately, the NFL is very much a "what have you done for me lately?" kind of league, and too many fantasy analysts let that creep into their rationale. Let's say a wide receiver does absolutely nothing in the first five games of the season. I'm talking 33 yards on 5 receptions with 0 TDs level of nothing. But suddenly, in Week 6, POW: 100+ yards and multiple trips into the end zone. That player now goes from worst-to-first in the starry eyes of analysts with a nasty case of recencal bias-titis. (That's the medical term.)
The problem is, this big game was an obvious anomaly. The circumstances were beyond ideal...but only for that one week. Maybe the team was trailing by 5 scores early in the first half and were forced to play their backup QB who forced the ball to the only player he had a good connection with in practice. Well, next week, the starting QB will be back, this team is now projected to outscore their opponents by a hefty margin, and last week's stats now mean nothing. It was a fluke. The bad analysts will ignore that important part of the equation and see the final stat line as reason enough to make this wide receiver a must-start going forward. Don't listen to those bad analysts.
6. They Frequently Misspell A Player's Name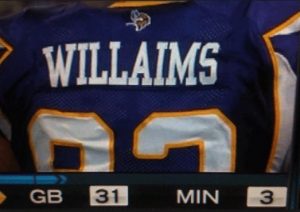 This might sound silly or obvious, but you'd be shocked at how many times a player's name gets misspelled on (supposedly) professional web sites. Don't believe me? Just do a quick Google search for "Jerrick McKinnon" (he spells it with 1 "r") or "Mohammad Sanu" (it's actually "Mohamed"). You'll get plenty of legitimate results that use those incorrect spellings.
I realize it's a small thing -- football players are, after all, just moving meat logs that get ground up and processed into fantasy points every week -- but if the writer of that sleepers article hasn't even bothered to double check the spelling of the guy he's touting so fervently, can you trust that he didn't misread a stat or overlook a key detail in his research? No. No you cannot. You deserve someone who can spell Ka'imi Fairbairn with confidence, even if he is just a kicker.
7. They Never Mention Their Mistakes
Here's a fun drinking game you can play with any weekly advice column: For every mention of past successes ("so-and-so from last week's sleeper column went off for 300 yards and 6 TDs! Told ya!"), take a sip of light beer. For every mention of past mistakes ("so-and-so from last week's sleeper column netted negative 14 yards and 6 fumbles! Sorry about that!"), pound a few shots of Jäger. If you're reading the right kind of analysis, you'll need a trip to the ER and a stomach pump. If you're reading the wrong kind of analysis, you'll be bloated and beer drunk by the end of the fourth paragraph.
You can't trust someone who gratuitously pats themselves on the back for every good piece of advice they give but hides away all their bad advice in a dark basement closet where no one can ever find it. Also, this is the internet. People can find that bad advice and rub your face in it regardless. Fantasy "experts" are human, just like the rest of us. (Well, the rest of you.) And this game is full of pleasant surprises and monkey wrenches that we simply can't predict. To err, then, is natural. To throw a big, metaphorical blanket over those errors and kick them into the corner in hopes no one ever mentions them again, however, isn't just unnatural...it's downright douchey.
So if an analyst's track record seems a little too spotless, you may want to pry into their seedy fantasy past. If you do find an analyst who readily admits their mistakes, hold on tightly and never let go.
Want some football advice from a guy who would never be arrogant enough to call himself an "expert" on the matter? Follow @JakeTrowbridge on Twitter. He'll readily admit his mistakes AND make you a sandwich if his advice loses you the matchup.