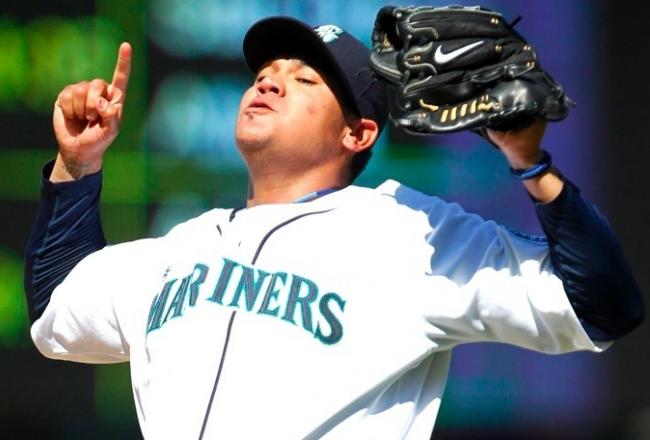 The Mariners have had just one winning season since Felix Hernandez debuted in 2005, and in recent years the club has had to weigh their options on whether to give him a contract extension or trade him for rebuiliding purposes.
The wait is over, King Felix is on the verge of reportedly finalizing a deal that will make him the richest pitcher to ever take the bump in baseball history.  The contract extension would total roughly $175 million dollars over the next seven years.
An unknown source spoke to The Associated Press Thursday on condition of anonymity because the agreement has yet to be completed.  USA Today first reported the deal in which Seattle would add $135.5 million of guaranteed money over five years to the current contract of the 2010 AL Cy Young Award winner, whose current agreement calls for him to receive $39.5 million over the next two seasons.
After you pick your jaw up from the ground, realize that over the previous seven years King Felix has averaged approximately 32 starts per season, thus this new contract will pay him roughly $781,000 per start!  Ok, now pick yourself up off the floor and clean the drool off your shirt.
Some call that the good life, I call that fantasy land.  Speaking of which, what does this mean in regards to his fantasy value??  I reference Part I of the King's Ransom because it is staggering to think just how closely the careers of Justin Verlander and Felix Hernandez mirror each other.  The distinguishing difference being wins and losses.
Hernandez led the majors in shutouts last season, with five, including a perfect game in August.  He is a true horse and has produced fantastic fantasy numbers even while pitching for Seattle.
The deal, although hard to wrap your brain around, is also sweet for the Mariners, an improving club that gets to retain one of the game's best pitchers without committing beyond his prime years.  Hernandez is an eight-year veteran who is still just 26 and would complete the contract by age 33.
The Mariners must still improve their offense, having finished last in the league in runs in each of the last four seasons.  Enter Kendrys Morales and Michael Morse.  Hernandez, now the true cornerstone of the franchise, will likely be joined by several top pitching prospects (righthander Taijuan Walker, lefty Danny Hultzen) in the rotation soon.
This team will be much improved, but can they compete in the AL West in 2013?  That remains to be seen.  My guess is not right away with teams like the Rangers, Angels and Athletics ahead of them.