Hello everybody and welcome to fantasy football 2018. With the NFL draft in the rearview, depth charts are starting to take shape. There is still plenty of room for prognostication leading into fantasy drafts and that is where I come in. I have a few favorite players that will cost very little but could provide big draft value as the season goes on.
These are some names that will not be plug and play week 1 fantasy stars unless something big happens in training camp. Toward the end of your draft, grab one or two of these lottery ticket guys to round out a nice squad. All it takes is a dollar and a dream…and some big stats would be nice too.
Running Back – Mark Walton CIN
Drafting a Bengals running back has not always been a recipe for success recently. Last year the hype train for Joe Mixon ran off the tracks, but it is picking up steam again. I would think Mixon gets first shot at the lead role, but he will lose touches if he struggles. Gio Bernard is my favorite back on the roster, but he is perennially underrated by his own team. 
Walton is a new face and as such he will be given some opportunities to grab a piece of the pie. There is a chance that Walton completely supplants Bernard as the season progresses. The rookie has excellent hands out of the backfield and rarely fumbles. If things shake out the way that I see them, Mixon will handle the bruising interior runs while Walton works in a complementary/third down role. He is a PPR star in the making and his draft value should be higher than most people think.
Wide Receiver – Mike Williams LAC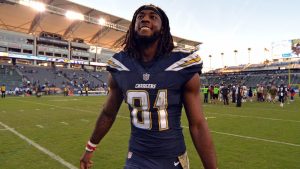 The Chargers selected Williams in the first round of the 2017 draft, but he basically contributed nothing to their season. Williams was held out early with an injury and then slowed by the same injury later in the season. Before describing him as a bust, I think that it is important to give him a healthy season to try and prove himself. 
With the loss of Hunter Henry at tight end, there should be every opportunity for Williams to justify his first round price tag. While he is not the fastest receiver, Williams is a big physical presence and he could replace a tight end in the red zone. In fact, when he was coming out of school Mike Mayock said: "Mike Williams is all about separating with length, power, and catch radius. He's a dominating, physical presence. He's a back-shoulder guy. You'll love him in the red zone." That sounds like the type of thing that I can get into from a fantasy perspective. He is currently the number 64 wide receiver selected in drafts on average. Grab this guy for the bench and he could be a solid starter by midseason or sooner. 
Psych out your league mates at your fantasy football draft
Tight End – Jake Butt DEN
This name may be unfamiliar to anyone that does not follow college football. Butt was a top prospect coming out of college until he suffered a serious knee injury in the Orange Bowl. He missed all of the 2017 season, but looks ready to start for the Broncos in 2018. New quarterback Case Keenum said regarding the knee injury: "You can't even tell. He's running around making cuts and doing a great job." Now, of course his own quarterback is going to talk him up, but it looks like the former Michigan Wolverine should be Denver's number one option at tight end. 
Last year in Minnesota, Keenum relied heavily on Kyle Rudolph. That should continue as Keenum has a tendency to go with short, high-percentage throws a lot of the time. Butt is a legitimate breakout candidate among tight ends in 2018 and he will be available at the very end of most drafts. Big time draft value, but not for long. 
Quarterback – Jacoby Brissett IND
I know what you're thinking, "that's Andrew Luck's team". Completely true, which is why Jacoby Brissett can be had for nothing in drafts. Another thing that is true is Andrew Luck has not yet thrown a football. Last I checked, throwing a ball was fairly integral to the quarterback position. Call me pessimistic, but Luck was supposed to be back for the early part of the 2017 season. It's now 2018 and the Colts are still without their franchise arm.
At this point, I'll be more surprised if Luck does play than if he does not. Brissett, on the other hand, made the most of a bad situation in Indy. He can score through the air and on the ground; with the Colts line they need a QB than can run. The icing on the cake is that Indy has the 6th easiest schedule for quarterbacks in 2018. He would be a QB2 if he starts, but Brissett's perceived draft value is rock bottom and he should be solid in 2 qb, superflex and the like.
I hope that everyone is feeling the excitement of the impending season the way that I am. Check back often for tons of original content. Feel free to catch me on Twitter as well: @brendancole16.