Its time to make the type of playoff push that dreams are made of. Our gaggle of "experts" have joined forces to look ahead and identify the top rest of season waiver wire picks one week before the fantasy football playoffs. If your league uses a FAAB, being judicious with your last free agent monies is a must. Irrespective of that, I have always been an advocate of streaming DST and kickers. It's all about preparation and planning. It is very difficult to predict the actual outcome, but you still must plan. With proper preparation you give yourself a chance at the best possible outcome. Soak it up knuckleheads and lets bring home the W.
Best Rest of Season Waiver Wire Quarterbacks
Tyrod Taylor - 48% Owned
Remaining Schedule: vs. NE, vs. IND, vs. MIA, @NE
A lot of folks are wary about Tyrod Taylor now that Sean McDermott considers him a bench-able player. Don't let that stop you from rolling with him through the rest of the season though. Nobody wants to play against Bill Belichick in December. Still, for all the talk lately about how New England's defense has been improving, numbers don't lie. The fact remains: they've allowed at least 200 yards and a TD to opposing quarterbacks in every single game this year. The only other team that can be said for is the Colts. Ya know, the same team Taylor gets to take on the following week. And then he gets treated to Miami, who gave Joe "Cool" Flacco one of only two multi-TD games this year (the other was against Cleveland). That should make Taylor a Top 10 QB moving forward.
Joe Flacco - 15% Owned - (Deep league / 2 QB league only)
Remaining Schedule: vs. DET, @PIT, @CLE, vs. IND
Speaking of Flacco, the Ravens QB finally got his right-hand man back. Danny Woodhead is the best kind of security blanket, allowing Flacco to check down at the drop of a hat and beat defenses to death with quick throws until he eventually rifles one downfield for a touchdown. Detroit isn't the greatest matchup, but Pittsburgh just got wrecked by Brett freaking Hundley, so Flacco could do well for you in the 1st round of the playoffs. It's those last two matchups that should really get you salivating, though. Cleveland and then Indy in the championships? It doesn't get much better than that.
Others of note:
Case Keenum 47% owned

(@ATL, @CAR, CIN, @GB, CHI)
Mitchell Trubisky 6% owned (vs. SF, @CIN, @DET, vs. CLE)
Blake Bortles 35% owned (vs. IND, vs. SEA, vs. HOU, @SF)
Best Rest of Season Waiver Wire Wide Receivers
Dede Westbrook — 25% Owned
Remaining Schedule: vs. IND, vs. SEA, vs. HOU, @SF
If you've locked down (or are even on the cusp) of a 1st-round bye in your league, Dede has to be on your radar. Even if you're not, consider that the Seahawks are not the same shutdown defense they were earlier this year. That should assuage your Week 14 concerns. And the rest of his schedule? All bottom 12 fantasy defenses.
The Jacksonville speedster popped into the lineup Week 11 and gave the offense some much-needed fire. He was robbed of a big catch against Cleveland that week that would have padded his stats and made him a more eye-popping pickup. But it's all good, because now YOU can pick him up without much of a fight.
Marquise Goodwin — 15%
Remaining Schedule: @CHI, @HOU, vs. Ten, vs. JAX
Goodwin could get you into the championships. He won't win you the championship, to be fair, as he goes against the stifling Jacksonville D in Week 16. It looks like he is the only guy with some juice in San Fran's beleaguered passing attack, always ready to drop a big play on you at a moment's notice. The Bears defense has been solid against receivers all year, but they're definitely susceptible to the big play, allowing 7 receptions of more than 40 yards. Then he gets Houston, who leads the league, allowing 12 receptions of more than 40 yards. And the Titans look more and more like the Titanics as the season goes on. Jacksonville is probably a no-go, but he's still very much worth a pickup.
Others of note:
Dontrelle Inman 9% Owned (vs. SF, @CIN, @DET, vs. CLE)
Zay Jones 14% Owned (vs. NE, vs. IND, vs. MIA, @NE)
Corey Davis 50% Owned (vs. HOU, @ARI, @SF, vs. LAR)
Credit: Jacob Trowbridge
Here is our complete list of week 13 waiver wire picks.
Best Rest of Season Waiver Wire Running Backs
When you get down to it, there are not many usable backs on the waiver wire. There are players with big potential for one reason or another though. These two are my top widely available picks based on schedule and potential.
Devontae Booker DEN - 34% owned
Remaining Schedule: @MIA, NYJ, @IND, @WAS, (KC if you play week 17)
The Denver offense has been a nightmare for most of the season. If you are looking for a back that has already posted huge numbers, it isn't Booker. A lightly owned back with a cakewalk playoff schedule though, check that box. It is clear that the Broncos want Booker involved in their gameplan. They just have not started a quarterback capable of starting for an NFL team lately. If they can get sorted out just enough to compete with other bottom feeders, Booker could start piling up all-purpose yardage.
Corey Clement PHI 17% owned
Remaining Schedule: @SEA, @LAR, @NYG, OAK, (DAL if you play week 17)
Remember a minus ago when we were talking about lots of opportunities in a bad offense? Clement is the opposite of that pick. There may not be a hotter offensive unit than the Eagles and Clement has a little piece of that pie. He is not going to see double digit touches most games, but he certainly makes the most of what he gets. Over the last five weeks, Clement has scored 8, 5, 25, 13, and 4 fantasy points. This is a guy that is owned in 17% OF LEAGUES. Forget about how many times he is getting the ball, he is stacking up points. There are tougher matchups for the next two weeks, but then he has the Giants and Raiders. Clement could win you a title if you go with him at the flex.
Best Rest of Season Waiver Wire Tight Ends
Ricky Seals-Jones ARI 3% owned
Remaining Schedule: LAR, TEN, @WAS, NYG, (@SEA if you play week 17)
This pick may not be a household name, but he is available in your league (almost definitely). Since Gronk is probably not on the waiver wire, you have to go a little bit deeper. A quick glance at the stats will tel you that Blaine Gabbert has started two games for the Cardinals. In those two games Seals-Jones has scored 20 points and 17 points. The young UDFA tight end has 7 catches for 126 yards and 3 touchdowns in two weeks.
Did I say that Gronk is not available? Because that sure sounds like him. Will this pace continue for the rest of the season? Almost assuredly not. Still, having a quarterback's favorite target is a valuable commodity not matter how unfamiliar the name.
Charles Clay BUF 32% owned
Remaining Schedule: NE, IND, MIA, @NE, (@MIA if you play week 17)
If it were not for the Bills management being simpletons, Clay would be my first choice for ROS tight end. Unfortunately, there is the looming possibility that Nate Peterman could swoop in and steal all fantasy value from the team. This fantasy grinch is lurking on the Buffalo sidelines shaking at the prospect of facing an NFL defense.
As for Clay, he is a rock solid option as long as Tyrod Taylor is playing. Last week he looked fully healthy and produced four catches for 60 yards. He is a safe bet to be the top option for Taylor ROS. With a fairly light schedule to finish up the year, Clay is one of the best available tight ends by a mile. If he can make it into the end zone a couple of times he could be top 5 over the end of the season.
Credit: Brendan Cole
Best Rest of Season Waiver Wire Defense Special Teams DST
In terms of availability, every team is different. So I made a chart to help you quickly pin point which defense (or 2 or 3) you want to horde for you big playoff surge. Using the chart below as a reference point here are my top 2, probably available on your waiver wire, rest of season DST pick-ups you can stream. All ownership numbers are based on yahoo fantasy leagues.
Chicago Bears - 17%
Remaining Schedule: SF, @CIN, @DET, CLE, @MIN
If these guy are available you can ignore the projections and lock them in against Mr. Interception in week 14 and Cleveland in Week 16. They have the 3rd best ROS schedule and are a safe floor play with upside in weeks 14 and 16.
Tennessee Titans - 24%
Remaining Schedule: HOU, @ARI, @SF, LAR, JAX
So in week 13 Tennessee gets a Houston team that is good for at least 3 turnovers and 3 sacks. And in Week 15 they get the 49ers, who are the 49ers. So in this scenario, if the Bears and Titians are available, you now have stream worthy defenses for each week of the fantasy playoffs.
But chances are you could have better defenses available in your league going into even better match-ups. Use the chart below to find the teams that are available in your league with the best possible rest of season schedule (column A). Then look at who they play (column D) and try to find a solid defense for each week headed into the fantasy playoffs!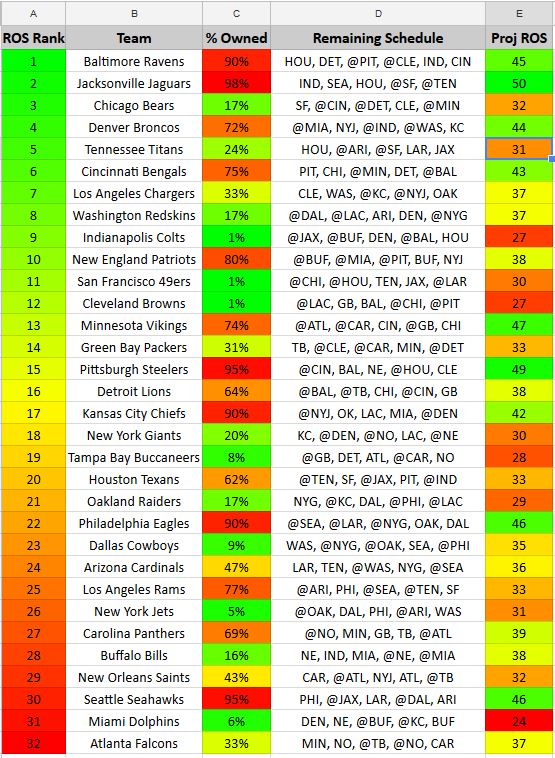 Best Rest of Season Waiver Wire Kickers
For my best ROS kickers I'm simply looking ahead at the teams versus weak defenses and defenses that have allowed the most field goal attempts to kickers. But one of the most important sneak pick factors are injuries to a defense. When a defense has injuries to the defensive line and/or secondary they tend to play softer coverage and/or just give up more big plays. In either scenario the result is more scoring opportunities for your kicker. Not always but hey we're talking about kicker where I'll take any edge I can get.
To make this as useful as possible I'm going to do a rest of season kicker rankings. My preferred kickers are listed first. I'm only listing kickers less than 76% owned. The defenses giving up the most points to kickers are as follows: OAK, IND, TEN, CIN, HOU, NYG, SF, BUF, GB, ATL, WAS, CHI, CLE and ARI.
Ryan Succop - 76%
Remaining Schedule: HOU, @ARI, @SF, LAR, JAX
Prime match-ups: HOU, @ARI
Chris Boswell - 76%
Remaining Schedule: @CIN, BAL, NE, @HOU, CLE
Prime match-ups: @CIN, @HOU, CLE
Jake Elliott - 51%
Remaining Schedule: @SEA, @LAR, @NYG, OAK, DAL
Prime match-ups: @SEA, @NYG,  OAK, @DAL
Graham Gono - 29%
Remaining Schedule: @NO, MIN, GB, TB, @ATL
Prime match-ups: @NO, TB  (only if Saints are still down their top 2 corners)
Josh Lambo - 24%
Remaining Schedule: IND, SEA, HOU, @SF, @TEN
Prime match-ups: IND, HOU
Kai Forbath - 53%
Remaining Schedule: @ATL, @CAR, CIN, @GB, CHI
Prime match-ups: CIN
Credit: Kurt Turner