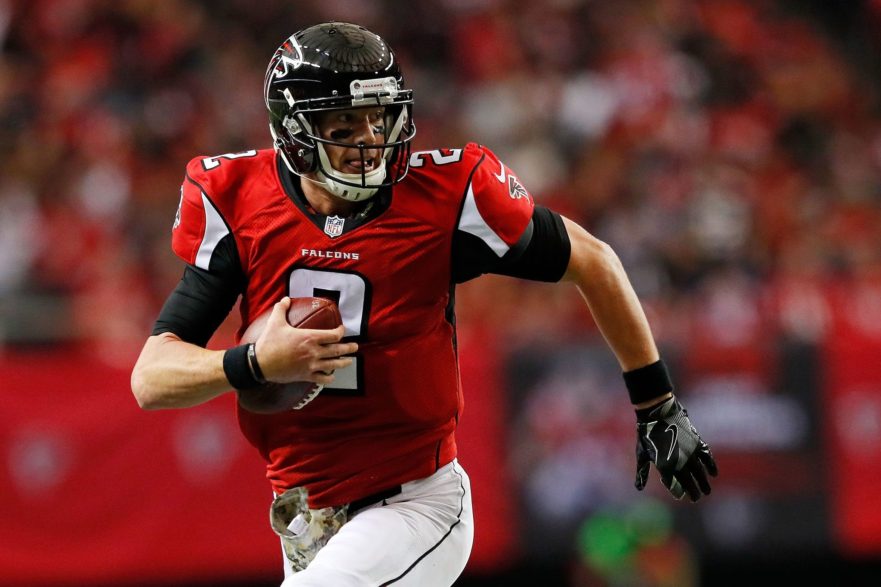 The fantasy football community can be a fickle people. Too distracted by shiny new toys and controversial opinions, we often overlook the incredible things happening right under our noses because they're "old news." That's the purpose behind this brand new series of articles: to shed some light on great fantasy performances that somehow went unnoticed.
Matt Ryan never got the attention he deserved in 2018, playing second fiddle to Patrick Mahomes and his inhuman football skills. But Ryan was certainly no slouch. Let's take an in-depth look at the veteran quarterback's sterling 2018 season, one that was oddly reminiscent of his 2016 MVP run. And which flew far, far under the radar.
Season Finish: QB2
Before I get too far into the weeds, let me preface this by acknowledging the obvious: Yes, Pat Mahomes was much better than Matt Ryan in 2018. There's no disputing that. There was a 4.0 point per game difference between QB1 Mahomes' and Ryan's fantasy numbers, which is the exact gap between Ryan and Dak Prescott, who finished as the QB10.
But the point of this article isn't to suggest Ryan was on Mahomes' level for fantasy purposes. Mahomes BROKE FANTASY FOOTBALL. It's comparing apples to...record-breaking quarterbacks? I guess?
Yet, while the world was fixated on the pseudo-rookie gunslinger's no-look, sidearm passes, Ryan had one of the quietest runner-up seasons in recent memory. Like a street racer with the headlights turned off, Ryan crossed the finish line practically unobserved. And that's a shame.
Compared To His MVP Season
In 2016, the Falcon's quarterback was fantasy gold. But here's a dirty little secret: Ryan actually finished with more fantasy points in 2018. Not only that, but his metrics were nearly identical.
| | 2016 | 2018 |
| --- | --- | --- |
| Completion % |  69.9% |  69.4% |
| Passing Yards |  4,944 |  4,924 |
| Yards Per Attempt |  9.3 |  8.1 |
| Passing TDs |  38 |  35 |
| INTs |  7 |  7 |
| Fantasy Points |  347.5 |  354 |
Those major year-to-year marks are all incredibly close. His "lesser" 2018 numbers were still the 2nd-best of his career in every category listed above, except for his interceptions, which tied for a career-low.
Ryan also notched a career-high in rushing touchdowns (3), while adding the first receiving touchdown of his career. He finished 3rd in the league in passing yards, 3rd in touchdowns, 3rd in pass attempts, and 4th in completions.
Matt Ryan never threw more than 1 interception in any game. Of quarterbacks who played all 16 games, only Aaron Rodgers had fewer INTs. And that's because Aaron Rogers is a robot.
The Atlanta QB threw for fewer than 230 passing yards just once all season, and it was against Baltimore, during their 8-game stretch of allowing no more than 205 passing yards to any opposing offense. Andrew Luck and Jared Goff each had 6 games with fewer than 230 yards through the air. Philip Rivers had 8.
Want More Personalized Advice? Schedule A Live Consultation With A Fantasy Expert!
The Sarkisian Effect
There was real fear in the hearts of fantasy owners who saw Atlanta's offense take a gigantic step backward in 2017, the team's first year with Steve Sarkisian as offensive coordinator. It was understandable that many didn't want to touch Ryan in fantasy drafts this time aroun, as he barely outscored Tyrod Taylor on his way to a QB15 finish (QB23 on a per game basis).
It just goes to show that first year offensive scheme changes are tough to overcome. But what a difference one year makes in learning and executing a new playbook. Here's how that second-year leap shaped up:
| |  2017 |  2018 |
| --- | --- | --- |
| Total Yards |  5,837 |  6,226 |
| Passing Yards |  3,990 |  4,653 |
| Pass Attempts |  530 |  585 |
| Pass Completions |  343 |  428 |
| Red Zone Completion % |  48.0 |  62.3 |
The Falcons added almost 400 additional yards onto their year-end totals, and more than 650 yards onto Ryan's passing total. Their pass attempts increased by 14%, while their completions rose by 20%. Ryan's red zone completion percentage increased from a meager 48% to a much more respectable 62.3%. (Thanks, Julio!)
The Julio Principle
When you're lead running back is injured at the very start of the season -- and his backup doesn't step up the way you'd hoped -- you better get real comfortable chucking that ball to your top receiver. Luckily, Matt Ryan had Julio Jones to make everything all better.
Julio led all receivers in targets (170!) and yards (1,676!), while reeling in the 3rd-most receptions (113!) among his peers. That's 41 more targets, 30 more receptions, and 233 yards more than in 2017. (Julio's numbers were surprisingly even worse in 2016, due to missing 2 games.)
Of course, the most talked-about difference in Julio's game this season was the uptick in touchdowns, which increased from 3 in 2017 to 8 in 2018. The chemistry between QB and WR1 was phenomenal. And luckily for Ryan, Julio's not going anywhere.
What To Make Of It
Well, it's like I said at the beginning of this article: Fantasy owners got Mahomes Fever. And the prescription was apparently not Matt Ryan. Whether or not people eventually come around to realize how great he was in 2018 remains to be seen, but if they don't, Ryan will be the steal of your fantasy draft.
Granted, Atlanta kicked Sarkisian to the curb and re-hired Dirk Koetter, but he's the same offensive coordinator that led Ryan to the aforementioned 2016 MVP season. He knows that offense well. So I wouldn't expect much drop-off, if any, in his fantasy performance.
Look for another Top 12 fantasy performance from the Falcons' QB in 2019. While all of your league mates are scrambling to pick up the new hotness, you can stock up your RB and WR cupboards, and grab Ryan many rounds later.
Get a head start on next season with a Fantasy Knuckleheads membership!