Wide receiver can be a tricky position to predict. Physical gifts are a major part of it, but they are far from the whole picture. Being in sync with the quarterback, running crisp routes, understanding the offense; these things and many more factor into being a successful NFL receiver. It can take a couple of seasons for young receivers to put the whole puzzle together and when they do big numbers are the result. There are a couple of players that I think will make that leap in 2018 and I will make a case for my top three.
Young Gun
Corey Davis TEN
I know, I know…everyone is predicting a breakout by Corey Davis. The reason for that is that it seems absolutely inevitable. He was hampered by injuries in 2017, but Davis possesses elite size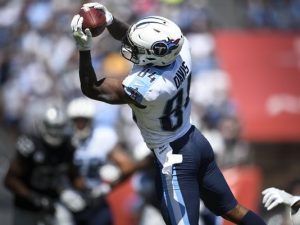 (6'3" 209 lbs) and physical gifts. His coming out party did not happen until the playoffs when Davis caught five passes for 63 yards and two touchdowns against the Patriots.
With a full year of development under his belt and better rapport with Mariota, Corey Davis should have a big 2018. He will not be a target monster, but a heap of touchdowns are on the way. The only caveat is that there is so much hype surrounding Davis. Be careful not to overpay for the second year man in redraft leagues. His ADP is around WR28 and I could see going as high as WR20-25 depending on your team composition. His ceiling this year is probably around the number 15 wideout, but drafting with a player's absolute ceiling in mind is a recipe for disaster.
Big Things Coming
Will Fuller HOU
Last season Fuller and Deshaun Watson provided a small taste of what they could do on the field together. In four games, the pair connected on seven touchdown passes. This is the very definition of unsustainable of course. The fact remains that Fuller was deadly to opposing defenses when playing with Watson.
Despite being a speedster (4.32 40 yard dash), Watson says that Fuller is a versatile receiver. "He can go deep, short. He's a guy once you get the ball in his hands, he's deadly," said Watson in an interview with Sarah Barshop.
Having clearly impressed his young quarterback, Fuller is in a good position to build on a spotty 2017. He should see plenty of single coverage playing opposite DeAndre Hopkins and that will mean points in bunches for Fuller and the Texans. Like Corey Davis, Fuller's game is better suited to standard formats than PPR. Big plays and touchdowns will provide the points rather than 10 or 12 catch games.
Late round sleepers that will pay big
Little Risk, Big Reward
Martavis Bryant OAK (Contingent Upon Actually Playing)
There have been rumors about an impending suspension for Bryant. They seem to be unsubstantiated as he has not missed or failed a drug test according to the NFL.
With all of that being said, Bryant finds himself in a position to resurrect his career with a true breakout season. The best part of this is that he can be had for the price of a backup in drafts.Talent and physical ability have never been the issue with Bryant. He has, however, run into repeated issues with drug suspensions. The latest of these cost him an entire season. Now Bryant is back and reportedly tearing up training camp with his new quarterback. A rare combination of size and speed, Bryant will stretch the field and also be a threat in the red zone.
Amari Cooper is a special talent, but he has not shown the ability to be a top wide receiver on his own team. There is a chance, however slim, that Bryant claims the top receiver spot if Cooper under performs again in 2018. Either way, Bryant is going to be a massive bargain in most drafts this season.
Keep updating those draft sheets and get ready because fantasy football season is just over the horizon. For more exclusive content, check back with Fantasy Knuckleheads often. Follow us on Twitter for extra news and opinions:@brendancole16, @_knuckleheads and @JakeTrowbridge