Baltimore Ravens rookie wide receiver Breshad Perriman may not see the football field in 2015. Perriman reinjured his right PCL after the Ravens had begun to believe that their first round pick would be in the starting lineup in the next week or two. Following the reinjury, Perriman consulted with Dr. James Andrews who subsequently performed surgery on the knee. There is no timetable for Perriman to return to football, but it sounds as if there is a good chance he will not play until 2016. Obviously this negates my previous advice to pick up Perriman. It had looked like he was on the mend but clearly that is no longer the case.
Important Storylines For Week 4
The Ravens had high hopes for an improved offense after using their first two draft picks on new targets for Joe Flacco. Perriman was selected at number 26 overall and seemed to be the heir apparent to Torrey Smith who departed via free agency. A true burner, Perriman was one of the fastest receivers in the draft. He also possesses good size at 6'2" and 212 lbs. Former wide receiver and current analyst Michael Irvin gave very high praise to Perriman during the draft process, saying:
"The speed this kid has is incredible. He can absolutely fly. Perriman reminds me a lot of Andre Johnson. When you start talking about money downs, no player made more plays on third and fourth downs than Perriman."
It looks like the Ravens will have to move on from their hopes for having an elite speedster this season, but they do have some weapons still. Steve Smith Sr. is obviously the main cog in the Baltimore passing attack. As long as Smith can remain healthy, he is a strong WR1 for the remainder of the season. There is really not a second target that Flacco seems to rely upon at this point, but look for one to emerge soon.
The most likely player to be the number two receiver in Baltimore is Kamar Aiken at this point. He is not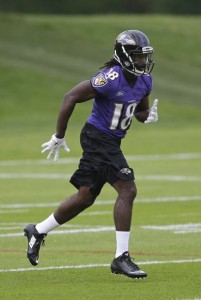 a strong fantasy option at the moment, but his chemistry with Flacco is better than that of Marlon Brown or Michael Campanaro. In deep leagues Aiken may warrant an add, but other than that, stay away from Ravens wideouts not named Steve Smith.
Maxx Williams, the Ravens second round draft choice, is another matter. He has not played a big part in the passing game so far, but as the season progresses it would make sense to get him more involved. With Crockett Gillmore currently injured, Williams will be seeing more snaps and this could give him the chance to develop a rapport with Flacco. Overall, rookie tight ends tend to meet with very limited success. This means that Williams is probably a weak option outside of dynasty leagues and DFS.
The Ravens have the look of a team that is going to be bad all year. The loss of Perriman shoots down the hopes that the offense might be rejuvenated over the next couple of weeks. Hold on to Steve Smith Sr. and keep an eye on Aiken and Campanaro. One of the two could be moderately useful later in the season.