The New Orleans Saints brought in C.J. Spiller to provide a dimension that was missing from their offense in 2014.
The Saints, perennially boasting one of the top offenses in the league, had a more than admirable stable of running backs on their roster last season: Pierre Thomas, Mark Ingram, Khiry Robinson, and Travaris Cadet. Thomas, the veteran, was a do-it-all Swiss Army back, able to pick up yards between the tackles, on the perimeter, and in the passing game. Ingram and Robinson contributed as alternatives in the ground game, the former earning his way to the top of the depth chart in 2015 following Thomas' release in the spring. Cadet, now with the New England Patriots, made most of his hay as a passing down back.
Enter Spiller, who inked a four-year $18 million dollar deal with New Orleans in free agency. The 28-year-old headed south after spending the first five seasons of his NFL career with the Buffalo Bills. After marinating alongside veteran Fred Jackson in the Bills' backfield for his first two seasons as a pro, Spiller emerged as a true playmaking threat in 2012, when he surpassed the 1,000 yard threshold and found the end zone a total of 8 times. Additionally, he showcased his receiving skills, hauling in a career-best 43 catches for 459 yards. The next season, he managed 927 rushing yards, but only two scores, and his receiving numbers took a dip as well. Following an injury-riddled 2014 season, Spiller and the Bills parted ways as he played out the final year of his contract and entered the free agent market.
Now, enter New Orleans, and that aforementioned missing piece. The Saints have been ranked near the top of the league in receptions by running backs practically every year since the Sean Payton and Drew Brees era began in 2006. The likes of Reggie Bush, Thomas, and Darren Sproles have all thrived by taking routine passes out of the backfield and making plays after the catch. Following the departures of Bush in 2011 and then Sproles in 2014, that key role fell at the feet of Thomas and Cadet, who combined for 83 receptions a season ago. Once injuries began to take their toll on Thomas, the Saints lost their main backfield receiving cog, putting extra pressure on Brees, his receivers, and tight ends. The swing passes and the screen game which had been so helpful and effective was now not as viable an option with a banged-up Thomas out of the mix and a relatively inexperienced Cadet thrust in. Furthermore, rookie Brandin Cooks, who was earmarked for a major role in the Darren Sproles/Reggie Bush mold, ended up getting shut down and placed on season-ending injured reserve after sustaining a hand injury midway through the year. As the Saints' season began to sputter out of control, so did their offensive attack.
Perhaps, the team bit off more than it could chew when they dealt Sproles to the Eagles in March of 2014. In 2013, Sproles and Thomas combined for a whopping 148 receptions, further illustrating the need for a versatile weapon who can make an impact on the game both on the ground and through the air. With those two gone, the Saints turned their attention to free agent Spiller, whom, with a healthy Cooks, could provide that spark that always seemed to be missing in a difficult 2014 season.
Spiller figures to occupy a "satellite" type role in Payton's scheme. Just like a young Reggie Bush, the ex-Clemson man will likely be moved around pre-snap and across different formations to throw defenses off balance and help free things up for Brees and his receivers in the intermediate areas as well as downfield. Also, similarly to Sproles, he could occasionally split out in four and five-wide sets. The team will almost certainly look to get him and Ingram on the field at the same time, just as they did nine seasons ago with Bush and Deuce McAllister. In 2006, McAllister, just a year removed from reconstructive knee surgery, eclipsed 1,000 yards while Bush, in his rookie year, ran for 565 yards and caught a sensational 88 passes, all while giving defenses fits by motioning all over the place and exploiting the space he was able to attain.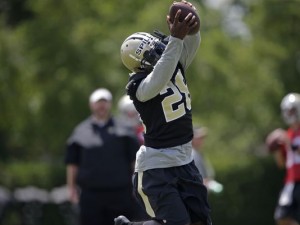 An Ingram/Spiller tandem with impressive youngsters Robinson and Marcus Murphy in reserve should give New Orleans the perfectly balanced backfield which they could never quite seem to pin down a season ago. Ingram's development as a runner has cemented his place as the team's bellcow, and Robinson has already proven his ability to deliver in a bigger role, just as he did when Ingram missed time with a wrist injury last year. If Spiller can deliver in his new role on his new team, New Orleans will have the backfield they envisioned when they sought him out as a free agent.
The only thing currently holding Spiller back is his own body. He underwent what was deemed a "minor" knee procedure early last month, and although he was initially expected to be back for week 1, Spiller went on to miss the team's week 1 loss at Arizona. As we enter week 2, Spiller's chances of playing in the Saints' home opener against Tampa are much greater. He is officially listed as questionable, though many close to the team expect him to be active on Sunday. Mentally, his knowledge of the system is on point, with Payton telling reporters earlier this week that his new running back is "right where he needs to be" in terms of the playbook. Though his snaps will surely be limited if he does indeed suit up, Spiller's presence on the field will give Tampa and the Saints' future opponents one more playmaking entity to prepare for.
"I'm not going to sit here and say, 'I'm this percent,'" Spiller said Thursday. "I hate putting a percent on things. You can feel good one day and feel terrible the next. Today is the only thing I'm focused on and today I feel good."
Spiller's teammates and Saints fans alike will all feel good when he does make it back on to the field. He still has a chance to top 60 receptions in this offense, even with the presence of Cooks and the team's concerted efforts to establish the run. Jimmy Graham is gone now too, so it will be an all hands on deck approach in order to keep New Orleans' passing game among the league's most dangerous, and Spiller will have his part to play.
"This ain't Halloween or trick-or-treat," Spiller said in a warning to his forthcoming opponents. "I'm coming full-speed at you. Trust me, you'll know when 28's out there."
If C.J. Spiller can provide that missing link to the New Orleans offense as they attempt to write off last season and make a return to the playoffs, it will prove to be quite the treat to the Saints organization and its passionate fans.