It's time consuming to sift through the NFL player news during the offseason. There's a ton of rookie speculation and camp battles to make your head spin. I'm going to lay out some important camp battles you should watch as the 2015 Fantasy Football draft gets closer. So without further delay here's the hot camp battles you may, or may not be aware of.
Devonta Freeman (RB) Atlanta: Rookie Tevin Coleman will be biting at Freeman's ankles during training camp. But Freeman has the leg up in his second year and he had some nice runs last season. According to multiple reports Freeman has impressed the new coaching staff with his pass-catching ability. Freeman will likely start this season as the starter but we should fully expect Coleman to get some opportunities.
Jay Ajayi (RB) Miami: He's currently behind L. Miller but what has Miller done for Miami lately? GM Dennis Hickey and Mike Tannenbaum have said Ajayi has the ability to play all three downs. Ajayi is coming off a knee injury but history tells us that isn't a major concern with today's advances in medicine. I like Ajayi as a late round flyer if you're draft within the next 30 to 60 days.
Joseph Randle (RB) Cowboys: The Cowboys currently have four running backs: Joseph Randle, Darren McFadden, Lance Dunbar and Ryan Williams. Randle is projected as the "starter" in what could become a committee approach. But I'm a McFadden fan in the Cowboys scheme and believe we will see a McFadden resurrection in Dallas.
Donte Moncrief (WR) Colts: There's always a competition in training camp but this one is close. The number 3 receiver job an open competition between Donte Moncrief, Phillip Dorsett, Duron Carter, and Vincent Brown. Moncrief will have not trouble with Carter and Brown but Dorsett could be a threat to his snap counts if he quickly make the transition to the NFL. Regardless the Colts run a lot of two-tight end sets so much like last year it's going to be hard to rely on the Colts No. 3 receiver as anything more than a daily fantasy play in GPP tournaments.
David Cobb, RB, Titans: Bishop Sankey and Shonn Greene are the only thing standing between Cobb and the starting running back job in Tennessee. The Titans selected David Cobb with the No. 138 overall pick in the 2015 NFL draft.
Cobb (5'11/229) was Minnesota's bellcow as a junior and senior, churning 562 career carries into 2,893 yards (5.15 YPC) and 20 TDs.
Nelson Agholor, WR, Eagles: Drafted in the first round this USC product could pick up where Maclin left off, and then some. But it still remains to be said where Josh Huff, Miles Austin  and Jordan Matthews fit into the equation. Agholor was an absolute beast after the catch in college and only dropped 4 out of 117 targets.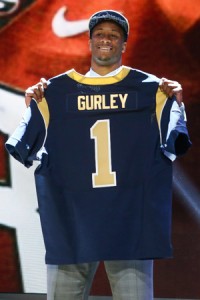 Tre Mason, RB, Rams: Some say as soon as Gurley is fully healthy, he'll be the featured back; after all they didn't make him the first back off the board to ride the pine. But the Ram's head coach Jeff Fisher said "We're not gonna rush it,"... "We may well be a little on the conservative side. But this is the running back of our future. It makes no sense to subject him to or put him in a bad situation sooner than we have to." Gurley is gonna kill Mason's ADP allowing you to draft him late if you draft L. Bell or some other running back starting the season suspended.
Chris Ivory, RB, Jets: S. Ridley, B. Powell and Z. Stacy are his competition but they might not even have to win the starting gig since Ivory has never been an image of health. With all of this talent at RB but none that is next level (like McCoy or AP) I tend to believe we will see a full blow RBBC in 2015.
T.J. Yeldon, RB Jaguars: If you think Robinson has any chance of retaining the starting roll you're dead wrong. Yeldon is going to take the Jaguars running back position by storm.
Joique Bell, RB, Lions: Ameer Abdullah is breathing down Bell's neck with his quickness and plus lower-body explosion. Bell's 3.9 yards per carry average inspired the Lion's to draft a RB in the second round but we all know that most of the guys, regardless of the round they are drafted, don't usually become a starter especially in their first season.