When separating running backs into tiers for draft day there are several factors to consider. Often overlooked is the simple motivation of getting the next big contract. 2017 is a contract year for several interesting running backs. Where a few RB might be grouped together on your draft board, considering which are in the final year of their contract year can be a solid tiebreaker.
Which third year wide receiver should you draft?
No-Doubt Starters
Le'Veon Bell PIT 2016 Stats (12 Games): 261 Rushes 1268 Yards 7 Touchdowns
75 Receptions 616 Yards 2 Touchdowns
It would be stating the obvious to say that Bell is an absolute top tier running back, but he has a big question mark. There have been multiple suspensions for drug violations and another one would result in a season long suspension. Bell will have to be very impressive and stay clean if he wants to garner a big time contract. I personally do not feel good drafting Bell despite his league-winning talent. Things could very easily go the way of Josh Gordon here.
Devonta Freeman ATL 2016 Stats: 227 Rushes 1079 Yards 11 Touchdowns
54 Receptions 462 Yards 2 Touchdowns
Freeman is another member of the elite running back class although he is in a bit of a timeshare with Tevin Coleman. This season could lead to a very nice payday for Freeman either from the Falcons or another team that wants to use Freeman as their every down back. The incentive is there and with the explosive Falcons' offense around him Freeman is a good bet to have another strong year.
Isaiah Crowell CLE 2016 Stats: 198 Rushes 952 Yards 7 Touchdowns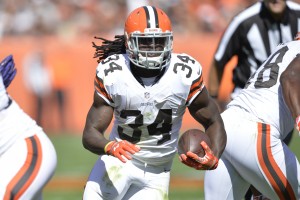 40 Receptions 319 Yards
Last season was a very solid one for the unheralded Crowell despite being on a bad Browns team. After making some key pickups in the draft it looks like Crowell should have less of the defense focused on him. Add in the fact that the Browns offensive line is improved and all of the warning signs of a breakout season are in place.
High Upside With Questions
Spencer Ware KC 2016 Stats: 214 Rushes 921 Yards 3 Touchdowns
33 Receptions 447 Yards 2 Touchdowns
The hype for Ware seemed a bit overblown at the end of the 2016 season, but Ware had injury troubles. Concussion issues plagued Ware throughout the season and the effects to his game should not be undersold. The same power and explosiveness that made him a darling among pundits are still part of Ware's game. If he can avoid some of the big hits then 2017 could be a monster year followed by a big-time payday.
Carlos Hyde SF 217 Rushes 988 Yards 6 Touchdowns
27 Receptions 163 Yards 3 Touchdowns
The mess that is football in San Francisco has played a part in the under-performance of Hyde, but it is not the whole story. Continued struggles to stay on the field have kept Hyde from reaching his potential as a top tier running back. Coupled with the fact that the offensive pieces for the 49ers are worse than putrid and the outlook is bleak. There should certainly be motivation for Hyde to perform with contract talks looming. If for no other reason than a chance to get out of San Francisco.
Eddie Lacy SEA 2016 Stats (5 Games): 71 Rushes 360 Yards 0 Touchdowns
The comeback of Eddie Lacy was the talk of preseason last year, but the reality set in. A running back that continually reports to camp out of shape lost the majority of his season to injury. The Seahawks are trying to bring back the potential that Lacy flashed earlier in his career by controlling his weight with contract incentives. It remains to be seen whether this bruiser has enough left to punish opponents or if an injury issues pave the way for a Rawls revival.
Risky Players With RB2 Potential
Ryan Mathews PHI  2016 Stats(13 Games): 155 Rushes 661 Yards 8 Touchdowns
13 Receptions 115 Yards 1 Touchdown
There is quite a bit of injury risk when Ryan Mathews is in the conversation, but that is not the worst part for his fantasy value. Mathews took a bit hit when professional touchdown vulture Legarrette Blount rolled into town. The Eagles added explosiveness to their offense with Alshon Jeffery and Torrey Smith, but Blount brings sheer power to the Eagles run game. There is a different skill set brought in by Mathews, but he could wind up being a forgotten man in Philadelphia this season.
Latavius Murray MIN 2016 Stats (14 Games): 195 Rushes 788 Yards 12 Touchdowns
33 Receptions 264 Yards
With the departure of Adrian Peterson the Vikings needed to bring in a new starting back. Latavius Murray is a solid player, but he will certainly not fill the void left by AP. The Vikings offense, led by Captain Checkdown (Sam Bradford) , struggles to create big plays. This is a very different story than Oakland, where Murray has played his whole career to this point. While he has been effective and occasionally flashed brilliance, Murray may find it hard to replicate the success that he has had in the past in Minnesota.
More Names To Consider:
Giovani Bernard and Jeremy Hill CIN (Looks like Mixon's job, but you never know.)
Rex Burkhead and Dion Lewis NE
Frank Gore IND (I would not be surprised if he retires at the end of the season)
Tim Hightower SF (Should see some action when Hyde goes down)
Jerick McKinnon MIN
Thomas Rawls SEA
Chris Thompson WAS
Danny Woodhead BAL
Zach Zenner DET