Landing one of these potential breakout 3rd year wide receivers could help you win your PPR league. Wide receiver has traditionally been a position that has a steep learning curve in the NFL. The players that come in and dominate from day one are few and far between, although it is becoming more common. The third year of NFL action has often been when a light bulb seems to come on for young receivers.  Nothing is assured when there is a human factor involved, but a big bump in production should be in line for some of these third year wide receivers.
The Obvious Top-End 3rd Year Talent
Amari Cooper OAK: 2016 Stats: 80 receptions 1120 yards 4 touchdowns.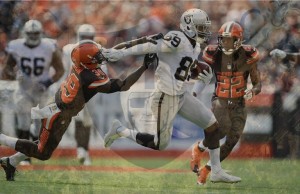 There is only one truly obvious choice for a major breakout in 2017. Amari Cooper is one of the premier talents in the league at wide receiver and he is only going to get better. The Raiders need to game plan better and get Cooper the ball in the red zone much more often. If players like Seth Roberts cede some red zone targets to Cooper, he could be in for an enormous 2017 season.
The Likely Third Year Breakout
Cameron Meredith CHI: 2016 Stats: 62 receptions 827 yards 4 touchdowns.
Meredith came out of nowhere to be a productive wide receiver for the Bears last season. This is doubly impressive because the quarterback play in Chicago was abysmal. Meredith put up four 100 yard receiving games and also had four games with at least 9 receptions. The quarterback situation has not dramatically improved, but the departure of Alshon Jeffery will free up a lot of targets for Meredith and fellow third year receiver Kevin White.
Jamison Crowder WAS: 2016 Stats: 65 receptions 831 yards 7 touchdowns.
Among the storylines for the 2016 Redskins were the emergence of Jamison Crowder and Kirk Cousins elevating his game to star level. 2017 should provide room for both players to improve even more. Cousins gets a new target in Terrelle Pryor and Crowder should have more space to roam with Pryor likely drawing away coverage. The only concern here is that Jordan Reed demands targets when healthy (which he seldom is). There should be enough opportunities for Crowder to be near 1000 yards and 5-7 touchdowns.
Tyrell Williams LAC: 2016 Stats: 63 receptions 989 yards 7 touchdowns.
The marquee name for a Chargers receiver should be Keenan Allen. He has all of the ability in the world, but cannot stay on the field. Enter Tyrell Williams; a young receiver that worked his way up to one of Philip Rivers's favorite targets. Williams should have some competition for targets from emerging tight end Hunter Henry and the ever fragile Allen. Still, he has shown that he is capable of being the team's top receiver and that will not be forgotten. Williams will play an important role in the Chargers' offense for the second season in a row and I would be surprised if his stats were not even better in 2017.
Stefon Diggs MIN: 2016 Stats: 84 receptions 903 yards 3 touchdowns.
The touches were certainly plentiful for Diggs last season, but the results were a bit lackluster outside of PPR leagues. This is mainly the product of having Captain Checkdown at quarterback. While Diggs should continue to see a high volume of touches, big downfield shots do not appear to be in his future. Along with that, the Vikes have a beast of a tight end in Rudolph eating up red zone targets. 2017 seems to be setting up in very similar fashion to 2016 for Diggs, good but not spectacular.
The Potential (All of the physical tools, but mixed results)
Tyler Lockett SEA: 2016 Stats: 41 receptions 597 yards 1 touchdown.
There is no debating the game-breaking ability of Tyler Lockett, but the results are not great.  In any given game, he is one of the most electrifying players on the field. Unfortunately, his natural ability has not yet translated into big numbers. In the first seven games of the 2016 season, Lockett only topped 40 receiving yards one time. Over the last few weeks of the season it looked like Lockett was on Russell Wilson's radar a bit more, but it will take a major change for him to emerge as a viable fantasy receiver.
Phillip Dorsett IND: 2016 Stats: 29 receptions 472 yards 2 touchdowns.
The Colts have too many receivers for everyone to have a starring role in the offense. I think could be argued that there have been times that Dorsett has flashed ability that argues he should be one of those stars. Last season was a difficult gauge as Andrew Luck was not himself, but in 2017 the Colts will hopefully have a quarterback that is closer to the star that Luck was becoming. If this is the case, it will come down to whether Donte Moncrief or Dorsett break out as the number two receiver behind T.Y. Hilton.
(Kurt's Picks) Breshad Perriman BAL: 2016 Stats: 33 receptions for 499 yards and 3 touchdowns.
He's an excellent pick in best ball leagues and equally as valuable at his current average draft position in standard leagues. He's going to be a very special deep threat in the NFL and it could start this season. The former 1st round pick missed his entire rookie season (2015) with a PCL injury. With the recent injury to Pitta and lack of depth at WR the Raven's are a lock to give Perriman more than enough opportunities this season.
The Possible (Tough situations that could pan out)
J.J. Nelson ARI: 2016 Stats: 30 receptions 493 yards 6 touchdowns.
Speaking of not enough targets and fragile quarterbacks, how about the Cardinals. This is supposed to be the year of John Brown according to many fantasy experts and I don't necessarily disagree. Nelson has some real talent, however. The Cards have a lot of offensive stars and there may not be room on the stat sheet for everyone. If things break right for Nelson he could be on the verge of a sneaky breakout season, but there are many factors in play.
DeVante Parker MIA: 2016 Stats: 55 receptions 754 yards 4 touchdowns.
Parker is a frustrating player because he looks the part of a number one receiver, but his play doesn't reflect that often enough. The Dolphins have all of the pieces in place to put up lopsided numbers on offense, but I t may ultimately be the play of Ryan Tannehill that decides how things work out.
More 3rd year receivers with the talent to break out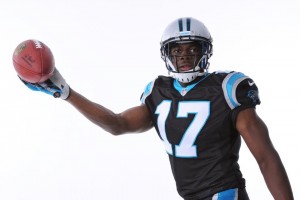 Breshad Perriman BAL
Dorial Green-Beckham PHI
Nelson Agholor PHI
Sammie Coates PIT
Eli Rogers PIT
Devin Funchess CAR
Justin Hardy ATL
Jaelen Strong HOU
Rashad Greene JAC
Chris Conley KC
Quan Bray IND