DeMarco Murray has been abysmal two games into his tenure as a Philadelphia Eagle. Just when it seemed like things could not get worse, they did. Wednesday Murray left Eagles practice with a hamstring injury. At this point, the severity of the injury is unknown but an MRI is scheduled. At this point, my prediction of Murray having another big season is circling the drain quickly.
The best case scenario for Murray owners would of course be that this is just a scare and he is fine for Sunday's game. If this does not happen, it is time to figure out a contingency plan. Those owners who followed the traditional handcuff plan will have an easy plug and play. Ryan Mathews has been a productive starter in the past, though he has been plagued by his own injury troubles. Philadelphia's offensive line is not getting any better, but Mathews is a solid option to replace the disappointing Murray if he misses time.
Moving on to the owners who drafted Murray but did not grab Mathews. This situation is a bit less clear, but there are still plenty of options available. The first thing to do is check out the week 3 waiver wire running back recommendations. If someone like Matt Jones is still out there on the waiver wire, then you are in a good situation. I won't go through every back listed on the waiver wire recommendations as that would be incredibly redundant, but I do have a couple of deeper pulls if none of them are still available.
Karlos Williams BUF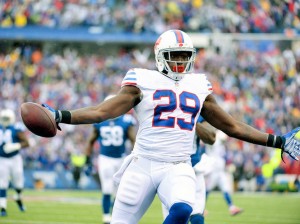 The running back to own in Buffalo is still Shady McCoy, of course. Williams has had some value as a goal line back, however. He will also see a few carries per game as Rex Ryan will run the ball as much as humanly possible. Williams is more of a stash option, but as a stop-gap flex play you could do worse.
Jonas Gray MIA
Gray is a bit of a speculative add, he was just moved up to the active roster in Miami today. Due to the success that he had in New England and the injuries to Dolphins running back, it would be a good idea to at least add him to your watch list. It may be early to pick him up at the moment, but be aware that he could be trending upward.
Terron Ward ATL
Ward is the backup to Devonta Freeman which could mean that he will see some carries with Tevin Coleman on the shelf. Atlanta is rumored to be interested in Montee Ball and they may look at some other free agents as well. For this week, Ward could have some sneaky value as the coaching staff in Atlanta is not enamored with Freeman's skill set.
Keep in mind that this is only preparation for the event that Murray could miss time. Historically he has not been the most durable player and he did carry a heavy load last season, so brace yourselves for bad news. Scout the waiver wire for the names on our week three list or my deeper league recommendations to prepare your roster ahead of time. Good luck, and remember that an early round pick becoming a bust does not have to be the end of your championship hopes.
*Update-Per a league source, Murray's injury is not considered serious. He is, however, considered questionable for week 3 versus the Jets. If you start any Eagles running back in week 3, temper your expectations. The Jets defense is the real deal and things are going to be rough for Philly. Keep an eye on the injury report for more on Murray's status as gameday approaches.*