Alright Knuckleheads here are some articles from our buddies around the web. You'll see articles like this about once a week as I myself dig up interesting takes on some of the hottest topics headed into the 2017 fantasy football draft. Today we're going to take a closer look at rookie wide receivers and running backs with Michael Tomlin and Richard Savill. You'll then want to take a ride with David Gonos as he ponders the next best RB after the top 3. For you culture vultures, Bobby McMann correlates songs to his feelings toward players being drafted this season. You'll wrap up with player values from Keith Lott and Mitchell Renz.
Rookie Hype
2017 Fantasy Football: Rookie Wide Receivers; Winners & Losers by Michael Tomlin - Wondering which wide receivers benefited from the draft? Who didn't? Draft picks, we only get so many and you want to maximize your potential with each pick. There are winners and losers after the draft and knowing the difference can help you dominate your league.
The Fantasy Edge Podcast: 2017 Top NFL Rookies By Richard Savill - The drunks at FantasySixPack give their take on all the skill positions coming out of the draft with an emphasis on running back rookies and RB veteran FA signings like Adrian Peterson.
Strolling Through The Minds of Mad Men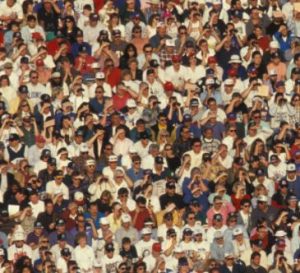 Who's the 4th-Best Fantasy Running Back After the Big 3? by David Gonos - David has four guys he likes for the 4th spot. I'm all over his LeSean McCoy pick. Why he's not the consensus is beyond me. McCoy had 14 touchdowns last year and over 1,600 all purpose yards. I reached for him in my most recent draft, as in, I drafted him as if he was a top 3 pick.
Randall Cobb is Fading Away by Bobby McMann - So, how's your dynasty league going? Bobby cranks up the tunes and explores the dynasty value of some of the most radioactive dynasty players.
The Art of Crystal Ball Gazing
PPR Fantasy Football ADP Price is Right Game and Podcast by Mitchell Renz - If only this could have been hosted by Vanna White. Explore player values based on their current average draft position. One player they mention is B. Cooks (ADP 2.10) now in New England. As a New Orleans Saints fan I hated this trade to New England. But he won't be circa 2007 Randy Moss, everyone needs to calm down. We all know Gronk is the guy to pay come draft time and even that pick has me sketchy due to his constant health issues.
5 Running Backs Being Overvalued by Keith Lott - Lott lays the wood down on several semi-popular running backs. The key take away here is this, you're drafting starters in the first 8 rounds. Why go for "what if" running backs?
Tight End Flip Flip With FNTSY & Corey Parson
You have to watch the entire video or fast forward to the mid-way point for the TE discussion. Parson makes some valid points about Hunter Henry's value in 2017 and predicts Fleener to rebound this year in New Orleans.