If you're on the fence with Tarik Cohen then join the crowd. Expecting Cohen to fill the "Tyreek Hill role" in Matt Nagy's system isn't a far fetched idea, and makes him one hell of a sleeper. But on the flip side, Cohen has some target competition that is stronger than you may realize. Personally I'm on the Cohen bandwagon for the right price. His ADP currently sits in the 6th round of PPR drafts and the late 7th in standard league drafts. This is a hair sooner than proven PPR stud running backs Chris Thompson and Duke Johnson. And much sooner than Giovani Bernard and Ty Montgomery. Let me tell you something right now, you shouldn't find yourself hoping to draft the next Tyreek Hill in the 6th or 7th round. I prefer to hunt for home runs after the 8th round. With that said, I expect Cohen will go mostly overlooked in your average office league. Depending on your competition and how quickly running backs are drafted will determine how long you take the gamble on letting Cohen slide. Follow your gut boys.
The Case For Cohen's Breakout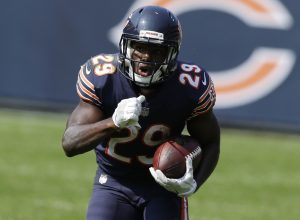 Since Matt Nagy has taken over the Bears the entire teams fantasy stock shot through the roof. I'd say they're trading at a 150 P/E right now, certainly not a part of a value investors portfolio.  But we want growth stocks, I mean players, on our fantasy squad. In Cohen's first season he accumulated 728 total yard on 87 rushes and 53 receptions. He also pilled up 625 return yards. He was short in the touchdown category but that was because of his former head coach John Fox. Cohen believes he has chops like Hill, Nagy agrees. All that remains is your faith in Nagy and his team.
Because of the rookie QB situation, projecting Cohen's future earnings is tough. But lets say Mitchell Trubisky finishes around QB #20 in terms of fantasy production. That puts him around 21 total touchdowns and 3600 yards. Seeing how 1 of the 7 touchdowns Trubisky threw last season was to Cohen, lets say he can get him 2 to 4 this season. With the Bears offense much improved Cohen should find himself within scoring distance more this season, adding another 1 to 3 rushing touchdown to the equation. Continuing that same thought process and we come to the following ceiling and floor projections.
Rushing
Floor
Ceiling
Yards
TD
Yards
TD
405
1
520
3
Receiving 
Floor
Ceiling
Rec
Yards
TD
Rec
Yards
TD
45
380
2
65
600
4
Obviously I think Cohen's upside is in his receiving game and if his floor pans out his current ADP is a bit to rich. But his upside is hard to resist. If you can nab Cohen in the 8th or 9th round then I'm all for it. Maybe the 7th if running backs like Ty, Chris and Duke are gone and only in PPR leagues.
Why Cohen's Risk Could Bust This Sleeper
For those of you familiar with Taylor Gabriel you already know he is a big play waiting to happen. The Bears stole him from Atlanta and inked him to a 26 million dollar contract. Add to the mix they traded up to acquire WR Anthony Miller in the 2nd and you start to question how the team will distribute targets. Oh and Allen Robinson is pretty good too. And please someone stop the Trey Burton comparisons to Travis Kelce. All in all, there are a lot of mouths to feed, a ton of talent and 1 rookie quarterback to ruin all of Chicago's hopes and dreams. Guys a lot of risk is associated with the Chicago Bears offense as a whole. If you're expecting a Rams type breakout you could very well be expecting it a year or 2 early.