New Orleans Saints quarterback Drew Brees says that he intends to play on Sunday against the Jacksonville Jaguars. The 36-year-old picked up a foot injury in Monday night's loss to the Detroit Lions. Brees did not practice on Thursday, but told reporters that he has every intention of playing in week 16, even with his team's playoff hopes officially null.
"I have every intention of playing," Brees said Thursday. "I'm just finding a way to support it and that kind of thing. I'm going to play."
Brees was injured during the first half of his team's week 15 loss and was spotted in a walking boot after the game. He was diagnosed with a torn plantar fascia in his right foot after visiting a specialist on Tuesday. Broncos quarterback Peyton Manning has been battling a similar injury in recent weeks.
In spite of another frustrating season in regards to wins and losses, Brees has continued to put up big numbers. Even after missing a game at Carolina due to an early-season shoulder injury, the future Hall-of-Famer has continued to put his stamp on the record books. Following Monday's game, Brees eclipsed the 60,000 yard mark, joining Manning, Dan Marino, and Brett Favre as the only passers to achieve that feat. Brees also topped 4,000 yards for an NFL record tenth straight season. The ultimate professional, Brees is reluctant to shut things down, even with his team's playoff hopes in the gutter.
"I want to play for my guys. Bottom line," Brees said. "I'll just gauge where I'm at as I begin to move. I really haven't moved a whole lot. These past few days have just been: calm it down, and get the orthotics and different things that you need to protect it and support it."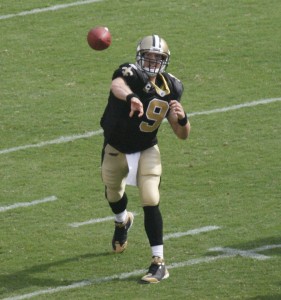 If Brees ends up not playing, the Saints could turn to either Matt Flynn or rookie Garrett Grayson. Flynn has starting experience -- mostly with Green Bay during his time as Aaron Rodgers' understudy, while Grayson -- a 2015 third-round draft choice -- is still considered a project. Flynn knows that Brees' reasons for wanting to play transcend wins and losses.
"If there's anybody in the league who has earned the right to decide himself if he wants to tough it out -- you know, he's a competitor; he wants to play -- he's earned that right to decide for himself," Flynn said of Brees. "It doesn't matter what the situation is, what time of the year it is. Everyone wants to play. And that guy is an ultra-competitor."
Brees has thrown for 28 touchdowns and 11 interceptions this season. The final call will ultimately be the team's: They can evaluate Flynn as a potential 2016 backup and/or take a look at Grayson's progress. Both players took reps with the first-team at Thursday's practice.
"It has its challenges," said Brees, "but we've come up with a good plan for this week, how to support it and how to make it as manageable as possible."
The Saints close out the year with Sunday's home finale against Jacksonville and a week 17 visit to Atlanta.